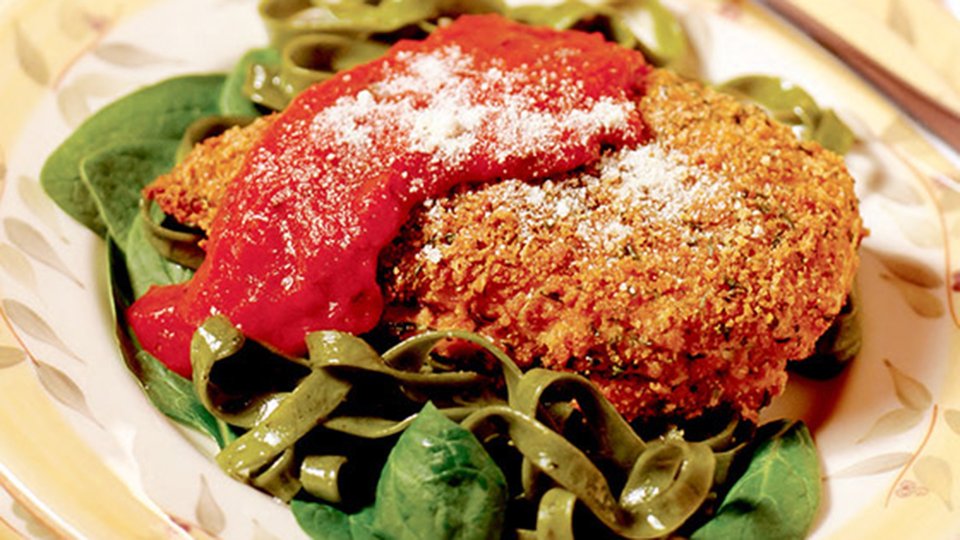 Sometimes a nutrition plan begs for a little decadence, but if you really want to get back to being fit, you need to eat healthy on a consistent basis. This recipe for baked chicken Parmesan is perfect!
Ingredients
2 large egg whites
⅓ cup bread crumbs
2 piece chicken breast
⅛ pound pasta
1 cup marinara sauce
2 cup spinach
¼ cup low-fat Parmesan cheese
Directions
Preheat oven to 400 degrees F.
In a medium mixing bowl, beat egg whites with fork until slightly frothy. Then, mix breadcrumbs and 2 tbsp of reduced-fat Parmesan cheese in a pie plate.
Dip chicken breasts in egg whites and then into the breadcrumb mixture, coating both sides.
Lightly coat a baking sheet with cooking spray. Place chicken breasts on the baking sheet; bake for approximately 12 minutes, turn over and bake approximately 12 more minutes, until chicken is no longer pink in the center and coating is golden brown.
While the chicken is baking, prepare spinach pasta according to package directions.
In a small saucepan, warm pasta sauce over medium heat.
Divide spinach leaves between two separate plates. Layer portions of warm spinach pasta and baked chicken breasts over spinach leaves. Top with pasta sauce and remaining Parmesan cheese. Serve and enjoy!