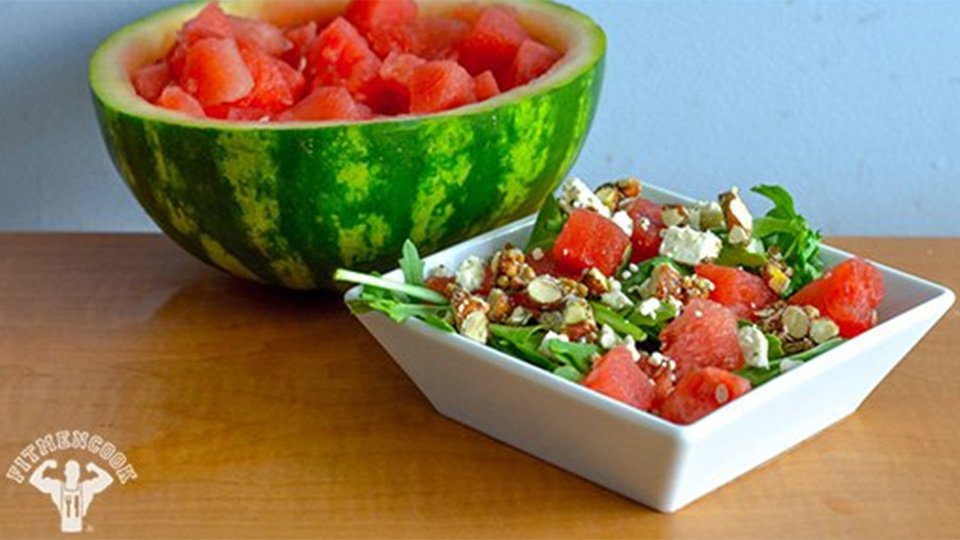 Every good meal should be kicked off with salad. Salad brings color and nutrients to the table and whets your palate for dishes to come. With that said, salads don't have to be wimpy! This power-packed salad is good enough to be a standalone dish. One of my new favorite ways to spice up salads is to add crushed KIND Strong & Kind bars to the mix. The all-natural ingredients and whole nuts and grains make for a fantastic topping, and the bars are an easy ingredient to boost the content of healthy fats and protein, like croutons with added nutritional value. Plus, funky flavors like honey mustard create a flavor explosion in your mouth. Toss them with fresh summer fruit like watermelon, add some feta cheese, and you create a salad that's sure to be a hit!
Ingredients
5 cup arugula, raw
3 bar KIND Strong & Kind Bars
3 cup, diced watermelon
⅓ cup reduced-fat feta cheese
Directions
Break your favorite Strong & Kind bar into pieces. You can do this one of two ways: get them cold in the fridge, slip them into a Ziploc bag, and hammer them, or simply break the bar into pieces using your hands. Set your "croutons" aside.
Dice watermelon into cube-sized pieces.
Pack for a picnic: Place the individual ingredients in separate compartments and assemble each salad individually to avoid making the arugula soggy.