Y3T: Week 3, Day 15, Hamstrings And Thighs
Are you ready for this? Week three begins four incredibly tough workouts. Need inspriation? Look no further than this video!
Welcome to week three of Y3T! Get ready for a rough ride: This week, we increase the volume and use extended sets to work past our pain and failure threshold.
Specifically, we'll utilize rest-pause, drop sets, and super sets. It's going to be tough, but if you want to make gains, you've got to go to dark places.
Neil Hill's Y3T Trainer: Legs Workout

Watch The Video - 19:46
Week 3: Thighs + Hamstrings
Pro Tips
Begin with several warm-up sets, increasing weight as you go. Perform the warm-up reps faster than normal, and ensure you don't go to failure.
For your working sets, select a weight that you can do for at least 20 repetitions, and then perform slow reps to failure. Use a full range of motion to ensure an adequate stretch on the muscle fascia.
When you hit failure, reduce the weight enough to get 10 more repetitions. If you are able, perform one more drop, and then rest up for the next set.
Consider performing a light warm-up set to open up the hips and move more blood into working tissue. Select a weight you can grind out for at least 20 repetitions, making sure to use solid technique and a controlled tempo.
As you approach failure, begin using the rest-pause technique to extend the set. To do this, simply pause for several seconds before attempting 1-to-3 repetitions. Repeat this until total failure.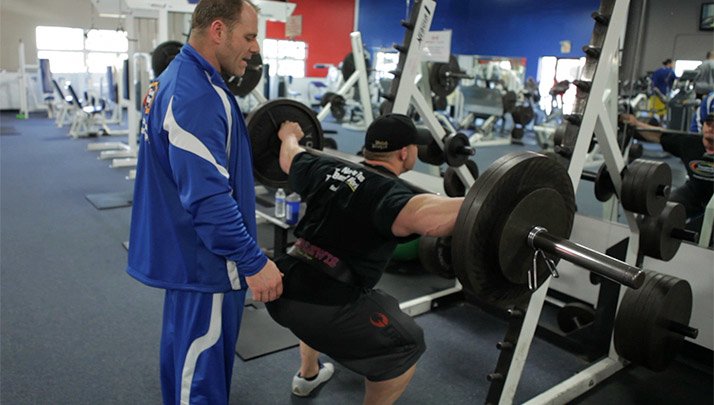 As you approach failure, begin using the rest-pause technique to extend the set.
This technique can be very challenging, but with rest-pause you may be able to perform many more repetitions near fatigue than you would otherwise.
On this movement, we don't perform a normal lunge. Instead, we lunge onto a raised platform. Using alternating steps, lunge for high reps while holding moderately heavy dumbbells.
This exercise has a tremendous aerobic benefit, and while it may seem easy at first, as you climb up in repetitions your thighs will be begging for mercy. When you reach failure, use the same rest-pause technique that we used to extend the squats.
After pausing for a few seconds, perform several repetitions and repeat this process until it's no longer possible.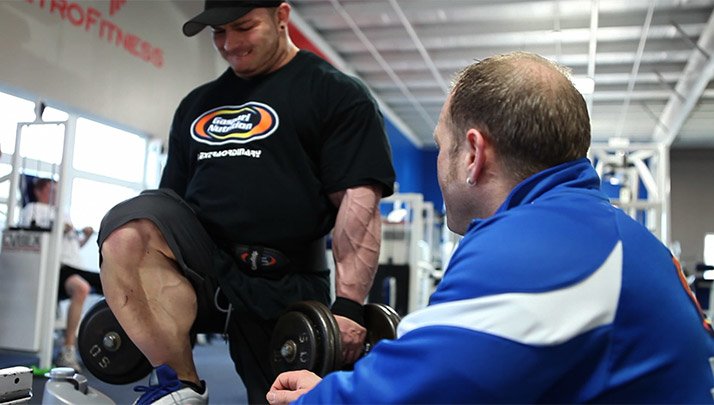 Begin with your feet in the middle of the platform. Perform a high number of reps using a controlled tempo. When you are at 90% failure, use the rest-pause technique to extend the set.
If you buckle down, you may be able to grind out 20-to-30 extra repetitions. With each rest-pause, adjust your foot position (such as moving your feet higher) to tweak the emphasis of the workload on your legs.
5
Superset - Lying Leg Curls And Stiff-legged Dumbbell Deadlift
No warm-ups necessary. Jump straight into your working sets, performing repetitions with a slow and controlled motion. Squeeze your hamstrings at the top of each rep. Immediately after you finish the first set, move to the next exercise.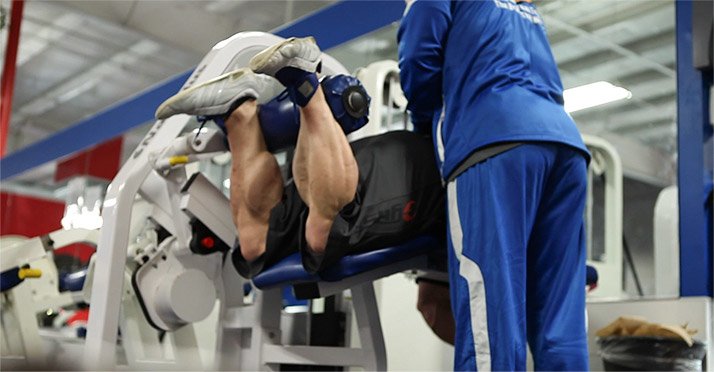 Squeeze your hamstrings at the top of each rep.
Coming straight from the leg curls, perform the deadlift with a moderate weight. It is important in this movement not to hyperextend the knees.
Always keep a tiny bend in the knees to keep the tension on the hamstrings, focusing on moving your butt back as you perform the exercise.