Supplement Company Of The Month: True Grit
True Grit is built around simple ideas: transparency, quality, and science-backed dosage. Trust your supps, and you can focus squarely on building your grit in the gym! Here's this breakout brand's story.
Succeeding in the supplement industry isn't easy. Many companies start with a bang, then drift away just as quickly. Making your brand stand out and helping your customers succeed takes determination, passion, a commitment to excellence, and plenty of old-fashioned grit.
True Grit has risen quickly within the ranks, as evidenced by their twin triumphs of launching the innovative 12-week True Muscle Trainer and being named New Brand of the Year at the 2015 Bodybuilding.com Supplement Awards. The awards are voted on by customers, so the award speaks to meeting a need in the market.
And what is that need? Quality, transparency, and legit dosing! True Muscle brand manager Taylor Matthews and True Grit athlete Steve Weatherford spoke with Bodybuilding.com about the past, present, and future of True Grit.
Q
Tell our readers how your company started.
True Grit was created out of a partnership between Bodybuilding.com and our team of product developers. Our goal was to create a science-based, barbell-tested brand of products for a specific type of athlete—the most motivated, impassioned ones, who know what to look for on a label and train with equal parts intelligence and intensity. We want to reach those who exemplify more than just the passion to be the best in the gym, but the best in all facets of life.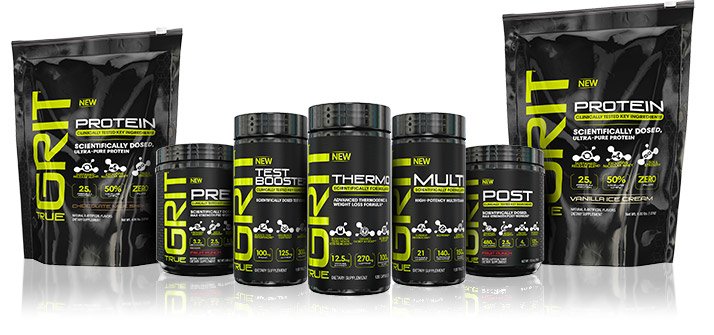 Everything in True Grit products is backed by clinical studies, university research, and results earned by people like me and you.
We knew that to reach our desired audience, we needed to be make a concise lineup of products that were both transparent and high quality. That means no filler, no proprietary blends, and no dosage shell games. Time and time again, we've heard from people that this is what they want. So why not give it to them?
Everything in True Grit products is backed by clinical studies, university research, and results earned by people like me and you. Long story short: We never compromise on our doses.
What are some of your top products that our readers should know about?
True Grit Pre has earned a quick following in a really contentious category. Whereas a lot of other pre-workouts jack up the caffeine but have negligible amounts of other key ingredients, we included clinically studied amounts of every ingredient for maximum effectiveness. Our vision was that it is a tool to help you train at the intensity of a world-class athlete, smash through training plateaus, and build the powerful physique you've always wanted.
True Grit Post is the perfect way to bookend your workout with Pre. It's got BCAAs of course, but in a 4:1:1 ratio that gives plenty of leucine. To go along with it, we've got clinical doses of ingredients that the research truly backs up—and that people have let us know they want. These include L-carnitine L-tartrate to boost recovery, tart cherry juice to reduce post-exercise soreness and inflammation, and betaine (also in Pre) to boost strength, power, and muscle growth. True Grit Post-Workout can help you get bigger, stronger, and recover from even the hardest workouts.
If someone is only going to buy one True Grit product, which one should it be?
One word: Protein. We don't need to give our protein a fancy name. It's called Protein because that's what it is. It tastes great, sure, but more important than that is that it's free of junk and fillers, and full of what you actually want to be taking: whey.
We're committed to doing a few products right, not doing lots of products poorly. But that doesn't mean we're content to rest on our laurels after our initial products were received so well. We have one of the largest and best research-and-development teams in the industry, and we are constantly looking for new research and the latest breakthroughs in ingredients.
For instance, we have one other exciting new product on the horizon that will be launching in November. That's all I can say for now!
Interview with True Grit Athlete
Steve Weatherford
Steve Weatherford is an athlete who knows all about True Gritness. For nine years, he was a first-rate punter in the NFL. The Indiana native not only made it to the bigs, but was known as the fittest man in the league while he was there, and wound up with a Super Bowl ring in 2011 after playing a key role in the championship game.
He's made an impact on the fitness industry quickly as well. You can see him in the upcoming "Bodies of Work, Volume 3" feature on Bodybuilding.com soon, or you can work alongside him and world-class trainer Nick Tumminello in the True Muscle 9-week elite fitness trainer right now. Brands have been lining up for years to have Weatherford represent them, and he talked to us about why True Grit was the brand for him.
Q
Tell us about your athletic background.
I played four sports throughout school. Soccer was the first sport I played, but baseball was my first love. Football I just sort of picked up in high school, since the team didn't have a kicker or punter. I am thankful I had the courage to try something new, because this has been my career—and it's been an incredibly rewarding one.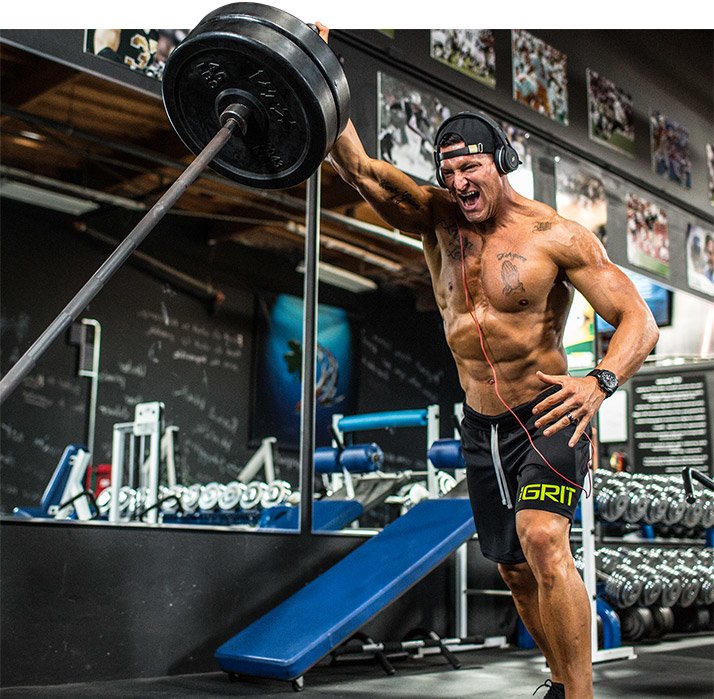 It took some serious grit to navigate the ups and downs of the NFL and keep training as hard as I wanted to along the way, but I loved every second of it.
After I graduated high school, I played football and ran track in college. I signed with the Saints as an undrafted free agent in 2006, but got released, then re-signed. Who would have thought I would end up playing in all 16 games for them that year, and doing the same for the Jets and Giants for most of the next decade?
It took some serious grit to navigate the ups and downs of the NFL and keep training as hard as I wanted to along the way, but I loved every second of it. Like I said in the True Muscle video, I'm a fitness guy who happens to play football for a living, not a football player who happens to work out!
Tell us about your role at True Grit.
I'm a True Grit Athlete through and through, man. I'm engaged at many levels, from the upcoming "Bodies of Work" shoot, the True Muscle trainer I worked on with trainer Nick Tumminello, social media posts discussing my training, nutrition, and motivation, and working out with contest winners, I do it all. If I had to mop the floors at True Grit headquarters I would. Why? Because that's Grit, baby!
True Muscle Trainer
9 Weeks To Elite Fitness
Watch the video - 1:01
What was it about them that made you want to be a part of the company?
Just knowing that the most important thing above all to the True Grit brand is its scientific strength. I am very calculated about what I put in my body, whether it be food or supplements. True Grit fits the bill, and I am very excited to be working with them because I know I can trust them.
What is your favorite product and why?
I like Pre. For me, it's got everything in one product instead of me having to mix a bunch of products together like I did for years. One scoop rather than having to mix 2-4 products to get what I need? That's an easy choice.
Why should potential customers of Bodybuilding.com choose True Grit as their supplement company of choice?
Truthfully, I take all these products, and they are the best I've ever had. I've been on a 19-year fitness journey, and I've had multiple opportunities to work with other companies along the way. I never said yes because I was waiting for a brand like True Grit that is scientifically backed and has a passion for putting out the best supplements on the market.