Preparing For The 2007 Colorado Pro


[ Q ] It's your 2nd year as an IFBB Pro and you competed in 3 shows already this year with at least 4 more including this one. Do you think you can maintain your peak and get better or will you run out of gas by Olympia time where it counts most?

[ A ] June this year will mark one year as being an IFBB Pro, and I will be competing in 3 more shows, including the three I have already done.

I do understand how my body reacts, and moreover with the good standard of training and the support of my sponsors. As long as the moral of competition is there I will continue training and competing. As I continue to compete I will bring better qualities each time. So the gas will still be there and even more for a better show at the Olympia.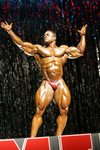 Click Image To Enlarge.
Silvio Samuel At The 2007 Iron Man.
View More Pics Of Silvio Samuel At The 2007 Iron Man: Prejudging - Finals.

[ Q ] You are now sponsored by Weider and MuscleTech, how do these contracts help you as a Pro?

[ A ] Yes of course. I have two great sponsors Joe Weider and MuscleTech. Since I have my contract with them my whole life career in bodybuilding has changed; many things are happening.

View MuscleTech Products Sorted By Top Sellers Here.
View Joe Weider Products Sorted By Top Sellers Here.

There is a great difference from when I was without any sponsors for the past 5 years. I've improved more on my quality and size, feel stronger than ever... I feel more determined to put in more effort on my training and improvements. I also have more advertisement and lots of publications which is helping me get closer to my many fans!

[ Q ] You have relocated your living situation to California being from Nigeria, Brazil, Russia and Germany. Looks like your living the Dream, how has life changed for you?

[ A ] Actually, I am now living in California - I feel after all the ups and down, living here and there, I hope and believe I have landed! My life has changed now that I really can settle down and do what I love doing most and enjoy, Bodybuilding! Where everyone can see your value, as well as appreciate ones effort. I am living a dream and still cannot believe it is happening.
Silvio Samuel Preparing For The 2007 Iron Man.


Viceo By SecondFocus.

[ Q ] What do you need to do to your physique to get in the top 10 of this years Mr. Olympia being that you qualified by placing 2nd in the Sacramento Pro and again by placing 6th at the Arnold Classic?

[ A ] Like I told you, I'm just a newcomer in the pro circuit, and I do have a lot to learn and improve on, so it will take some time. I know in order to bring all the good quality details that I need and continue to work on that. There are many professionals and advisers giving me day-by-day advice on those issues so one has to watch out for the changes.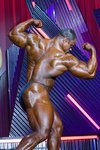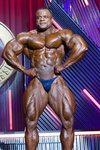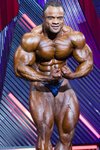 Click Image To Enlarge.
Silvio Samuel At The 2007 Arnold Classic.
View More Pics Of Silvio At The Arnold Classic: Finals - Prejudging.

[ Q ] You were recently featured on the cover of Flex Magazine after only 1 year on the Pro Circuit, what does this mean to you?

[ A ] First of all, it was a great surprise to see myself there, on the cover page of FLEX MAGAZINE. It really means a lot to me because I actually realized how much this game of bodybuilding is valued here and each time I see my picture in magazines, I feel more of the power and energy to put in much more hard work to reach higher and to be among the top best in the world!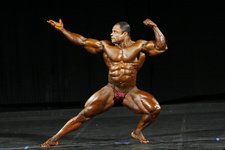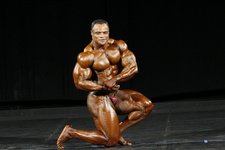 Click Image To Enlarge.
Silvio Samuel At The 2007 Sacramento Pro.
View More Pics Of Silvio At The Sacramento Pro: Finals - Prejudging.
Thank you for this opportunity and God bless.
RELATED ARTICLE
Colorado Pro Am Classic!


The 2007 IFBB Shawn Ray Colorado Pro/Am Classic will be held in Denver, Colorado June 1st and 2nd. The weekend will include an expo and many events like MMA, boxing, strong man contest, bikini model search and more...
[ Click here to learn more. ]