[ Q ] You won the Lt-Hvy & Overall Nationals in '95 then you kind of disappeared, where did you go and how is it that you are back?

[ A ] I won the lt-hvy and overall @ the '92 Nationals, the same year I also won the lt-hvy @ the USA'S. I did a few shows until '95, and placed very well, lots of 2nd and 3rd places. Did the Olympia twice, didn't do so hot. By the time I got to the Olympia, I was burned out from training for all of the other earlier shows.

Really stopped competing because I kind of lost interest in the competition aspect of the sport and became a lot more involved in training others, as well as myself. Also, I was blessed to have a beautiful daughter during my time away from competition, and became more involved with my family so, things have been good.

Now, what brings me back into the fire are a number of things. Symmetry seems to be making a huge comeback (I consider myself pretty symmetrical).

Symmetry:

[ Q ] You are a promoter of an NPC Contest, tell us more about that?

[ A ] There are a few of the guys there that have given the sport somewhat of a black eye. What I mean is it seems that hard work hasn't been rewarded in a long time, it just seemed to matter who was the biggest, and freakiest.

I am the promoter of the John Sherman Bodybuilding, Fitness, and Figure Classic, as well as the Houston Pro Figure Championships that will be held July 21, 2007 @ the Stafford Civic Centre in Texas. This will be the 14th year that the show has been in existence and quite frankly the largest show in Texas.

[ Q ] Now that you are competing again, what is your plan for the future?

[ A ] I have been blessed to have a mate that is more than supportive in any endeavor that I choose to encounter, Iris Kyle, 3-time Arnold Classic Champion and 3 time Ms. Olympia. Watching her training and diet regime has inspired me more than I could have ever imagined.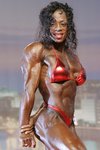 Click Image To Enlarge.
Iris Kyle At The 2007 Arnold Classic.
View More Pics Of Iris Kyle At The 2007 Arnold Classic Here.
Having her by my side has allowed me to dig deeper, and push harder to achieve the physique that I always knew that I could achieve. Since I have decided to compete again, my plan hasn't changed at all from before, that is, I plan on bringing the total package to the stage each and every outing.
When I have done that in the past, I am very hard to beat. So, I don't expect much to change. I plan on being my all time best each and every time. I also own a Great Earth Vitamin store in Houston, so, being in shape is a plus in marketing products for the company.

[ Q ] Did you find it harder or easier this time around for your contest preparation than your last show?

[ A ] I would say it was harder because training with Iris, we did more volume, more cardio, diet was more stringent, actually, we did more of everything, which in turn allowed me to really learn how far I could really push myself without overtraining, Let's just say none of it was easy.

Overtraining:

[ Q ] Since coming back to competition, what is the biggest change you've noticed on the pro level and what kind of impact do you hope to make?

[ A ] Conditioning is a must. You can have all of the charisma, the best posing routine, or the largest fan club, but, if that @ss ain't in shape, you can forget it. Judging kind of got away from the classic physiques and rewarded the guys with the Freaky muscle and huge bellies for a minute, but, things are changing back to the way that they should be.
RELATED POLL
What Should Be Most Important In Judging?
Our sport has always been a form of art, classic lines, symmetry, and flowing muscle. There is NOTHING artsy about a guy with freaky muscle and a stomach that gives the appearance that any day he could give birth.