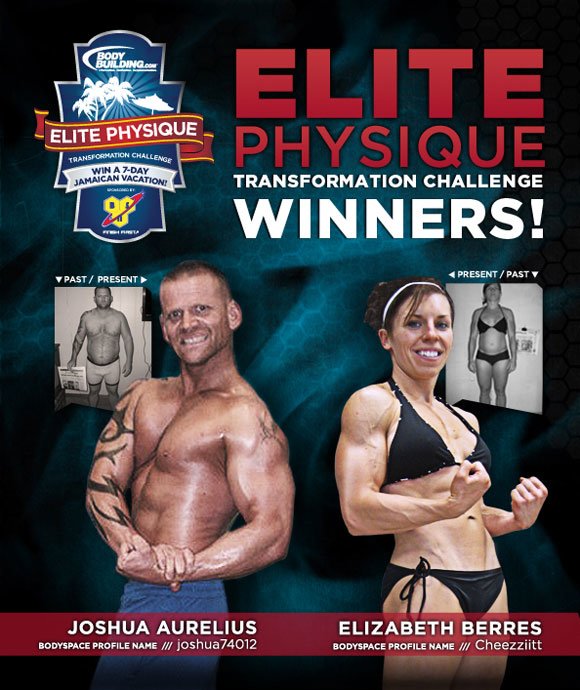 Team BSN Athlete Announces The Winners Of The 2011 BSN Elite Physique Transformation Challenge

Scott Herman Announces Grand Prize Winners
Watch The Video - 0:45
Top 4 Winners:
1. Joshua Aurelius (joshua74012)
1. Elizabeth Berres (Cheezziitt)
2. Ramon Calcano (weezy0130)
3. Trevor Brown (tcbrown3)

Top 10 Finalists (in no particular order):
Heath Carranza (HeathC)
Joshua Aurelius (joshua74012)
Michael Veaderko (splerf)
Trevor Brown (tcbrown3)
Timothy Riddle (TripWire76)
Tyson Wells (Twells)
Ramon Calcano (weezy0130)
Elizabeth Berres (Cheezziitt)
Shawn Walker (bikerider800)
Matt VanErt (audiodean7)

---
ELITE PHYSIQUE

Transformation Challenge


SPONSORED BY BSN

Bodybuilding.com and award-winning supplement company BSN are teaming up to help you transform your body and win a 7 day trip for 2 to Montego Bay Sandals Resort in Jamaica! Now is the time to commit to a new YOU.

Your success story could help you win amazing prizes!
Grand Prize Winners Receive:
First Place Winners Will Also Receive...
So how can you win? Dedicate yourself to our 12 week challenge, improve your physique, achieve your fitness goal and take back your self confidence once and for all. Then tell us your successful transformation story and show us how you did it!
Questions about the Contest? Learn more now!
How Does the Contest Work?
When Can I Register? Is the Contest Free?
How Do I Win & When Will You Pick the Winner?
How Do I Take "Before" and "After" Photos?
Do my face/feet need to show in my 'before' and 'after' photos?
What Should My Transformation Essay Be About?
Where Do I Upload My Final Essay & Photos?
What If I Have Other Frequently Asked Questions?
Join the TRANSFORMATION Nation — Use BodySpace & BodyGroups to Find Support!
Join the world's largest online fitness community, with over 954,000 active, motivating members and free online tools to track your progress!
Join BodySpace Now »
Meet other Transformation Challenge participants and find social accountability you need to help you meet your goals!
"Elite Physique" BodyGroup »