Vital Stats
Name: Marie McGee
Email: browneyesbella@hotmail.com
Bodyspace: McMusclesMcGee
Before:

Age: 32
Height: 5'6"
Weight: 205 lbs
Body Fat: 38%

After:

Age: 33
Height: 5'6"
Weight: 149 lbs
Body Fat: 25%
Why I Got Started
I wanted to prove it is possible to conquer what you set your mind to no matter how hard it might be. I wanted to be honest. I wanted to stop feeling like a hypocrite, a self-martyred control freak who wouldn't even listen to her own advice.
I felt like a liar, for not giving my family anything to believe in, to believe in me. It was time to find within myself the strength to face excuses I made for years. I wanted to be a better mother, spouse and a better me.
Before my transformation, I had zero confidence and a crappy attitude toward confident people. I smoked cigarettes. I was a self-sabotaging emotional eater, a mother and a cancer survivor.
In December 2005, I was diagnosed with late Stage 2 cervical cancer. My son was only 6-years old. You'd think this was a pivotal moment in my life, that it forced changes beyond prior comprehension because … it was cancer, a wake-up call and life-changer. I remember how helpless I felt about my son's well-being if I died. It's absolutely haunting. Hindsight equally haunts me.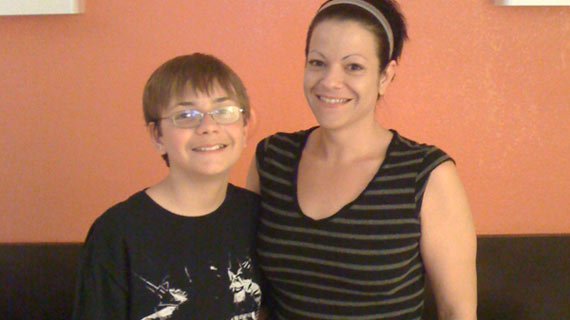 I started smoking cigarettes for the traditional, cliché reasons. I was 16-years old at the time. I tried quitting, but never could. I tried quitting when I was told I had cancer. I was successful for a while, but resumed smoking less than 2 weeks into my recovery. It didn't help that 4-of-5 of my supporting 'loved ones' were avid smokers. Throughout my recovery, I continued to live just as I did before my diagnosis. I went back to what I thought was 'normal.'
I was tired, depressed, lethargic, sad, moody and miserable. I ate and did not exercise. I smoked and did not care. I woke up and, sadly, never lived. My life didn't change immediately after I got cancer. I felt the way it was would be the way it would always be. I continued to be ignorant to how destructive, insecure and unhappy I was. I hurt myself and those who loved me. My weight directly reflected even more poor choices.
It took another 5 years, a lot of self-disdain, coincidence, vulnerability, accountability, forgiveness and the hands of my two soul survivors - Josh, my husband (who is proudly making a transformation with me) and Christopher, my son. I am grateful for them both.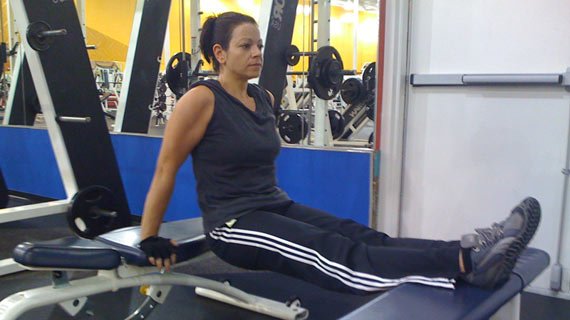 How I Did It
I didn't know what to expect. I had to accept change. Eeeeeek! Accept change? This meant relinquishing control of myself in almost every way I knew and learning a new way to live. It first felt like I was swallowing razor blades, but eventually became easier and easier.
With utmost respect and support from my husband (my truest motivator) I realized I can completely and independently change my body, heart, mind and soul. I can think, feel and perform everything 100 percent different and still maintain control my life in intelligent ways.
I never got rid of a thing (except those size 16 jeans). I only had two true options. The first: my 'before' self, teetering around 205-210 pounds of complete misery, my certain death. The second: my 'after' self, 149 pounds of total awesome! I chose the second option for its purity, honesty and added lifespan.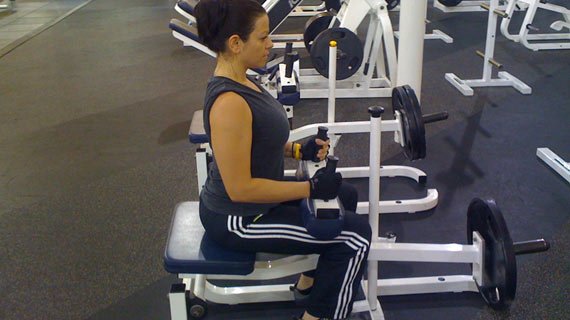 My husband can lead me, give me all of the fundamentals, but he can't make me dedicated, or force me to lift heavier or eat clean … he could take me to the gym, but he couldn't make me stronger. I had to do everything physical myself. Mental accomplishments gave me physical results. Physical accomplishments gave me a better mind. It was the best risk I ever took, because the rewards speak volumes. I now love life and, for the first time in 33 years, I'm in love with my body!
April 13, 2010 was the last day my husband and I smoked cigarettes. That was the first day we committed to a healthier life for each other and our family. A year and a half later and we've been 100 percent successful. We walked, decided to trade one bad habit for a good habit and we haven't stopped. Quitting smoking was the hardest thing I ever did, after beating cancer.
February 16th, 2011, I celebrated 6 years cancer-free and this time, not as a hypocritical and overweight smoker. I lost 61 pounds.
April 13, 2011, I celebrated being a non-smoker for 365 honest days. I will continue to celebrate every year I give back to myself and my family. I am humbled by how much I once took away. I can accomplish anything I want mentally, physically and spiritually. I've never felt more triumphant.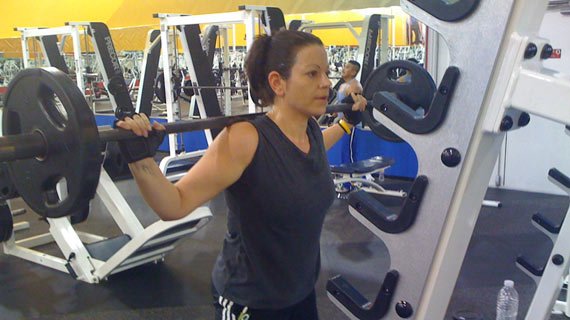 Suggestions for Others
Expect the unexpected, but do not fear it.
Don't only accept change. Embrace it.
Believe in yourself no matter what.
Stay consistent no matter what.
Realize one day's worth of effort goes toward a lifetime. Every single day takes you one day closer to being a better bodybuilder.
Set smaller reasonable goals. Reach them and always set more.
Don't weigh yourself all the time. Personally, I will go two weeks before I weigh myself. The scale is tricky and many elements could hinder the truest read. Instead, go by how your clothes fit and how you feel/see yourself. I learned by doing this, how to embrace my body changes and love myself more. Go ahead, check yourself out!
Learn to take compliments. When you have dedication it shows. People see your effort, that's for sure! It's okay to be proud of yourself!
Note from experience: always check your teeth after you have flax seeds!
Utilize your willpower to the utmost and give it 100% everyday. If you fall, get up and keep going.
Do what it takes to educate yourself. Transformation is a journey and a developed process that takes effort and understanding, so ask questions! Don't be afraid of anything the world of fitness has to offer. Find every way to educate yourself and don't worry about feeling overwhelmed.

Change of any size certainly can be frightening but the more you learn, like anything, the easier it becomes. For me, I started on Bodybuilding.com and now it's my 'go to' site for everything! I also found concentrating my focus on one specific site (like Bodybuilding.com) helped with feeling less confused considering all of the debating and conflicting info out there.
If women truly want the results - they have to roll with the big boys. There isn't a 'female' vs. 'male' routine. You have to be willing to lift like the men do, lift heavier, do barbell squats just like the guys, sweat, and take the grunts like a champ. Learn the relationships between all of your muscles and push (or pull) it.
Realize that what held you back is exactly where it belongs. Behind you. Leave it there, take the first step forward. Be humbled - be wise - be committed.