Karen Campbell: Powerlifting Grandma
This 52-year-old definitely benches more than you. Meet Karen Campbell, the powerlifter who pushes through middle age fearlessly, setting records along the way!
Karen Campbell lives in Maine, is a mail carrier for the USPS, and is the proud grandmother of seven grandchildren.
Oh, and she can bench press more than 500 pounds and deadlift just as much.
The 52-year-old powerlifter competes in the World Association of Bench Pressers and Deadlifters (WABDL). Through the organization, she's earned multiple single-ply, open-class world records in the bench press and deadlift.
Campbell's coach Al Stork says there's no one like her. For most people, those words would be nothing more than a compliment. In Campbell's case, however, they're undoubtedly true.
Learning how to lift big weight
"I grew up on a small farm," recalls Campbell. "I threw hay and shoveled manure. In high school, I played softball. I've always been a strong person, so it was pretty easy for me to transition into a strength sport."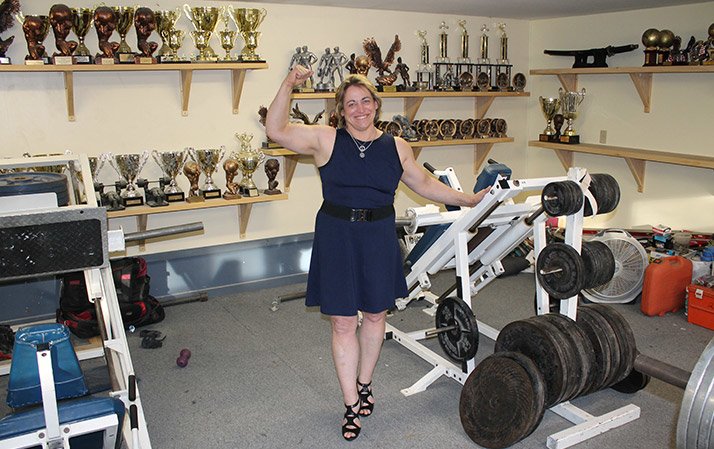 Some people take to the challenge of moving weights that could crush them with an unbelievable ease. Campbell is definitely one of them.
Campbell hasn't been lifting since she was a teen, though. She began powerlifting seriously at age 40, after being approached in a gym by her now-coach, Stork. "Working out was something my kids and I did together," she says. "Al remembered I had a pretty decent bench press. At the time I think it was 135. That was 12 years ago."
Some people take to the challenge of moving weights that could crush them with an unbelievable ease. Campbell is definitely one of them. Once she got serious about training, her huge numbers quickly became too impressive to hide.
Karen Campbell WABDL women's open class world records
Single-ply push/pull total at 198 pounds: 875.9 lbs.
Single-ply bench press at 181 pounds: 453.9 lbs.
Single-ply bench press at 198 pounds: 512.5 lbs.
"You know, we were thrown out of a gym because of Karen," says Stork. "Some guys were doing 225 for their max lift, and she threw it on and knocked off 10 or 12 reps. We were loud and aggressive. You know how that goes."
Experiences like that convinced to Al open his own training center, Stork's Powerlifting in Winterport, Maine. Since it's opening, Al has had the privilege of watching Campbell do nothing but improve.
"Karen can be pushed. I can push, push, push her, and she'll just keep on going," he says. "I've seen her with little tears rolling right down her cheeks, but she keeps lifting. She's a tremendous worker. If I wanted to train eight hours a day, I believe she'd do it. That's just the way she is."
How the Champ Gets Heavy
Campbell prefers to compete in a geared federation, which means she can wear a bench shirt and deadlift suit that can improve a lifter's form and numbers. But she says she also likes this approach for the extra stability it provides.
"The bench shirt makes me feel safer under the really heavy stuff," she explains. "When I'm doing the bench raw, I tend to be a little lazy on the way down. In the gear, you have to work the bar in both directions, the way the lift is supposed to be done."
Karen Cambpell
Bench Press
Watch the video - 0:46
Don't let the gear fool you, though; Campbell doesn't need it to be strong. Her best raw bench is still an incredible 380 pounds. Her best deadlift in competition is 505. And although she doesn't do squats in competition, her best in-gym squat is 405 pounds.
"We train five days per week for about 1.5-2 hours," says the Titan Support Systems athlete. Even with a full-time job and seven grandchildren, she always makes time to train and always shows up ready and eager to get to work.
"She makes me smile when she comes in the gym," says Stork. "I look forward to seeing her every day. Even though I have great lifters, she's the best."
A Growing Sport for Women
Since starting as a powerlifter, Campbell has seen her sport change from one where women were an extreme rarity to one where many are eager to chalk up and tighten their belt at a meet. "Women are realizing that it's OK to be strong," she says.
Campbell's Competition Bench-Press Warm-Up
135 2 sets of 6 reps
185 4 reps
225 2 reps
275 2 reps
315 2 reps
365-370 1 rep
Put on bench shirt
405 to 2 boards
455 to 1 board
Opening lift
"Most women aren't looking at powerlifting like it's a manly thing anymore," says Stork. "We used to look at a powerlifter like he was a big, dumb athlete. But, once you get into the sport, you realize it's much more than that. The lifts are complex, and knowing how to do them properly takes a lot of intelligence."
Know what else is intelligent? Approaching strength-building as a lifetime sport, which is what this 52-year-old preaches. "As you get older, you need a strong base to keep you mobile and healthy," she says. "Of course you don't need to be lifting huge weight, but women are prone to osteoporosis, and lifting weights builds bone density."
"Powerlifting is about being able to push yourself," says Campbell. "And there's no limit, really. We have people in our federation that are their nineties. I can keep doing it until I can't anymore."
Aside from the health benefits of lifting, Campbell has seen incredible changes in her physique. When she started, she weighed 215 pounds. Today, she weighs 190 pounds at 18 percent body fat. Her lean muscle mass is a whopping 160 pounds.
"Usually, people ask me if I'm a bodybuilder, because they don't know the difference between the sports," she says. "Sometimes it starts a conversation. I think women are starting to see that they can be strong and still be beautiful. I don't feel like I look manly or out of place. I like how I look. Some people tell me, 'I wouldn't want to look like you.' Well, you know what? You're not going to. If you're not willing to work hard like I have, you're never going to get here."
Now a dozen years and many, many trophies into her passion, Campbell still hasn't seen the ceiling. "People have said to me, 'When's it going to be enough?' Well, why does it have to be enough?" she asks.
Powerful advice
As an ambassador for her sport, Campbell is always happy to encourage other people to try powerlifting. However, she has some very specific advice for beginners: Start by getting your technique solid.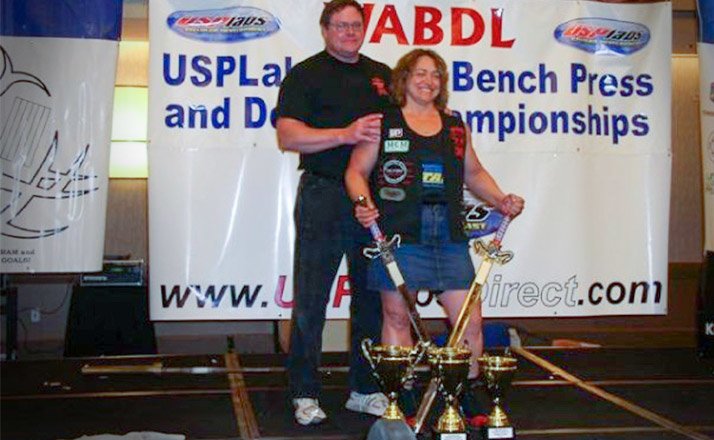 Now a dozen years and many, many trophies into her passion, Campbell still hasn't seen the ceiling.
"Make sure you work with someone who knows what he or she is doing," she says. "If you don't have the form down before you move heavy weight, you can get hurt. It's not just about the lift; it's about doing it right."
Once the form is solid, Stork adds, the game becomes far more mental. "If you think you can, or you think you can't, you're probably right," he says. "The mental part is so important. If you walk up to a lift and you're thinking, 'I don't know if I can get this,' you might as well walk away."
The Champion Takes All Comers
Campbell competes in the 2015 WABDL World Championships in Las Vegas from November 17-22. There, she'll lift against women in her age group and weight class as well as women of all ages in the open class. She won't offer up a prediction or a target, but Stork is more forthcoming. "Maybe we'll hit 550," he says.
"I don't promote her enough. It's something really new to me. I love to coach and teach, but when you have an athlete as good as Karen, I have to promote her too, or people are never going to know her."
And now, you know her.