HRT: Animal Hellraiser Trainer - Nutrition Overview
Making your way through the horrors of hell takes time and energy. You better pack a lunch (seriously) to refuel your tortured body and survive this arduous program.
To gain muscle mass worth boasting about, you need to venture into the depths of the Hellraiser workout, an exhausting ordeal that makes you so strong even the hounds of hell will cower.
Animal Hellraiser
Nutrition
Watch The Video - 5:20
Your meals transform your body into the mass you crave. Your protein and carbohydrate needs must increase to match your exertion in the gym. If you don't eat enough, you will lose mass. These workouts are more intense than most; you will empty your tank on every workout. Re-fuel with a proper diet.
When you eat, you should be thinking about fuel, not taste or convenience. This training, as brutal as it is, is not enough. If you're not committed to doing what it takes with a knife and fork, this sh*t's not for you.
You will eat 6 meals per day, about 2-3 hours apart. Eat lean beef, chicken breast, white fish and eggs for proteins (1.5 grams per pound of lean body mass). This is a mass gainer, so carbohydrates are required too (2 grams per pound of lean body mass). Eat peanut or almond butter when workout demons really run you down; the healthy fats re-charge your stores. Just don't eat too many fats; they are calorie-dense and detrimental to your gains.
If you're not eating enough on HRT, you're not going to get the mass you want. Cheat meals are accepted. A pizza or cheeseburger won't ruin this plan. You must deviate a little bit; it makes you more consistent, fresh in the long run.
Cook your meals the night before you eat them, and then cart everything with you for the day. Bring a cooler and separate your meals in containers. That cooler on wheels won't look bad-ass, but neither will a slip in performance because you didn't eat lunch.
Take your food on the road with you. Don't skip a meal because you don't have a way of heating it up. Man up! Eat your food cold. You're only one meal away from failure.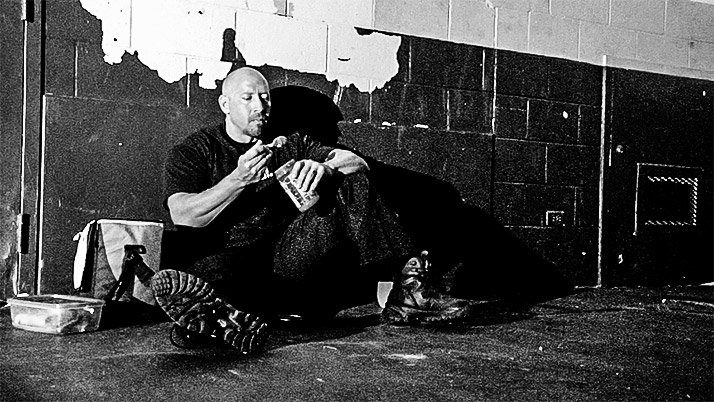 When you eat, you should be thinking about fuel, not taste or convenience.
HRT training isn't something you just pick up and cruise through. Your lifestyle will change in this program. At times, you have to eat differently from your girlfriend, wife or family. In the end, you'll find that every trip through hell is a solitary quest. But, I went there and returned stronger. I broke the trail through hell, so just follow my lead.
You're right, body composition isn't as important as overall size. Let's say we take a dude who weighs 200 pounds. If he has 10% bodyfat, then we will use 180 pounds of lean mass as the basis for determining some macros:
Protein (1.5 grams x Lean Body Mass (180) = about 270 grams total protein for the day)
Carbs (2 grams x Lean Body Mass (180) = about 360 grams total carbs for the day)
Broken down into 6 meals and with most of the foods I recommended, it would look something like this:
Sample Diet Plan
The portions shown here are for a 200 lb male with 10% body fat.
meal 1

---

---

---
meal 2

---

---
meal 3

---

---
meal 4

---

---
meal 5

---

---
meal 6

---

---

---