Holiday Health Treats That Don't Go Right To Your Seat!
Don't let the prospect of a big Christmas meal scare you away from the table. Try these healthy holiday recipes & ease your diet woes.
Have you or anyone you know ever experienced Post Traumatic Thanksgiving Disorder? No, we're not talking about when your feuding family gets together for thanksgiving dinner - which can be very traumatizing! We're referring to the remorse you inevitably feel after indulging in every delicious dish and dessert that is laid before you on Thanksgiving Day, and then going back for seconds.
Everyone knows that Thanksgiving is focused around food, and there's no reason why you shouldn't be able to enjoy the holiday just like everyone else. The question is do you want the weight gain like everyone else too?
Although delicious, traditional Thanksgiving meals are usually unhealthy and can hurl your fitness goals into a downward spiral. However you are in luck! Despite common misconceptions, you can make healthy alternatives that are just as tasty - your family won't know the difference! Let Dr. David Ryan introduce you to 5 Thanksgiving recipes that you can enjoy, and not have to loosen your belt a notch after eating.
Egg Whites That Taste Just Like Bananas Foster
Ingredients

---

---

---

sugar free caramel syrup
1/4 cup
---

---

---
Whipped cream
---

---
Directions
Start with 6 Egg Whites (you can crack and separate your own eggs, but note most grocery stores carry "Just Egg Whites") & (use more or less eggs if you want) and one teaspoon of artificial Vanilla Flavoring.
Blend the Egg Whites and Vanilla in a blender with 2 tbsp Skim Milk for 30 seconds on medium to medium high. It will make a whipped cream, fluffy texture.
Take a Banana and cut very thin slices and drop it into the open side of a hot skillet with Non fat/Non stick coating.
Allow the Bananas to contact the heat and they will start to brown, which is caramelization of the sugars in the fruit. Add ¼ cup Sugar Free Maple Syrup and some Pecans (optional).You can then pull the mixture to one side of the pan and lower the heat to medium.
Add some additional nonstick spray to the exposed side and pour in your Egg/Vanilla/Skim Milk mixture.
Drop the mixture into the skillet. Stir the Eggs gently until they are standing and cooked-pretty much like Scrambled Eggs.
Now fold the Eggs and Banana together and let stand for about a minute on medium heat.
Place them on a plate, add some Sugar Free Maple Syrup and some Sugar Free Caramel Dressing, top with some Sugar Free Whipped topping and enjoy. Sprinkle on some Cinnamon to really kick this up a notch.
You can always pour a little Brandy around the Eggs and ignite them, but I'm not advising that in bed.
---
Mince Meat Egg White Omelet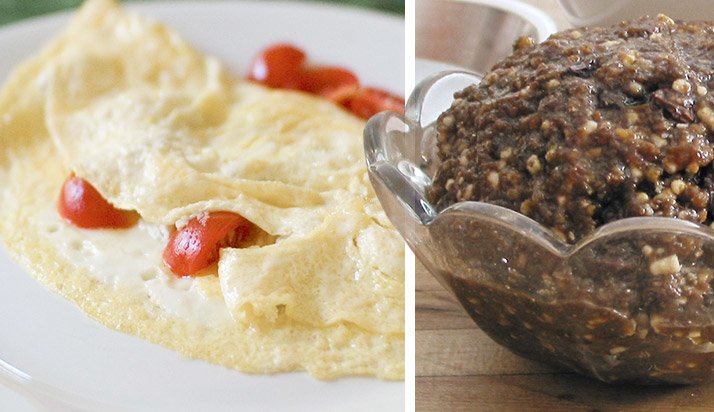 Ingredients

sugar free maple syrup
1/2 cup
---

---

dried cranberries
1/4 cup
---

---

---

fat free cream cheese
2 tbsp
---

---

---

---

Sugar free caramel syrup
4 tbsp
---
Directions
In a medium/high heat skillet, add ½ cup Sugar Free Maple Syrup, ½ cup Raisins, ¼ cup dried Cranberries, ¼ dried Blueberries, ½ cup Splenda®, 4 tbsp Sugar Free Caramel, ¼ crushed Pecans (Walnuts can be substituted)in that order and mix each time with a wooden spoon. Allow the mixture to reduce and thicken, about 5 minutes.
The right consistency is like taffy. Keep on a warm skillet, cause if it cools too much it will not pour.
Now take 6 Egg Whites and blend with ¼ teaspoon of Nutmeg and Cinnamon.
Add 2 tbsp of Skim Milk and allow it to become meringue (fluffy).
Pour into a medium heated skillet generously coated with Non-stick spray.
Cover and check to see if the Eggs are setting up. Gently place the mince meat on the cooking eggs on one half and add some Fat Free Cream Cheese.
Using a spatula, fold the Eggs over the Mince Meat/Cheese.
Gently plate the eggs by removing the skillet with thermal gloves and using a spatula (wider is better).
Generously sprinkle on some additional Nutmeg and enjoy.
---
Sugar-Free Pecan Pie
Ingredients

---

---

Can't believe it's butter
1/2 cup
---

---

sugar free maple syrup
2 cups
---

---

---

---
Directions
Preheat oven to 350º. Prepare Crust with 1½ ground Walnuts (Almonds optional) mixed with 2 cups of Splenda ® and ½ cup of "I Can't Believe it's Not Butter®" with 3 tbsp Cinnamon: Mix contents in a skillet on low heat until soft. Place in 9" Pie Dish and shape to pan and cook 8-10 minutes.
Remove when crust starts to brown, it happens quickly then burns.
Allow to cool to room temperature or chill if flaky crust is desired.
Pour 2 cups of Sugar Free Syrup, 3 cups of Pecans, 2 tsp Nutmeg, ½ cup Sugar Free Caramel Syrup, in a stick free skillet on high heat.
Mix in 4 cups of Splenda® slowly until a very sticky taffy consistency.
While mixture is still warm, add 3 Eggs and quickly pour into the Pie Crust.
Line up some additional Pecans on surface, and then bake at 350º until a golden brown. Keep refrigerated and allow to only slightly warm to room temperature (remember the Eggs need to be chilled).
---
The Best Baked Beans You Will Ever Eat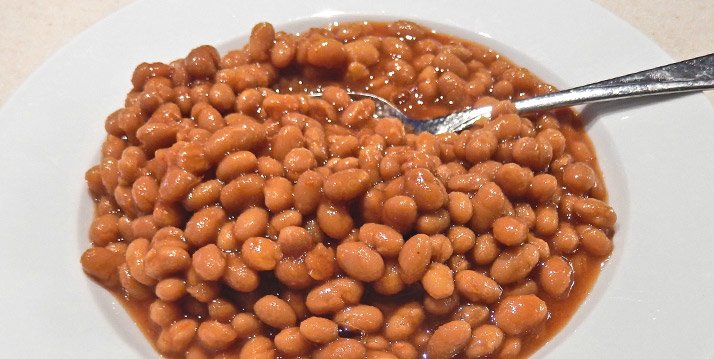 Ingredients

---

---

---

---

sugar free maple syrup
1/4 cup
---

---
Directions
Heat 2 cans of your favorite Beans in a sauce pan, then add 4 tbsp fat free Butter, 1 cup Splenda®, 1 tbsp liquid smoke, ¼ cup Sugar Free Maple Syrup.
Simmer for 5 minutes and add artificial Bacon Bits or chunks of Filet Mignon.
Take a fresh Onion (sweet) and cut in half and grill.
Once Onion is done, open and slice into chunks.
Add Beans over Onions and don't blame me for the whole aftermath.
---
Tuna Nachos
Ingredients

---

---

---

---

---

---

---

fat free mayonnaise
1/2 cup
---
baked nacho chips
1 large bag
---

fat free shredded nacho cheese
1 large package
---

salt free seasoning
1 tbsp
---

Fat free sour cream
1/4 cup
---
Directions
Preheat oven to 350º. Start with two cans of water packed Tuna.
It is important to drain the Tuna by opening a can and leaving the lid in place.
Place the can against the wall of your kitchen sink with your finger tips firmly against the lid.
The can should be on the sink wall nearest to you and use your body weight to press the fluid out of the can.
Keep the lid in place and run some water over the can and repeat the process of draining the can several times.
Cut 2 cups of sweet Onions, ½ cup Scallions, ½ cup Green Pepper, ¼ cup Chives, ½ cup Red Bell Pepper, 1 cup of Hot Peppers and ½ cup of white Onions.
Mix Tuna and ½ cup Fat Free Mayonnaise and add all cut items except white Onions (add some Hot Sauce for a spike).
Take a pizza tray and place baked Corn Nacho Chips or Whole Wheat Nacho Chips to completely cover the pizza tray.
Add Tuna mixture and then Fat Free Shredded Nacho Cheese and sprinkle some of the white Onions on top and added Salt-Free Seasoning.
Continue layers until products are exhausted. Cook in oven at 350º for 15-20 minutes until Cheese is brown.
Top with Fat Free Sour Cream or Cream Cheese.
---