Fitness 360: Raynor Whitcombe, Samoan Strength
BodySpace spokesmodel Raynor Whitcombe wants to inspire his fellow Samoans—and the world—to live fit. Read his story and get his full fitness plan!
Raynor Whitcombe didn't get into fitness because he wanted to change the world, but winning the 2015 BodySpace Spokesmodel Search may provide him with the opportunity to do just that.
Whitcombe started lifting to build size and strength growing up in Samoa, but he now hopes to inspire his fellow Samoans—and everyone around the world—to reap the benefits of a fit and active life.
Watch the video below to learn more about Whitcombe's upbringing, message, and fitness mission, and read on to get his full training, nutrition, and supplement plan!
Fitness 360
2015 BodySpace Spokesmodel Raynor Whitcombe
Watch the video - 5:43
Island-Made Dreams
Every bodybuilder's physique tells a story, but there's always more than hard work and consistency behind the body. As a child in New Zealand and Samoa, Whitcombe played baseball, soccer, basketball, and football.
Vital Stats
Name: Raynor Aden Whitcombe
Age: 26
Height: 6'2"
Contest weight: 214 lbs.
Occupation: Cinematographer, personal trainer
Education: Liberal arts degree, American Samoa Community College; exercise science certificate, Weltec Institute
A shift to heavy weightlifting as a high school senior got him ready for the field. But Whitcombe's sports dreams were not meant to be. He was destined for a different sort of championship.
The Whitcombe brothers—Tulaga, Terrence, and Raynor—moved to Samoa with their mother, Ruta Peleti Thompson, from New Zealand following their parents' divorce. Their grandparents were pastors in Samoa, an island nation in the South Pacific of about 200,000 people. It was there that Whitcombe really became immersed in sports and, later, bodybuilding.
"I grew up on the islands, learning the language and culture," Whitcombe says. "The obesity rate has skyrocketed in American Samoa. I want to be an example, a role model to my people. It doesn't have to be this way. My people must become aware of what's good for their diet, for them to be around longer for their children and their grandchildren."
The obesity rate in Samoa is terrifying. Since World War II brought Western culture to the Pacific Rim with its high-fat, processed diet, the island nations have seen dramatic rises in obesity and diabetes. The World Health Organization estimates that a staggering 80 percent of women in American Samoa are overweight, and 47 percent of its citizens are diabetic.1,2 Cardiovascular disease, anemia, and hypertension are among the highest levels on Earth.
"It comes down to diet and exercise," Whitcombe says. "[My people] are aware, but choose not to eat better or exercise. It's really sad, but I hope to make a change in someone's life back home and create that chain reaction."
Whitcombe began working with his brothers, as well as personal trainer Eliu Paopao, who motivated him by breaking him down and instructing him in proper form. "Almost every day, Eliu would call me 'skinny bitch,'" Whitcombe says. "I hated to be called that in the gym. It started getting to me. I wanted to prove them wrong, and that motivated me to be better, to change, to make them realize I had potential to grow.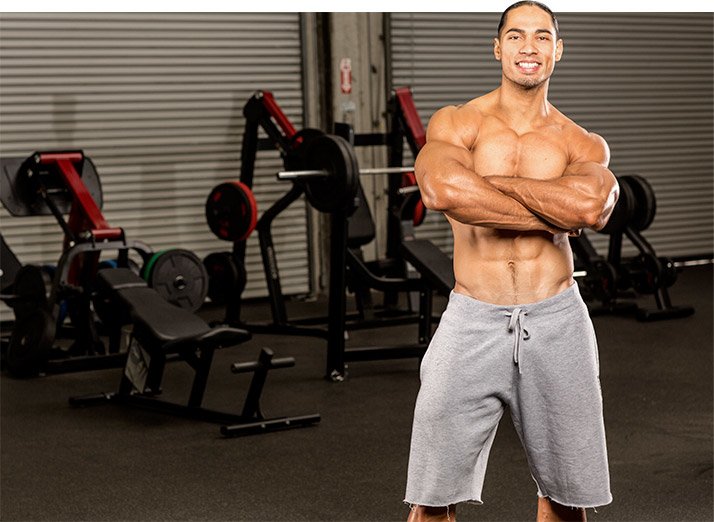 Raynor Whitcombe was destined for a different sort of championship.
The group trained heavy, with high reps and constant variation of exercises and angles. "I knew nothing," Whitcombe says. "I had no form. The training with Eliu was brutal. He was the type of trainer who had you lift until you had to go throw up."
To reach his target audience, Whitcombe also educated himself formally. He earned a degree in liberal arts in Samoa, then attended the Wellington Institute of Technology in New Zealand to study exercise science. He landed a position as a personal trainer at Les Mills gym. For the first time, he was truly living his dream of helping people.
Giving Back
Raynor's aims are lofty. Not only does he want to reverse the obesity epidemic plaguing Samoa and help Samoans become fit, he wants to help the entire world become a fitter place as well. Reaching a larger audience with his message of healthy living inspired Whitcombe to sign up for the BodySpace Spokesmodel contest.
Not only does Raynor want to reverse the obesity epidemic plaguing Samoa and help Samoans become fit, he wants to help the entire world become a fitter place as well.
"I want people to know it's not about me, why I am here," Whitcombe says. "It's about giving to others. Whatever I learn, I want people to know I am willing to offer that knowledge to them, to guide them to stepping stones, to get them in the right direction.
As a Bodybuilding.com spokesmodel, Whitcombe is excited travel the world, speaking at expos and representing not just Samoa, but the entire fitness culture. "I want to help people around the world make a change. It's not just about looks; it's about feeling good about yourself. It's about feeling healthy and taking care of your body, because we only have one body on this earth. If you don't take care of it, you're not going to be around very much longer."
Hyping the All Blacks
Whitcombe isn't just about fitness. He also works as a freelance cinematographer with his brother Tulaga, who runs a media business in American Samoa. In this New Zealand All Blacks hype video, Tulaga did the music production and editing, and Raynor shot and edited the video.
Unfortunately, life expectancy on the islands has dropped as the health crisis has overtaken the people. "The food in my diet is not so great back home," Whitcombe explains. "Maybe back in the day it was, before all the fast foods arrived. The people back home are dying at such a young age. They are having heart attacks and wondering what's happening."
That's exactly what Whitcombe is here to change.
Nutrition Plan
Whitcombe's nutrition program is pretty basic. He follows this specific diet because it works for his body. He eats nutrient-dense foods to perform at his best when he trains.
"This is a great starting diet for the Samoan people," Whitcombe says. "It gives them an idea of what type of foods they should be eating for overall health and weight-loss goals."
Meal 1: 6 a.m.
Quaker old-fashioned oats:
1 cup
---
---
---
Meal 2: 8:30 a.m.
---
---
---
---
Meal 3: Noon
---
---
---
---
Meal 4: 1:30 p.m.
Meal 5: 4:30 p.m.
Whole-wheat toast:
2 slices
---
---
---
Meal 6: 7 p.m.
Mixed veggies (peas, carrots, corn):
1-1/2 cups
---
---
---
Training Philosophy
Whitcombe has superb symmetry, but that took a lot of work. He stopped training legs and back when he finished high school football, and only did upper-body work—hest, shoulders, and arms—for several years. Once he started doing full-body training again, Whitcombe grew into the balanced bodybuilder he is today. "I like to feel strong from the ground up; it helps keep me explosive in my agility drills when I train," he says.
Weight training comes first, followed by HIIT cardio. Whitcombe keeps his rest periods short, and he incorporates plyometrics—plyo lunges, box jumps, squat jumps, and other explosive exercises— into his split. Those plyos come in circuits of 3 exercises, 20 seconds each, with 10-second rest periods.
He'll also cycle in two-a-days, doubling up his workouts three days each week. "I focus on my weak points, and increase the training sessions to help build and strengthen that muscle group. I don't have any specific on/off times. I like to just train and push my body until it gets tired," he says.
Training Regimen
Day 1: Legs
Day 2: Back
Day 3: Arms
Day 4: Shoulders
Warm-up superset
1
---
2
I like to come just under the chin and then back up. No pause at the top. Resist on the eccentric part of the lift.
---
3
---
4
---
5
Use light weight for this exercise to keep the rear delt isolated.
---
6
---
7
---
8
---
Day 5: Chest
Day 6: Legs and abs
Warm-up
1
2
---
3
---
4
---
5
---
6
---
7
---
8
---
9
---
10
When I get to the halfway point, I do mountain climbers.
---
11
---
12
---
Day 7: HIIT Trisets
Triset: 2-3 sets
1
---
Triset: 2-3 sets
2
---
Triset: 2-3 sets
3
---
Supplement Regimen
Upon waking
---
---
Pre-workout
---
Intra-workout
---
Post-workout
---
All Fitness 360 Programs References

Seiden, A., Hawley, N. L., Schulz, D., Raifman, S., & McGarvey, S. T. (2012). Long?term trends in food availability, food prices, and obesity in Samoa. American Journal of Human Biology, 24(3), 286-295.
Waqanivalu, T. K. (2010). Pacific islanders pay heavy price for abandoning traditional diet. Bulletin of the World Health Organization, 88(7), 484-5.