Fitness 360: Jim Stoppani, Ph.D., Training Program
Jim Stoppani, PhD, has to stay lean and mean for his busy schedule of photo and video shoots. Find out how he maintains his mass while staying trim!
If you've ever tried Shortcut To Shred, a trainer on Bodybuilding.com, then you've already seen a good example of how Jim Stoppani, Ph.D., trains. His workouts are intense, always changing, and are programmed so that he can maintain both his mass and his lean body composition.
Jim Stoppani, Ph.D., Fitness 360

Watch The Video - 18:04
Efficiency In Action
"I think my overall training philosophy can be summed up in the old bodybuilding adage: Everything works, nothing works forever," says Jim. So Jim consistently changes his workouts. "I change the exercises, the weight, the rep ranges, the rest periods, how fast I perform each rep, and how frequently I train each muscle group each week. That's the essence of all my programs—they're constantly changing from week to week. I'm also a firm believer in periodization," explains Jim. "I often combine different periodization models into one program."
Says Jim, "If I'm not in the gym training, then I'm not doing my job, because that's when I'm learning and making up new exercises and creating new programs." Jim also has to stay in shape so that he's camera-ready for photo and video shoots. "I need to be as muscular as possible, but also as lean as possible. So at this stage of my training, I'm more focused on staying conditioned than I am about getting bigger and stronger."
What is cardio acceleration?
Cardio acceleration exercises can be as simple as running in place next to the bench. You can also do jump rope, dumbbell cleans, step-ups, or any combination of full-body exercises. The only requirement is that you keep moving for the entire 60-90 seconds.
"I'm a natural athlete," says Jim. "At 45 years old, I'm pretty much at my genetic peak for gaining size. I'm not going to get much bigger than I already am. Of course I'm always trying to push it to the next step, but I'm never going into this huge mass-gaining phase because I'm trying to stay lean. Any mass that I do gain will be very lean."
To stay lean, Jim likes to use what he calls "cardio acceleration." Instead of working the treadmill for hours, Jim does 60-90 seconds of a high-intensity movement between all of his regular sets. "It's really the only way I train now because it's so efficient. It keeps me lean and allows me to build muscle and gain strength."
Think you'd be tired of training after doing it for more than 30 years? Jim disagrees. "This happens to be what I really love doing. It's not like I need motivation to go to the gym. It's something that I wake up and can't wait to do. It's fun for me."
Jim's Training Split
I'm currently finishing up my "Down And Up Mass Program" and this week the workouts are as follows. I do 60-90 seconds of cardio acceleration between every set.
Monday
Rest 1-2 minutes between sets
1
---
2
---
3
---
4
---
5
---
6
---
7
---
8
---
9
---
10
---
11
---
12
---
13
---
Tuesday
Rest 1-2 minutes between sets
1
---
2
---
3
---
4
---
5
---
6
---
7
---
8
---
9
---
10
---
11
---
12
---
13
---
14
---
15
---
Wednesday
Rest 1-2 minutes between sets
1
---
2
---
3
---
4
---
5
---
6
---
7
---
8
---
9
---
10
---
11
---
12
---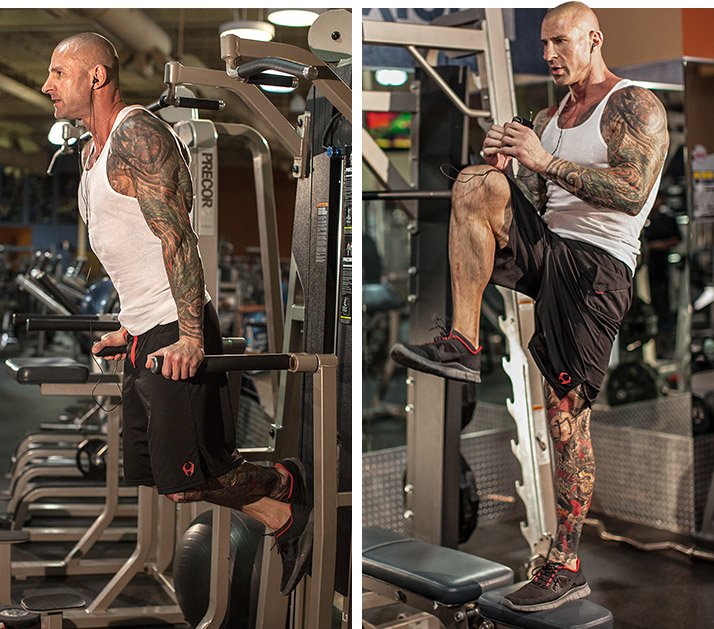 Thursday
Rest 1-2 minutes between sets
1
---
2
---
3
---
4
---
5
---
6
---
7
---
8
---
9
---
Friday
Rest 1-2 minutes between sets
1
---
2
---
3
---
4
---
5
---
6
---
7
---
8
---
9
---
10
---
11
---
12
---
13
---
Saturday
Rest 1-2 minutes between sets
1
---
2
---
3
---
4
---
5
---
6
---
7
---
8
---
9
---
10
---
11
---
12
---
13
---
14
---
15
---
Sunday: Active Rest