With Thanksgiving right around the corner, many people have thoughts of turkey, stuffing, mashed potatoes and pumpkin pie running through their heads. You, on the other hand, may have dreams of your pants fitting a lot more snug or the scale inching up to numbers you weren't hoping to see any time in the future.
Some studies have indicated that a typical Thanksgiving meal can run you about 3000 calories, but for those of you with big appetites, you could easily be looking at 5000+.
While it is still only a one-time occurrence (unless you feast on leftovers for the remainder of the week like you just ate the last turkey that existed), it still will impact both how you look and feel.
For those of you who are concerned about your health and physique, chances are you're already thinking about ways you might be able to reduce the calorie load.
The problem comes though when your relatives or friends show up and utter a resounding, 'That's what you're going to eat,' to your healthier creations.
Most people who thoroughly enjoy their Thanksgiving feasts aren't willing to part with the fatty fare. Luckily, with some simple tricks and substitutions you can fool them into thinking they are eating their usual high-calorie standbys, when really, they're eating the reduced-calorie version.
Step-By-Step Plan
Here is a step-by-step plan for keeping your Thanksgiving meal full of flavor but not full of calories.
Trimming The Turkey
Turkey in itself is actually a terrific source of protein and is low in calories and fat provided you are choosing the white meat. Where most of the calories come from with your turkey is the gravy you drown it under, packing 150 calories per half a cup.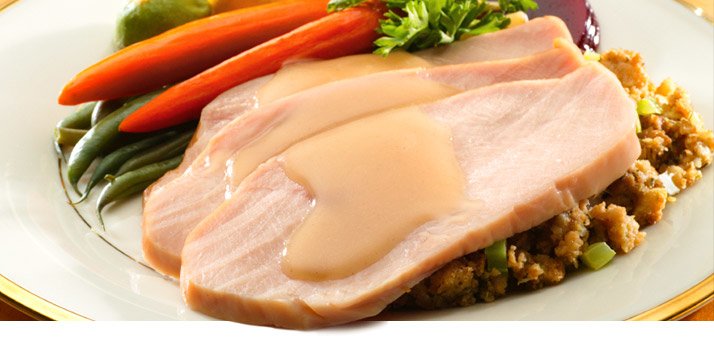 You can slim your gravy down by making an alternative recipe and leaving the fat drippings in the pan where they belong. First dissolve one tablespoon of cornstarch along with 2 cubes chicken or beef bouillon in about ¾ cup cold water. Once that's finished, add in a small amount of pepper along with any other spices you prefer.
Or, consider forgoing gravy altogether and using cranberry sauce or even low-sugar ketchup for those who are ketchup fans. Your family may not choose to do so, but it's a small change that you can easily make once everyone has dished up and is too focused on their own meal to notice.
Preventing The Stuffing From Expanding Your Waistline
For those of you who typically serve up stuffing that's been prepared right inside of the turkey, you're really doing your diet a great injustice.
Stuffing contains an average of 200 calories per ½ cup serving, but let's face the facts - most people are dishing up at least one cup, if not more.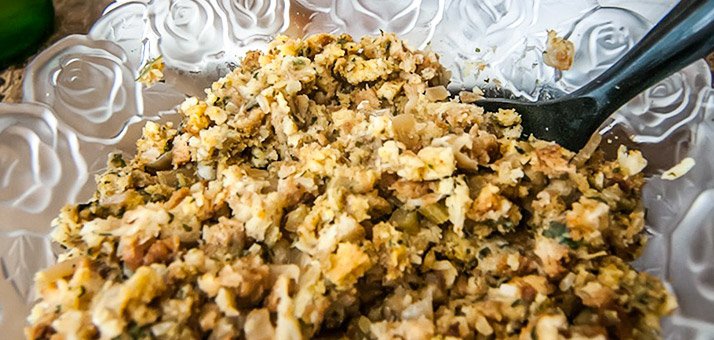 Stuffing contains an average of 200 calories per 1/2 cup serving.
To lighten the stuffing, opt to prepare it outside of the turkey on its own. This will prevent the fat from seeping into the stuffing, being soaked up in the bread.
Here is a stuffing recipe you can use that's created outside of the turkey.
Healthy Thanksgiving Stuffing Recipe
Ingredients
---
---
---
---
---
---
---
whole-grain bread
1 loaf chopped into small peices
---
---
---
---
Directions
First preheat the oven to 350 degrees. Next, melt the butter in a skillet over medium heat until bubbling. Add in the onion, celery, carrot, cardamom, thyme, parsley and bay leaves, cooking until the vegetables feel tender.
Next, take the bay leaves out of the skillet and combine a large bowl the bread, oats and vegetables. Sprinkle with salt and pepper.
Third, mix together the eggs, beating until frothy. Drizzle the eggs over the mixture until coated and then add the vegetable broth to the bowl until the stuffing is moist but not soggy.
Transfer this to a casserole dish and bake for about 30 minutes.
---
Swapping Butternut Squash For Mashed Potatoes
Next up on your menu is fluffy mashed potatoes. These are a 'must' for most people at their Thanksgiving meal. It is something that people are definitely going to comment about if not served.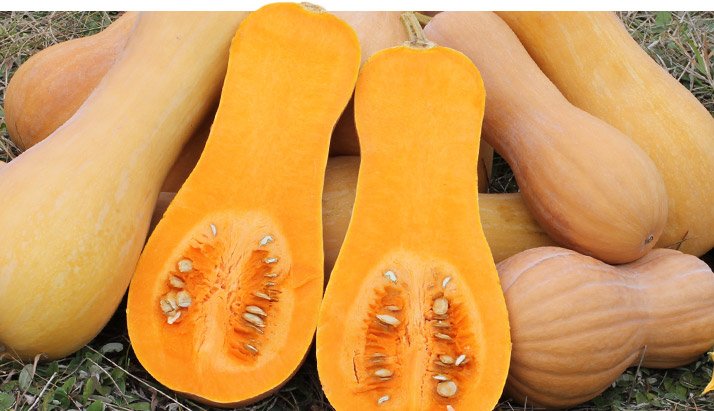 These are a 'Must' for most people at their Thanksgiving meal.
You can easily make this option healthier though by first opting to use butternut squash in place of regular white potatoes, and then making a few alterations to how you prepare them.
Start by cutting the squash in half, and then removing all the seeds and excess fibers. From there, cut into chunks and bake for 30-40 minutes at 400 degrees Fahrenheit. You can also boil the squash cubes until their tender for about 20 minutes if you'd prefer.
After that, drain and mash just like you would regular potatoes. During the mashing process, add in 2 tbsp of 'I Can't Believe It's Not Butter' or another butter substitute product, 2 tsp of brown sugar, Splenda, salt and pepper to taste and some ground nutmeg.
If you would prefer an even fluffier texture, consider whipping with a beater rather than just mashing the squash.
Creating Lighter Peas, Corn and Green Beans
When it comes to your veggie of choice, most people will want one or all three of peas, corn, and green beans. To help lighten these, again use 'I Can't Believe It's Not Butter' after cooking, or even just a simple butter spray. Sprinkle with whatever spices or herbs you prefer to help add flavor without the fat and calories.
Or, even better would be replacing these starchy vegetables with a romaine salad, served with a low-calorie dressing.
Calorie-Controlled Cranberry Sauce
Rather than purchasing a pre-prepared cranberry sauce out of a can, consider making your own.
To do so combine one cup of orange juice with one cup of Splenda in a saucepan until it's dissolved, and then add in one 12 ounce package of fresh cranberries. Continue to cook until the cranberries make a 'popping' sound (about 6-8 minutes), and then remove from heat to allow the sauce to cool.
Swapping the sugar with Splenda in this recipe will definitely help reduce the calorie count.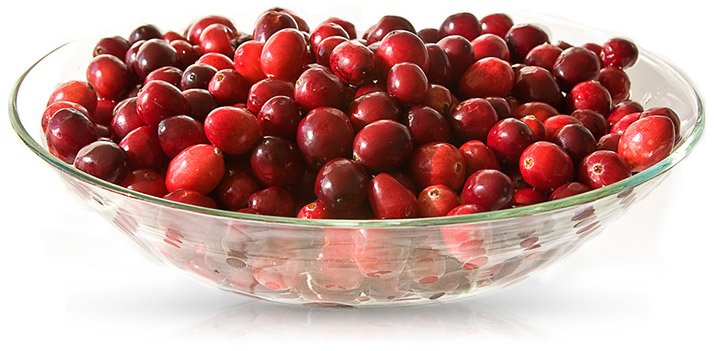 Consider making your own cranberry sauce.
Tasty-Low-Calorie Side Swaps
Before the meal even begins, your guests are going to want something to snack on. Traditional choices include cheese and crackers, pepperoni slices, olives, chips, and beer. To help lighten the calories before the meal even starts, consider some simple replacements.
Choose pickles in place of crackers and cheese, halve or quarter some hard-boiled eggs (or make devilled eggs with fat free mayo), and then serve sliced green, red, and orange peppers, and have sliced carrots, snow peas, celery and mushrooms.
If you do want to serve chips, consider baking some soft tortilla shells, breaking them apart into chip sized pieces, and serving with salsa.
This will reduce both the fat and calories from your traditional flavored potato chips.
Finally, opt for light beer rather than regular to help keep the calories down. While it is better to forgo alcohol altogether, for many people this isn't an option, so subbing in lighter drinks is going to be the next best thing.
Deadly Desserts Recreated
Finally, no Thanksgiving meal would be complete without dessert. Dessert is often the biggest killer of this meal as common choices are pecan pie, chocolate cake, or pumpkin pie.
If you are going to choose one of those three, opt for pumpkin pie as it's usually going to be the lowest in calories when prepared traditionally.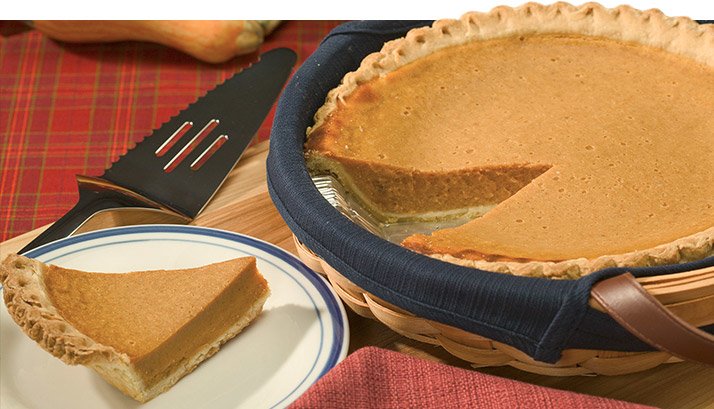 Opt for pumpkin pie.
Or even better prepare your own healthier version by making a few adjustments that will have little or no impact on the overall taste.
First, in any dessert that calls for eggs, try replacing one or two of the whole eggs with two egg whites. In certain desserts you will want to keep at least one egg yolk in there, but for many cakes, it can easily be changed.
Secondly, consider replacing applesauce or another fruit puree for oil as this will help to retain the moisture while also adding more of a sweet flavor.
If the recipe calls for sweetened condensed milk, which is high in both fat and calories, you can simply sub this in with nonfat sweetened condensed milk, which is available in most grocery stores.
To help cut down on the sugar content of the dessert, you can often replace at least one half of the sugar with a non-sugar substitute.
So, don't be afraid to modify the recipe slightly so you can get a lower cal version that won't send the calorie totals of the meal way over budget.
Low-sugar pudding made with skim milk and topped with fat free cool whip and fresh berries is also another tasty dessert that is actually a healthy and low cal addition to your meal.
Conclusion
So, by following these easy modifications you can help not only yourself but your guests as well have a much healthier holiday - one in which they won't have to diet for a few weeks afterward to regain their previous shape.