At A Glance
Name: Mandi Cochran
Title: Financial Reporting Manager
Department: Finance
Hire Date: Feb 2011
BodySpace ID: MandiCochran
Favorite Products: BSN Syntha-6 Chocolate Milkshake and Quest Chocolate Chip Cookie Dough Bars
Q
What is your role at Bodybuilding.com?
Financial Reporting Manager, Finance/FP&A, I do all internal and external financial reporting. Anything from our typical monthly financial packet prep to creating, publishing, and maintaining the corporate budget. Everything from sales funnel development to individual departmental budget expenses are all built into a massive budget P&L and give us our EBITDA goals for the year.
What keeps you motivated to do your job well?
I love being able to develop and provide information that can be used to make significant decisions. I love being able to relay highly financial/accounting information into usable non-financial minded data for our executives.
How does our mission resonate with your daily job?
A lot of my time/effort/work creates a complete budget that we as an entire company work towards. It makes me feel like I personally have a direct impact on how we operate and how well we do.
In three words, describe what it is like to work in the eCommerce industry and Bodybuilding.com.
Fast, changing, innovative
What makes you most proud of working for Bodybuilding.com?
I love how passionate everyone here is. It can be difficult being over in Finance to want to remain distant and secluded from the other department in terms of our customer. But I can see through emails, the few people I have attempted to befriend on Instagram, and just the vibe in the gym, that everyone is stoked to be here. I do get jealous of those individuals who can have a direct impact on the customer but then I remember, hey, someone has to watch the budget, why not me?
I am constantly motivated by all the strong ladies around here. They are always killing it in the gym and it always motivates me to try harder, go more often.
Bodybuilding.com is known for awesome benefits and fun culture. What is your favorite perk or aspect of company culture?
I would say the gym and the volleyball court. I like a lot of our incentives honestly and hope we keep coming up with more! Well maybe, as long as it stays within budget. :)
How has Bodybuilding.com influenced your health and fitness?
I was never a big gym girl, as I always got fit through sports and two-a-days but I can see here that dedication to the healthy lifestyle in general is somewhat of an art. Since the lifestyle resonates through all facets of this job, it constantly motivates me to be the best I can be throughout every aspect of my life.
What motivates you stay on track with your fitness goals?
I am constantly motivated by all the strong ladies around here. They are always killing it in the gym and it always motivates me to try harder, go more often.
Do you have a favorite sport?
I absolutely love playing sports. I grew up an athlete so I prefer to get my cardio in through a game or two. I typically play volleyball both here and through Boise League as well as basketball and some pickup rec softball if I can fit it into my schedule.
Selfie at the office with Gerardo Juarez, Accounting Specialist
What is the funniest thing you have overheard at work?
It would have to be a few months ago, our Finance department was awarded 5-minute chair massages—hello perks! It was my new employee Gerardo's first week here. We were trying to identify where the chair massages were going to take place, and our VP of Finance, Ryan, writes back on the email string that it was probably down at the shed out back. Most of us know Ryan likes to play tricks and laughed it off. Not Gerardo. So when it was his time, I see him coming up the back steps and he comes and asks me where the "shed out back" was located. It was awesome.
Thanks Mandi! We are happy to have you at Bodybuilding.com!
Meet More Team Members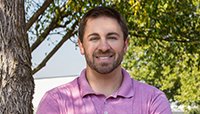 Interested in joining the team?
We're a team of editors, designers, engineers, videographers, customer service reps, and more that are passionate about changing lives.
Learn About Careers at Bodybuilding.com