There seems to be a division within bodybuilding concerning who should be placed where and why at the pro level, regardless of the eventual outcome based on the judges decision. This will always be the case as people simply have their preferences. Some fans love size and others prefer aesthetics.
The shape connoisseurs are forever throwing their arms up in despair when their more "balanced" favorite is defeated by one of the more massive guys, who along with their size and cuts seem to fit the prevailing judging criteria.
It is further thought that those competitors who come in at under 210 pounds have greater potential to bring the streamlined "mass with class" that was best represented by legends such as Frank Zane and Lee Labrada. If only there were an event devoted solely to these types of physiques. Well now there is such as category.
At this weekend's Europa Pro, fans will see for the first time ever, a 210-pound class highlighting bodybuilding's best "smaller" men. Held on Friday the 10th, the under-210 pound class will host the likes of Eryk Bui, and Derik Farnsworth.
Another man, a favorite to take this class, is Tricky Jackson who, along with his great balance, conditioned size and excellent posing skills, has generated some good momentum going into this show. At this point in his career he will always be overlooked in favor of the more massive, established guys, but his steady improvements - 12th at the Colorado Pro, three spots up from 15th he achieved at the Keystone - have increased his potential to do well in his remaining 2008 shows.
Like all in his class Tricky also has the option of competing in Saturday's open event, but before then will be hoping to snag the $3000 first place prize in the under 210-pound class.
Like many fans of the sport, the prospect of an under-210 pound pro bodybuilding class has always appealed to me. Surely it will generate more interest in bodybuilding as a whole and one hopes the event will be contested more regularly in future contests. But will it really achieve its intended impact - to broaden bodybuilding's appeal and attract more contestants to the shows? I sought some answers from Tricky on the eve of this pro bodybuilding first.
One thing is for sure. He will once again be bringing down the d@mn house!

[ Q ] How do you feel you will fare at the Europa Pro show in the under-210 pound class against athletes of a similar stature?

I think that I will get a much better look in the 210-division than in the open. I believe that some times the smaller stature guys are overlooked. It is not because they are not as good but because they are not as big. It's like in the open shows, it is size first then conditioning and symmetry. But these qualities should be equally judged.

In this division all athletes will be closer in size pound for pound- so the judges should be able to zero in on conditioning and symmetry. Depending on who shows up I feel I have a good shot of at least the top three.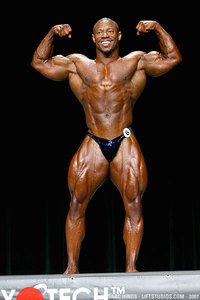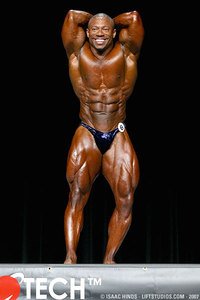 Click To Enlarge.
Tricky Jackson At The 2007 IFBB Colorado Pro/Am Classic.
View More Pics Of Tricky Jackson Here.

[ Q ] Given you do have the option of competing against the larger competitors in the Saturday show will you do this also?

I will compete on Saturday as well. I have already placed twice this year- 15th at the Keystone and 12th at the Colorado. I got a lot of positive feedback that I should have been at least 10th or better at the Colorado. My size was about the same, but my condition was better. This was the feedback I got from judges at the Keystone- don't focus on size- bring in a tighter package to beat the bigger guys. So that's what I did for the Colorado. I planned on being even tighter at the Europa and maybe still a pound or two bigger.

I do think it will be hard for all that crossover because we will have to pose at least twice the day before the open and also maintain a peak look for two days- that will be tough.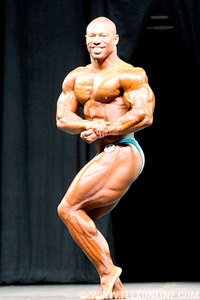 Click To Enlarge.
Tricky Jackson At The 2007 IFBB Keystone Pro Classic.
View More Pics Of Tricky Jackson Here.

[ Q ] Will the under-210 pound class generate as much interest as the over-210 pound class?

Probably not as much because there is no Olympia qualification at stake and not enough money involved. Nothing is really at stake. There will still be some interest but not as much. Some interest will still pull some fans. But this can be improved upon with time.

Put the 210-pound class with the main show as a separate division (like novice in NPC)- this will mean more ticket sales for the same show. Extend the prize money to the top three, five, or six. Who cares if it is less money per placing- more spots to win money- more at stake, more athlete participation and more fans (Top 6- $1000, $600,$500,$400,$300,$200 for example).

Doesn't sound like much, but after competing for trophies for over 10 years I will take it. And if the winner can get an "O" bid how bout an automatic invite to the Arnold? Plenty of good options to add more interest to the class will be good for the sport.

Maybe we can eventually get a 210-division at the Olympia itself with the winner crossing over to the open. But you have to qualify at the smaller shows in the 210 and under (top 3) to make it to the 210-division at the Olympia. That would be awesome.
RELATED POLL
Do You Think The Under-210 Pound Class At The Europa Will Generate As Much Interest As The Over-210 Pound Class?

[ Q ] In your view, how will the 210-pound class improve the Europa show?

More athletes in the show, the more fan support- more butts in seats at the show.
RELATED ARTICLE
An Interview With Tricky Jackson.


First time Colorado Pro competitor, Tricky Jackson, is no stranger to the bodybuilding stage and with around eight pounds of new muscle, 2007 is looking to be a good year for Tricky.
[ Click here to learn more. ]

[ Q ] Do you feel all pro shows should have an under 210-pound class?

If the open division continues to overlook the smaller stature guys then yes, it adds fairness. All other pro sports with weight divisions on the amateur level- also have weight divisions on the pro level.

If I'm competing in a show where I have a legitimate chance to win (cash) I will have 20-25 people come out to support me because I will invite a lot of them. But I am not inviting people to see me just barely make the top 15 if that has no reward. Lets be real.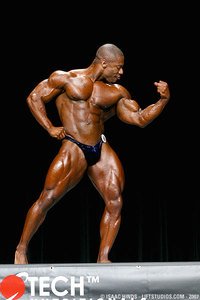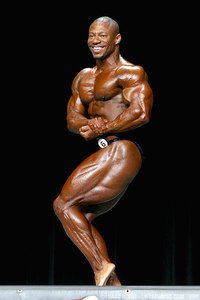 Click To Enlarge.
Tricky Jackson At The 2007 IFBB Colorado Pro/Am Classic.
View More Pics Of Tricky Jackson Here.

[ Q ] What specifically will the under 210-pound guys bring to the show physique-wise that will make for a better show?

A more attainable look for the average fan and more aesthetic and pleasing look to the eye and I also think there will be more athleticism displayed in posing routines by the smaller stature pros (not all, but in general).

[ Q ] Will an under 210-pound class encourage more guys who are bordering on 215-220 to come down in weight do you think? And why would they do that?

Not in the beginning because again there is nothing at stake. But if we had more placements, invites to the Arnold, and/or qualification toward the "O" or a 210 division at the "O"- then h-ll yeah.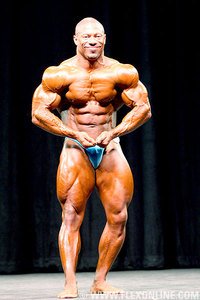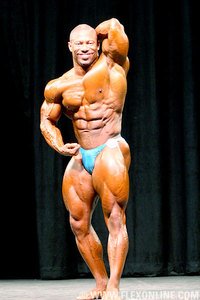 Click To Enlarge.
Tricky Jackson At The 2007 IFBB Keystone Pro Classic.
View More Pics Of Tricky Jackson Here.

[ Q ] Who in your view is the best "smaller" pro competing today?

Based on placements since turning pro I would say David Henry since Lee Priest retired. But I am lurking in the shadows- lol. And I am guessing he will not be doing this event.

[ Q ] Describe the training program you have used to prepare for this show?

My training regimen has not changed much over the years. If it ain't broke don t fix it. I always train high intensity, using pyramiding, and supersets with moderate weight. Reps stay between 6 and 12. One muscle group per day- training 3-5 days in a row depending on how I feel followed by one day off. I have gotten my cardio back up to 50-60 minutes per day from about 35-40 minutes to improve conditioning.

[ Q ] Have you made any changes to this program since your last show?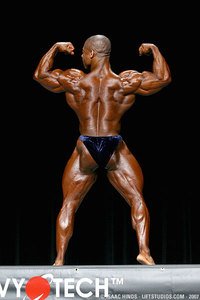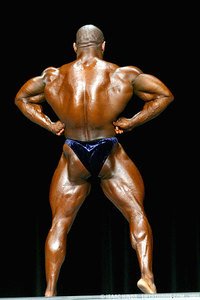 Click To Enlarge.
Tricky Jackson At The 2007 IFBB Colorado Pro/Am Classic.
View More Pics Of Tricky Jackson Here.

[ Q ] Describe your diet for the Europa? Any changes made to this since your last show?

I am working some with Dave Palumbo on my diet to come in tighter. So he has me doing a higher fat diet and less carbs than I am used to. I am also working closer with MHP to get the best supplement plan together.

For this show I have added the 12-hour sustain released Glutamine product and for optimum nitrogen uptake and amino acid needs I am using Leukidrol and Trac Extreme. The combinations seem to be working great.
PRODUCTS
MHP Presents:


Leukidrol-SR


Introducing Leukidrol-SR - the first and only anabolic activator in the world with 12-Hour Metered Dose Technology! Unlike competing anabolic activators, Leukidrol-SR's brand new pharmaceutical time released technology keeps you in a highly anabolic state for a prolonged period of time.
[ Click here to learn more. ]
MHP Presents:


Trac Extreme-NO


The World of Nitric Oxide Supplementation Will Never Be The Same. With the introduction of Trac Extreme-NO, MHP strikes a deadly blow to every other Nitric Oxide supplement you have ever known, rendering them useless dust collectors on the shelves of nutrition stores everywhere.
[ Click here to learn more. ]

[ Q ] Have you made any improvements to your physique since your last show? If so, what are they?

At current, 3 ½ wks out, I am 200lbs at 3.8% bodyfat. For the Keystone I was 193 and 4.4% bodyfat. So at three weeks out I am already ½% lower and 5lbs bigger- go figure.

[ Q ] What can the crowd expect to see from you come August 10?

The biggest, hardest, driest, Tricky Jackson to date and still bringin' down the d@mn house.
2007 EUROPA PRO
Free Live Webcast!


Men's Pre-Judging:
1:30 pm, Saturday August 11th (CDT)
Men's Finals:
6:00 pm, Saturday August 11th (CDT)
[ Click here to learn more. ]