Chocolate Chip Cookie Dough Protein Truffles!
Looking for a healthy take on that bowl of chocolate chip cookie dough you've been dreaming about eating? Try this sweet, protein-packed alternative!
Who doesn't dream of digging into a fresh batch of cookie dough? There's just something about indulging in a spoonful of batter packed with sweet, chocolaty morsels that makes you want to eat the whole batch!
Now, imagine diving into a bowl of cookie dough that's actually healthy and stocked with protein. Imagine that healthy cookie dough came in easy-to-eat, individually sized truffles. Sound too good to be true? Luckily, it's not!
In fact, the "secret ingredient" of chickpeas makes these protein cookie dough truffles perfect any time of day, especially when paired with a cup of coffee for a pre-workout snack! A few truffles also make the perfect afternoon treat when you feel like having a little something to power up your work day, but don't want that late-in-the-day sugar crash.
You might be skeptical of the chickpeas, but when you give them a try, I promise these truffles will floor you. They're soft, sweet, and delicious!
Below, you'll find a recipe for "naked" truffles, as well as a note on how to dress them up. Hint: the dressing involves chocolate! Both ways are absolutely delicious, but the chocolate-covered truffles definitely feel a bit more like a sweet dessert.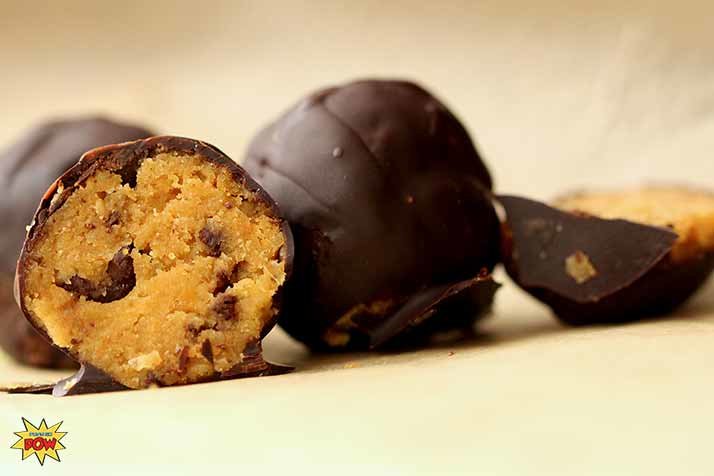 Ingredients (truffle)
---
Canned chickpeas (unsalted and cooked):
3/4 can
---
Coconut sugar (or low-carb granulated sweetener):
1 tbsp
---
---
Chopped dark chocolate (or dark chocolate chips):
1 square
---
Ingredients (optional topping)
Dark chocolate:
2 squares
---
Directions
In a food processor, mix all ingredients together except for the chocolate chips. Mix until you've formed a paste or dough. Taste the cookie dough to make sure it's sweet enough! If not, add more sweetener.
Add in the chocolate chips. If your mix is too sticky, add a tiny bit more of the coconut flour—just a half teaspoon at a time—until you get your desired consistency.
If you want to coat your truffles, melt the dark chocolate and dunk your truffles before placing them on an aluminum-foil-lined tray. Set in the fridge for a couple of hours before serving.
---
Nutrition Facts
Serving size: 1 truffle (without topping)
Recipe yields: 8 servings
Amount per serving
Calories 65.4