Buff Dudes And The 9-Week Journey For The Goblet Of Gains: Day 45, Shoulders and Traps
Nothing will bring bubbles of fear to the lips of your opponents like massive shoulders. Put a load on your delts today to show the world what you've got!
You've done presses aplenty over the last six weeks. Now meet…the clean and press. This old-school strength builder used to be a staple in every gym, but it's largely forgotten today. But lucky you, you get to spend the final three weeks of the journey visiting it in the retirement center once a week to glean every bit of its wisdom.
Add this full-body move to the pulls and raises you'll be doing, and your delts will get attacked—er, loved—from every angle. And you'll be ready for a nice soft place to lie down under a shady tree.
Day 45: Shoulders and Traps
1
---
Superset
2
---
Superset
3
---
4
---
5
---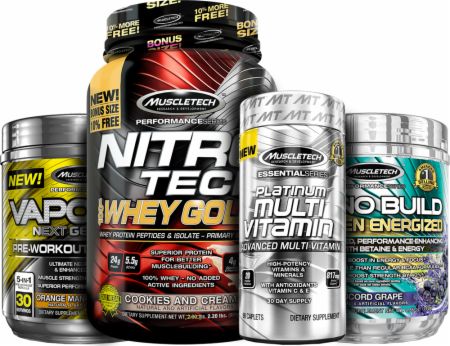 MuscleTech Buff Dudes Stack
Combo For Supporting Muscle Growth, Boosting Endurance And Recovery. Stack Your Results!