Buff Dudes And The 9-Week Journey For The Goblet Of Gains: Day 34, HIIT
One more session to go this week! It'll be quick, but if you do it right, each minute will feel like 10. Bring the intensity!
Are you dreading today's sprints? Maybe a little. But are you seriously, seriously dreading them? Then maybe you should give a little more thought to supplementation or meal timing. Have you been training on a relatively empty stomach or skipping things like BCAAs or a pre-workout? If so, this could be the time to try a light pre-workout meal such as rice cakes and half a protein shake, or a pre-workout supplement. Both can help you find extra reserves that may have been inaccessible before. Now go crush this cardio!
HIIT Cardio
1
12-15 rounds of 20 sec. sprinting, 60 sec. active rest
---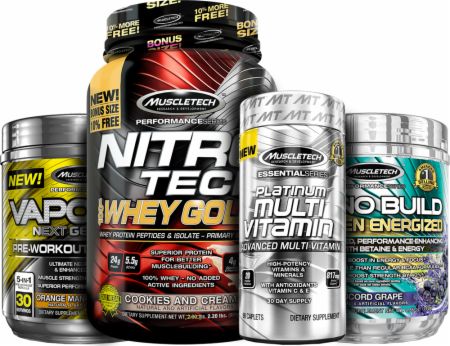 MuscleTech Buff Dudes Stack
Combo For Supporting Muscle Growth, Boosting Endurance And Recovery. Stack Your Results!