Valerie Waugaman is one of the hottest names on the figure circuit. With her gorgeous face, sexy walk, and sculpted physique, people stop and stare when Val walks into the room.
And whenever she steps on the competitive stage, Val's a serious contender for an overall title. In fact, Val won the NPC National Figure championships in 2005, the Colorado Pro figure event in 2006, and is having a break-out year in 2007.
Click To Enlarge.
At The 2007 IFBB Arnold Classic.
View More Pics Of Valerie Waugaman Here.
With her 5th place finish at this year's Arnold Classic, 1st place finish at the Colorado Pro event, and 1st place finish at the Houston Pro event, Val is carrying with her some serious momentum going into the Olympia. Indeed, many industry experts believed Val should have won the Arnold Classic. And many more are predicting a victory for Val in Vegas.
As Val's year-round training and nutrition coach, I've been inundated with questions about her program, her diet, and her supplements. So, in this article, I'd like to give a synopsis of each.
At The 2007 IFBB Colorado Pro/Am Classic.
View More Pics Of Valerie Waugaman Here.

Val's Off Season

At this point, it's important to know that Val is a study in commitment and discipline. In fact, she makes most of the men around bodybuilding.com look like fickle little school-girls, both in the gym and out. Her intensity is mind-blowing; her focus is laser-like. And her attention to her training and nutrition plan are inspiring.
Val eats clean and works incredibly hard year-round, knowing that not only does she have to look good on the stage - she also has to be ready at a moment's notice for photo/video shoots, appearances, and the fitness camps that she leads.
Now, most of you are probably wondering how she stays this fit even during the off-season. Well, like I said - discipline and commitment. Below is an example of what her weekly exercise schedule looks like.
| | | | | | | | |
| --- | --- | --- | --- | --- | --- | --- | --- |
| | Mon | Tues | Wed | Thur | Fri | Sat | Sun |
| Duration | 1 hour total | 1 hour | 1 ½ hours | 1 hour | 1 ½ hours | OFF | 1 ½ hours |
| Modes | Intervals*, Plyometrics, Low Intensity Cardio** | Resistance Training, Intervals* | Resistance Training, Intervals*, Plyometrics | Resistance Training, Intervals* | Resistance Training, Low Intensity Cardio** | NONE | Low Intensity Cardio** |
*Interval exercise includes indoor or outdoor running and/or bike sprints, rowing sprits, or stepper/elliptical sprints.
In addition to this intense year-round training plan, Val's diet is also very clean. To begin with, she shops at health food stores and organic markets, buys mostly organic produce, and eats meats that are antibiotic and hormone-free. Further, she only ever eats out 1-2 times per week and never eats fast food. Finally, she eats at least 1-2 servings of veggies with every single meal.
Finally, in the off-season, Val supplements daily with the following basic supplements:
a milk protein blend
a protein/carb workout drink
fish oil
a green food product
In fact, as Val was introduced to me through my Precision Nutrition program, her diet and supplement routine pretty much follows the PN program perfectly.

Val's Olympia Challenges

Even with this great off-season plan and awesome off-season level of conditioning, it's important to understand that doing what it takes to look good in the off-season and doing what it takes to step onto the Olympia stage at your absolute best are two very different things.
As is usually the case with physique competitors who stay lean year-round like Val, two challenges arise going into pre-contest preparations.
First, Val always enters into her 8 week pre-contest phases quite lean from following a pretty high volume weekly exercise plan. This is a challenge because we can only increase her exercise volume so much before she starts to feel run down, experience CNS fatigue, and begin to feel the effects of overreaching. Further, because she's already very lean, this also means that her body fights fat loss every step of the way.
1 of 3: The Central Nervous System (CNS):




The human central nervous system consists of the brain and spinal cord. These lie in the midline of the body and are protected by the skull and vertebrae respectively.

This collection of billions of neurons is arguably the most complex object known.

The central nervous system along with the peripheral nervous system comprise a primary division of controls that command all physical activities of a human.

Neurons of the central nervous system affect consciousness and mental activity while spinal extensions of central nervous system neuron pathways affect skeletal muscles and organs in the body.
In addition to this first challenge, there's one more. You see, Val made the commitment early on in her career to avoid using fat burners and stimulants. We're also proud to admit that she's never taken any steroids, thyroid hormones, or illegal stimulants when prepping for shows. (For those of you wondering, this is rare in physique competition - even at the figure level).
Now, as many competitors rely on fat burners, at minimum, to get lean for the stage, this means we're competing against athletes with a fat loss edge. So we've had to take a different approach. Namely, we use an extensive cyclic nutrition and training plan.

Val's Olympia Diet

Here's an example of how we're manipulating Val's nutrition plan in cyclical fashion:
Day 1
Day 2
Day 3
Day 4
Day 5
Day 6
Day 7
1500 kcal
35% protein
40% carbs
25% fat
1000 kcal
45% protein
25% carbs
25% fats
1000 kcal
45% protein
15% carbs
40% fat
1450 kcal
40% protein
20% carbs
40% fat
1000 kcal
45% protein
25% carbs
25% fats
1200 kcal
40% protein
30% carbs
30% fat
1000 kcal
45% protein
15% carbs
40% fat
The whole idea behind this system is to cycle calories and macronutrient ratios so that Val's body stays out of starvation mode. You see, both very low carb intakes as well as very low calorie intakes can signal starvation.
Yet they're often necessary for getting ready for the competitive stage. Therefore, to keep Val out of trouble, we cycle between low carb, low calorie, higher carb, and higher calorie days.

Val's Olympia Training

Also, throughout Val's 8-week preparation period, we change her training program every 2-4 weeks. Here's what one of her training blocks looks like.
Monday:

Morning
1h lower body resistance training w/quad and hamstring focus followed by 10min interval bike sprints

Evening
30min posing
Tuesday:

Morning
1h upper body resistance training w/chest & back focus

Evening
1h upper body resistance training w/shoulder & core focus followed by 20min interval rowing
Wednesday:

Morning
45min lower body resistance training w/glute focus followed by 30min yoga

Evening
20min interval bike sprints
Thursday:

Morning
60min medium intensity cardio

Evening
20min interval bike sprints followed by 20min swimming
Friday:

Morning
45min lower body resistance training w/quad focus

Workout 2 (Evening)
60min medium intensity cardio
Saturday:

Morning
60min upper body resistance training w/back & shoulder focus

Evening
20min upper body resistance training w/chest & back focus followed by 20min interval rowing
Sunday:

Of course, as the contest prep period wears on, we alter the calorie intake and training based on her response. Specifically, if she isn't leaner from one week to the next, we drop calories by about 100-150 each day. Further, we also change her training based on which body parts are coming in the best.
As you can see in the phase above, we are working mostly chest, back, and legs as these areas needed the most work early on in her prep. As these areas come in, we switch the program up, placing more emphasis on arms, shoulders, and glutes - the last areas that usually need special attention on Val's physique.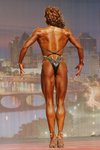 Click To Enlarge.
At The 2007 IFBB Arnold Classic.
View More Pics Of Valerie Waugaman Here.

Val's Olympia Supplements

As mentioned earlier, during the off-season, when Val's caloric intake is higher, we stick with a few basic nutritional supplements including:
A milk protein blend
A protein/carb workout drink
Fish oil
A green food product
However, come pre-contest time, her supplement list grows. Here's a list of the exact supplement order she placed with Bodybuilding.com at the start of her Olympia contest prep:
The Basics:
Additional Pre-Contest Supplements:
As you can see, in addition to the basics, we add flax oil and flax meal to bump up her intake of healthy fats, especially on her higher fat, lower carb nutrition days.

We also add r-ALA to act as a strong antioxidant and help improve carbohydrate tolerance. This is especially needed on the higher carb, lower fat days.

In addition, we add BCAA to replace the carb/protein drinks Val uses during the off-season. Val sips a BCAA drink during training as well as after training to help preserve lean mass while dieting so strictly. She may also add in 1-2 more BCAA drinks during the day between meals.

Finally, we add daily supplementation with Labrada's Sorenzyme product to cut down on muscle soreness during Val's pre-contest training. Val finds that this product helps keep both muscle pain in check during the long competition season.

Of course, these aren't the only brands we recommend. Indeed, there are many great protein, fish oil, green food, BCAA, and r-ALA brands available. As long as you're sticking with a reputable company, known for its high quality, you should be fine.
Additional Supplements:
In addition to this list of supplements, a few additional products may be added if necessary. Although we only use these when needed.

If Val is having trouble sleeping at night, we'll add phosphatidylserine (PS) supplementation to the mix. PS can help keep muscle loss down and improve sleep quality during these periods.

Finally, if Val needs some help shedding water during the last week of her contest preparation, some Dandelion root can enter the mix. Dandelion is a natural diuretic that helps flush out excess water. When used in conjunction with a strategic salt/water/carb protocol, it can work wonders.
Pre-Olympia Supplements:

Conclusion

Hopefully this article provides you with some insight into how Val is preparing for the Olympia. Obviously, I can't include every detail of the plan in this short article. So if you're looking for more, visit my Precision Nutrition web site.
Also, make sure that you keep an eye on Val come Olympia-time. She's training like never before, looking better than she ever has, and is hungry for a victory in Vegas.
Check Articles By Valerie Waugaman Here.
RELATED VIDEO SERIES


[ Click here to learn more. ]

Fit Mission Revolution!


Join your beautiful host, Valerie Waugaman, as she leads the way throughout the 2007 figure contest season and springboards the Fit Mission Revolution into the minds of millions, improving lives along the way!


Author:
Valerie Waugaman


About Dr. Berardi:
In addition to being Val's coach, Dr John Berardi is a renowned speaker, coach, and mentor to athletes and recreational exercisers around the world. He is a physiology and nutrition consultant to seven Olympic Teams and a number of NCAA and Professional sports Organizations. To find out more about him and how you can use his services, visit Precision Nutrition.
About Valerie Waugaman:
In addition to being a successful professional figure athlete, Val can be seen traveling nationwide as the founder of Fit Mission which hosts corporate wellness & motivation seminars, and fitness camps, including her famous Champ Camps. She is also the marketing director of Octane Cafe in Cleveland, Ohio with aspirations to expand the healthy cafe at a national level.

When speaking of her status as a professional athlete and motivational spokesperson, Val tells us "I'm finally doing what I was born to do!" She plans to utilize her status as a professional athlete and speaker to develop youth health & wellness education/entertainment programs. Currently, she is working on developing a character called, the Green Goddess.

You can find out more information about the various projects Val is involved with by visiting www.Valspace.com and www.OctaneCafe.com.