Ask The Protein Powder Chef: Do You Have A Recipe For Chocolate Peanut Butter Cups?
Skip the saturated fat and keep the flavor with these protein-packed, guilt-free protein peanut butter cups. Your taste buds and muscles will thank you!
Q
I'm a sucker for anything topped with peanut butter and coated in chocolate, but my sweet tooth is taking a toll on my diet. Do you have a protein-filled recipe that you could recommend?
Chocolate and peanut butter is the ultimate flavor combination. After all, it isn't a fluke that Reese's Peanut Butter Cups are a top-ranked favorite among the candy-loving population—which is, well, everybody! But, with one miniature Cup serving up 4 percent of your daily saturated fat and 3 grams of sugar, the cost of these tiny treats is pretty steep.
What if there was a way to kick up the classic flavor combo with even more taste and killer nutrition? Turns out, there is. Enter peanut butter-and-marshmallow-filled chocolate protein cups!
Making dark-chocolate cups is really easy. It's kind of like making protein chocolates, only using silicone muffin cases instead of chocolate molds. Not only are muffin molds more readily available—no need to go to a fancy bake shop—but they're also considerably cheaper. As an added bonus for amateur and pro chefs alike, the beauty of muffin molds is that they're a lot easier to unmold. Both paper and silicone muffin molds work, but I recommend using the silicone ones because they last longer and make great vehicles for protein cup creations.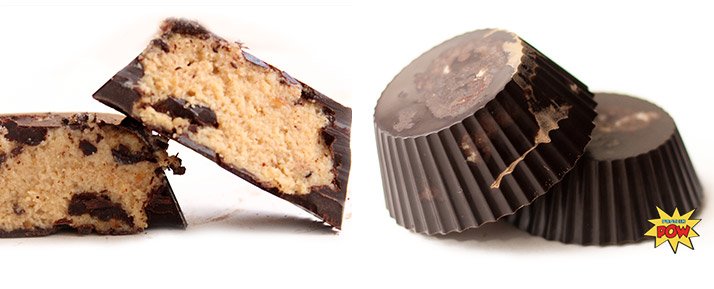 You can fill these treats with anything you like, as well! If you want to make them chocolate and almond, for example, all you need to do is use almond butter as your main nut butter and chocolate whey protein powder. Prefer fruit-flavored treats? Try using banana-flavored whey with pieces of freeze-dried banana, or strawberry-flavored whey with freeze-dried strawberry chunks. You can even add chopped dates to vanilla whey for more of a caramel center. The sky's the limit, really. Just follow your taste buds and make your chocolate-covered dreams come true!