Eggs are damn near perfect for bodybuilders and other health enthusiasts, but the egg sure endured a lot of grief over years. The cholesterol scare instituted a campaign of egg-bashing, the sort of smears to make you think eggs are laid by scapegoats rather than chickens.
Eggs provide a great source of protein, and protein is an extremely powerful component of any fat-loss or muscle-building diet. You can't go wrong with this highly-nutritious food. Eggs are rich in tryptophan, selenium, iodine, vitamin B2, phosphorus, vitamin B5, vitamin D and many micronutrients.
The only risk with eggs is that they are SUCH a staple that you grow weary of eating them every day. There's no reason to get bored with these universal dynamos! Preparing eggs in unorthodox ways builds a skillet repertoire that keeps you growing, not gagging.
1
Mexican Scramble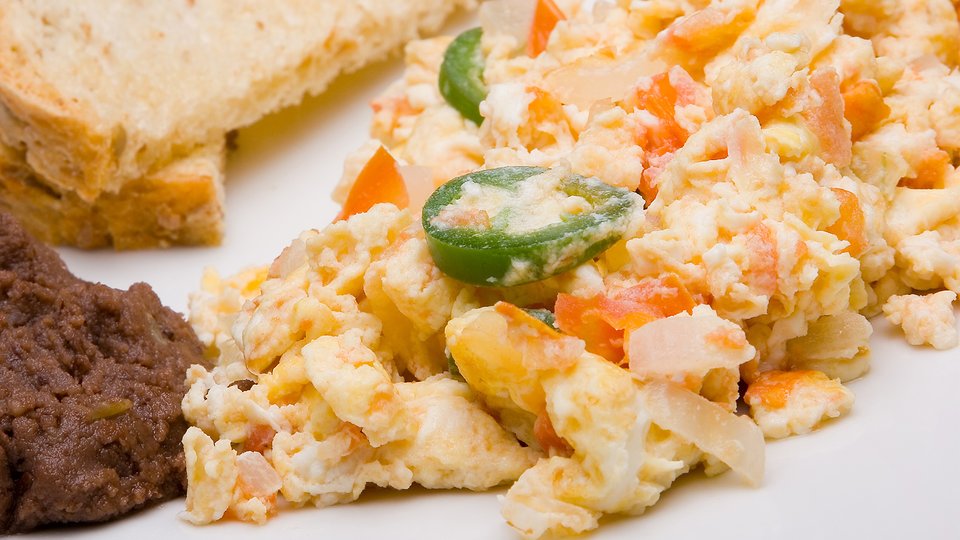 When you need a morning fix, nothing beats scrambled eggs for brevity and versatility. Toss in chopped veggies (peppers, onions, tomatoes, etc.) and add a little cheese to round-out a protein-packed breakfast.
2
Hard-Boiled Egg And Tuna Salad
Hard-boiled eggs are a great way to meet protein requirements. And they offer a vastly different taste from scrambled eggs. Hard-boiled eggs are easy to prepare in large batches for quick meals on the go.
For something unique, try preparing a hard-boiled egg and mixing it into tuna salad.
3
Protein Packed Crepes
Need to satisfy a pesky sweet tooth? Here's a healthy recipe to kill your cravings without destroying your diet.
Egg white protein crepes are the perfect dessert (or a weekend brunch idea) when you're in the mood. This nutrient-balanced snack takes only moments to prepare.
4
Egg Poppers
These finger foods are perfect for protein on-the-go. Egg poppers are pure protein. They work perfectly for a post-workout snack when you don't feel like mixing up a protein shake.
The Process
Pour liquid egg whites into an ice cube tray sprayed with a little non-stick cooking spray. Place in the microwave for 4 minutes.
Place in the fridge for 1 hour. The cooling process makes poppers slide easily from the ice cube tray.
Try mixing egg whites with sugar-free Jell-O powder for added flavor. Or, serve them with some homemade salsa. Egg poppers are great for strict dieters.
5
Egg Drop Soup
Winter draw nears - hell, it is here - and chances are you'll be on the lookout for comfort meals. Soup fits the bill perfectly.
Rather than resorting to the played-out chicken noodle, consider egg drop soup. It's incredibly simple to prepare (if you can drop eggs!) and can tailor-fit any and all nutritional requirements.
6
Chocolate Meringue Cookies
Those with a sharp sweet tooth can turn eggs into a dessert. Meringue cookies are one of the tastiest low-calorie treats in the cookbook.
The Process
Preheat oven to 300 degrees and line two baking sheets with parchment paper.
Sift a half cup sugar substitute (Stevia), one tablespoon cocoa powder and a quarter teaspoon of cinnamon together. Set aside once blended.
Place two egg whites in a large bowl and beat with an electric mixer until stiff peaks form. Add the dry mixture and stir well.
Place teaspoon-sized balls onto the baking sheets about two centimeters apart and bake for 20 minutes. Once finished, remove from the pan and cool on a wire rack for 30 minutes.
7
Egg And Salmon Muffin
Many people don't include enough fatty acids in their diets. But you need to make an effort to increase omega fats if you want to maintain good health and achieve a leaner body composition.
Combine salmonwith eggs to score double: protein and essential fats. This recipe includes wholesome carbohydrates from the English muffin as well.