2016 Arnold Sports Festival Preview
The 2016 Arnold Sports Festival will feature dozens of top-ranked bodybuilders—and a few long-awaited changes. Get the scoop on the pro events here!
From March 3-6, Columbus, Ohio, will host the 2016 Arnold Sports Festival. For many amateur athletes from a wide array of sports, this weekend is the culmination of years of hard work and carefully structured training. For the professional competitors of the International Federation of Bodybuilding and Fitness (IFBB), it's one of the year's biggest competitions. Only the strongest and most dedicated competitors make it onstage to battle with the best.
Two of the men's categories—Classic and 212—will see changes to their scoring systems, placing a heavier emphasis on posing, as in the "golden age" of bodybuilding. And this year marks the debut of the long-overdue Pro Wheelchair division, sponsored by Bodybuilding.com!
The 2016 IFBB Pro League categories are Classic, Classic 212, Men's Physique, Women's Physique, Figure International, Fitness International, Bikini International, and Pro Wheelchair. Learn more about 2016's fierce competitors!
Arnold Classic
This year will see some long-awaited changes to the way the bodybuilding class is judged; the posing routine during finals will be judged separately and added to the scores, resulting in three scores being added together instead of two.
"It's about how to include the art of posing into the judging procedure. I feel that posing has not progressed in bodybuilding," says Arnold Schwarzenegger, who has pushed for the changes for some time. "What it means for bodybuilders is that they have to train more for posing. No more shaking! Frank Zane used to hold a pose for three minutes, smiling!"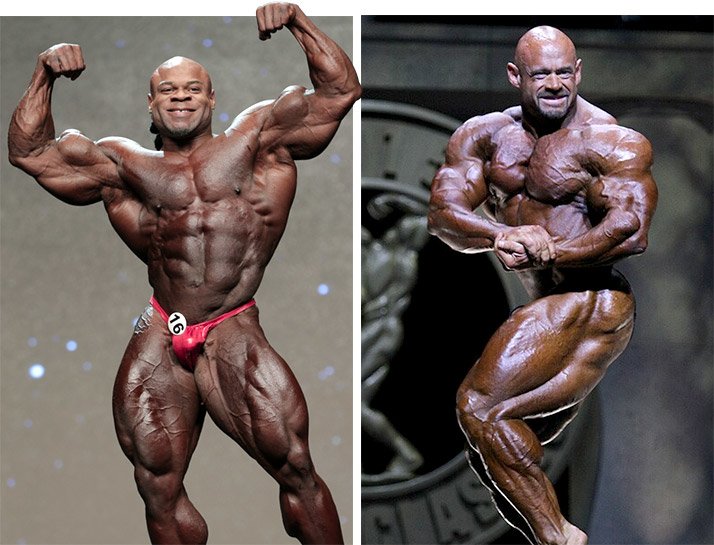 (L-R) Kai Greene, Branch Warren
Two-time Arnold Classic champion and three-time Mr. Olympia runner-up Kai Greene will compete in Columbus for the first time since 2010. Branch Warren, who won the Arnold Classic in 2011 and 2012, is also among the field of 12 competitors. Lukas Wyler earned an automatic invitation for winning the 2015 Arnold Amateur.
2016 Competitors
Evan Centopani
Maxx Charles
Justin Compton
Tony Freeman
Kai Greene
Johnnie O Jackson
Josh Lenartowicz
Cedric McMillan
Cody Montgomery
Juan Morel
Branch Warren
Lukas Wyler
Arnold Classic 212
The 212 division will also see a higher emphasis placed on posing this year, implementing the same third set of scores as the Classic bodybuilding division. According to festival promoter Jim Lorimer, the new scoring system this year is a test. If it works well, they may use it for all Arnold competitions and classes going forward.
(L-R) Jose Raymond, Hidetada Yamagishi, Charles Dixon
Defending champion Jose Raymond will lead a field of nine competitors in the third annual Arnold Classic 212. Raymond's win last year was his seventh career win since the IFBB established the then-202 division in 2009. Hidetada Yamagishi and Charles Dixon, who finished second and fifth last year, will also return to the stage.
2016 Competitors
Guy Cisternino
Charles Dixon
David Henry
Kyung Won Kang
Cory Mathews
John Meadows
Angel Manual Rangel Vargas
Jose Raymond
Hidetada Yamagishi
Men's Physique
The new and increasingly popular category of men's physique will be featured for the second time at the Arnold Sports Festival this year.
Sadik Hadzovic won the inaugural Arnold Classic Men's Physique at the 2015 Arnold Sports Festival, but will not be competing this year. In fact, only two competitors from last year's top six—Jason Poston (second place) and Xavisus Gayden (fifth place)—will return to the stage in 2016, leaving the field wide open.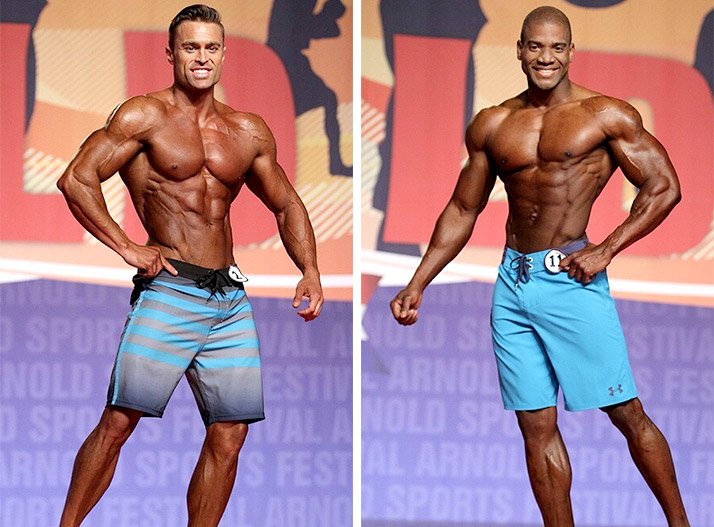 (L-R) Jason Poston, Xavisus Gayden
The Arnold Classic Men's Physique will return at the 2016 Arnold Sports Festival as an open competition. Nearly 40 competitors are on the 2016 roster.
Women's Physique International
Women will also be competing in the open physique division for the second year in a row. Like the men's category, there are a whopping 38 competitors slated to take the stage in the 2016 Arnold Classic Women's Physique.
The women's physique division provides a platform for women who enjoy weight training, competing, and contest preparation. Competitors display a toned, athletic physique, and are judged on symmetry, shape, proportion, muscle tone, poise, and beauty/flow of physique.
Juliana Malacarne of Brazil, who won the inaugural Women's Physique International last year, will not return to defend her title in 2016.
Fitness International
The fitness class is always a fan favorite due to its choreographed routines and elaborate costumes; even spectators who don't follow bodybuilding enjoy watching this competition. With an impressive five of last year's top-six finishers returning this year, the 2016 Fitness International should prove to be an exciting event.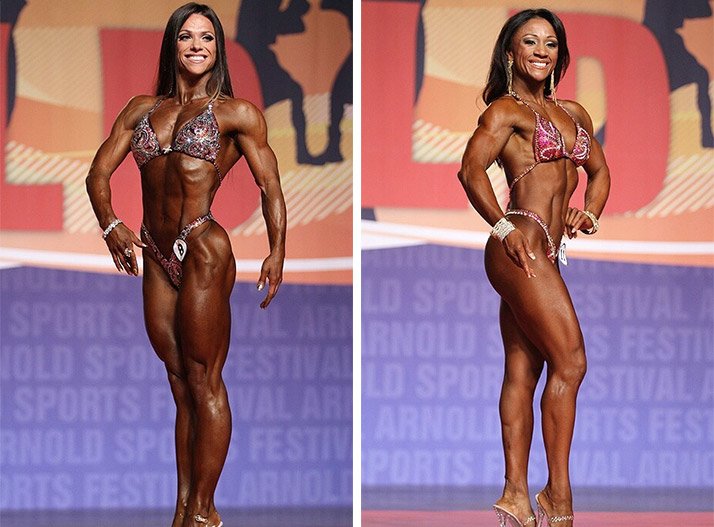 (L-R) Oksana Grishina, Tanji Johnson
Two-time defending champion Oksana Grishina and 2013 winner Tanji Johnson will lead a lineup of 11 in the 2016 Fitness International. Grishina also finished first in the Arnold Classic Europe in 2014 and 2015 and has won seven straight IFBB Pro League contests. Other top performers returning this year include Michelle Blank, Regiane da Silva, and Myriam Capes.
Arnold Amateur champion Giorgia Fiorini earned an automatic invitation; this will be her first Fitness International.
2016 Competitors
Michelle Blank
Myriam Capes
Regiane da Silva
Giorgia Foroni
Ryall Graber
Oksana Grishina
Tanji Johnson
Whitney Jones
Piia Pajunen
Missy Terwilliger
Bethany Wagner
Figure
Camala Rodriguez-McClure, who transitioned from fitness to figure in 2012 and has six career wins, is back this year to defend her title against 12 competitors in the 2016 Figure International. Candice Lewis, who came in second in 2015, is also returning to the Arnold stage, as well as figure powerhouses Latorya Watts and Gennifer Strobo. Janaina Ferreira da Silva, who won the overall at the Arnold Amateur in 2015, earned an automatic invitation.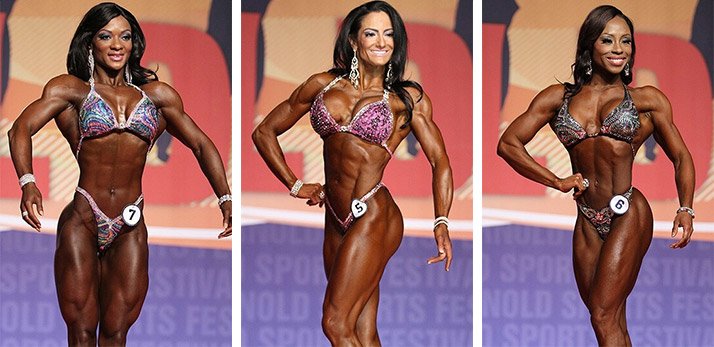 (L-R) Candice Lewis-Carter, Camala Rodriquez-McClure, Latorya Watts
Candice Keene, the Figure International 2013 and 2014 champion, will not take part this year.
The top four spots in this division were hotly contested last year. With Keene, last year's third-place winner, out of the race, expect to see Rodriguez-McClure, Lewis, and Watts battling it out for the Figure International 2016 title.
2016 Competitors
Andrea Calhoun
Heather Dees
Amanda Doherty
Janaina Ferreira da Silva
Allison Frahn
Cydney Gillon
Candice Lewis-Carter
Julie Mayer
Adela Ondrejovicova
Camala Rodriquez McClure
Gennifer Strobo
Latorya Watts
Bikini International
There will be a new champion in the Bikini International now that Ashley Kaltwasser, the event's only two-time champion, has not entered the 2016 Bikini International. Last year's runners-up—Justine Munro, Janet Layug, and India Paulino—are back with hopes of seizing the title in 2016.
Paulino held the Bikini International title before Kaltwasser in 2013, and Layug actually beat Kaltwasser a week later at the Arnold Bikini Classic in Australia in 2015. Both are expected to be strong contenders this year in Columbus.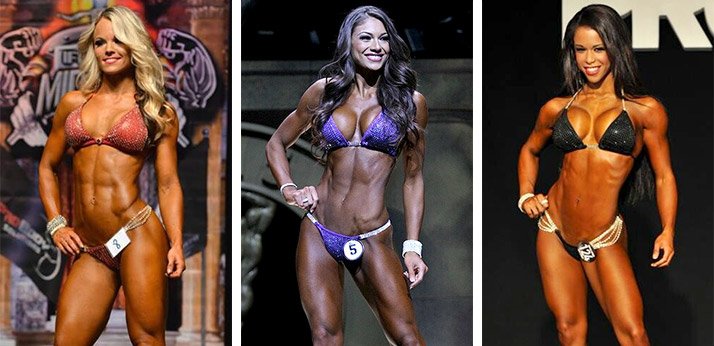 (L-R) Justine Munro, Janet Layug, India Paulino
Rounding out the 2015 top six are Stephanie Mahoe and Narmin Assria, both of whom will also be returning to the Arnold stage.
Kaltwasser won the Bikini International for the second straight year in 2015 to become the first repeat winner of the IFBB Pro League contest that debuted at the Arnold Sports Festival in 2011.
2016 Competitors
Narmin Assria
Sara Back
Anya Ells
Christina Fjaere
Margaret Gnarr
Adriana Hill
Courtney King
Janet Layug
Brandy Leaver
Stephanie Mahoe
Justine Munro
India Paulino
Michelle Sylvia
Angelica Teixeira
Pro Wheelchair
Bodybuilding.com is proud to present the World's first 2016 Arnold Classic Pro Wheelchair event!
NPC wheelchair bodybuilding began in 1994 at that year's NPC Wheelchair Nationals, in conjunction with the Sunshine Classic in Florida. The first IFBB Pro Wheelchair Competition was held in October of 2011 in Houston, Texas. Since then, the sport has grown into a massive ongoing global event. There are currently 23 IFBB pro wheelchair bodybuilders in the world.
It has been the dream of founder Nick Scott to make it possible for professional bodybuilders who use wheelchairs to participate in the sport that they love—and to show the world what real strength looks like!
2016 Competitors
Jack Anderson
Gabriele Andriulli
Reggie Bennett
Harold Kelley
Antoni Khadraou
Ludovic Marchand
Johnny Quinn
Kyle Roberts
Bryan Williams