Courtney Gardner grew up on a farm in Corvallis, Oregon, but went to college at Boston University, where she studied photojournalism and ran track. Befitting her relocation, she also ran cross-country. And, she had the coolest internship ever, as a photographer for the Boston Red Sox.
Now a sales rep for Dell EMC, a technology company, the 5-foot-9, 136-pound Gardner earned a spot on Team Bodybuilding.com with a fourth-place finish at the 2016 Bodybuilding.com Spokesmodel Search at the Los Angeles FitExpo.
Her fitness and professional journeys are "very much separate," she says. "I'm unique in that way. Fitness is a very important part of my life, but I just do it for fun. It is not how I make my living."
"Be yourself" and "love what you do" appear to be Gardner's mantras. As she talks about the two very different facets of her life, the 28-year-old is brimming with enthusiasm for both.
You started in Oregon and went all the way to the east coast for college. Why Boston?
I grew up in a small town. I would not trade my childhood for anything, but I was really ready to "get outta dodge," experience something different, and get an amazing education. Also, Boston is the ultimate college town!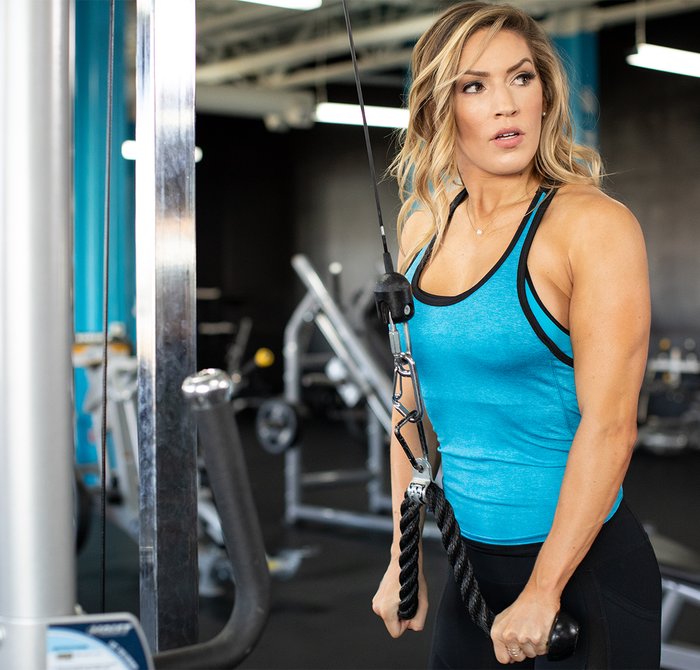 Did you have plans to be a photojournalist?
Actually, I thought that I was going to be premed. I went to the first orientation meeting, looked at the prerequisites, and said to myself, "I am way too social for this." I also didn't want to be in school for 10 years. On a whim, I took a photo class for fun, and then I found out that Boston University has the best photojournalism program in the country. So, I dove in. I was a teaching assistant, and loved it.
What was it like interning with the Boston Red Sox?
It was the best summer. It was incredibly fun. I had access to all of Fenway Park, except the locker rooms. I wasn't just taking fan photos. I was down on the field, taking shots of game action, pregame ceremonies, and all kinds of special events. Fenway is a magical place.
You didn't become a photojournalist though. How did you land in your job at Dell EMC and come to Los Angeles?
After my internship, I was trying to figure out what to do with my life and my career. The field of journalism, in general, was in a major transition. A lot of things were becoming geared toward freelance, and that terrified me. I found my way to my current company in Massachusetts, and the company moved me to Los Angeles.
I honestly love my job. I sell two of our enterprise solutions to media and entertainment customers. It challenges me every day. I use my brain. I get to work with amazing people, many of them leaders in their field. I love having a career outside of my fitness life. This way, fitness stays fun for me.
What got you to the gym?
I didn't lift at all in college because I was a distance runner, and it wasn't in our routine. Then, I tore my meniscus running the Boston Marathon in 2013, and anything cardio-based hurt.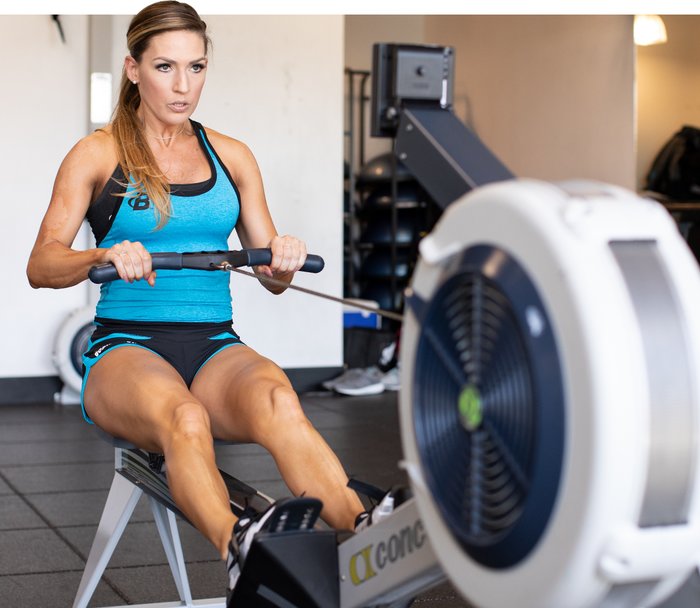 I was going crazy because working out had always been an emotional outlet for me. If I had a great day, I'd go on a run. If I had a bad day, I'd go on a run. So, I decided that, even though I couldn't do cardio, I had to move my body.
Instagram was very new then. I used it to put pretty filters on pictures I didn't know anyone could see. Eventually, I stumbled upon a few fitness women on Instagram and decided that I wanted to look like them. They looked so good, and they looked strong, and I wanted to be strong, too.
I found Bodybuilding.com and Jaime Eason's beginner-oriented workouts, and I sat in the gym, and followed them to a tee, exercise by exercise, and taught myself how to lift.
How did you get into competing?
I knew a few people who had done fitness competitions, and I was curious. Somehow, then, my best friend arranged for Paige Hathaway do a workout with me for my 25th birthday, and Paige told me about the Bodybuilding.com Spokesmodel Search. She said I was perfect for it. I lifted with her for three hours then went onto BodySpace, created an account, and applied for the contest.
It's such a big contest. What did you do to make yourself stand out?
At the end of the day, there are a lot of people that have beautiful bodies, and I knew that I'd be competing against people who had large social media followings—and I didn't. I think I had 1,200 followers at the time. So, I decided to just be myself. I didn't watch any of the other videos. I sat down with my best friend and wrote down questions like, "Why do I want to do this? Why do I go to the gym every day?" We wrote down all the reasons that I should be picked, mixed in some serious ones with some funny ones, and put them in my video. I guess that worked, because it got me to the top five.
You did an NPC bikini contest around the same time, and you won your class, correct?
[Laughs] I did, somehow. I also did the Los Angeles Championships in July 2017 and got second in my class! So, I'm nationally qualified now.
As a Bodybuilding.com team member, you need to be in shape year-round. What's your approach to diet control?
Everything in moderation. I track macros, but with time I've learned to eat intuitively. What I focus on is eating food that makes me feel good. That food is usually very clean. I eat gluten-free, as well. I've gotten to the point that, when I don't eat clean, I feel awful.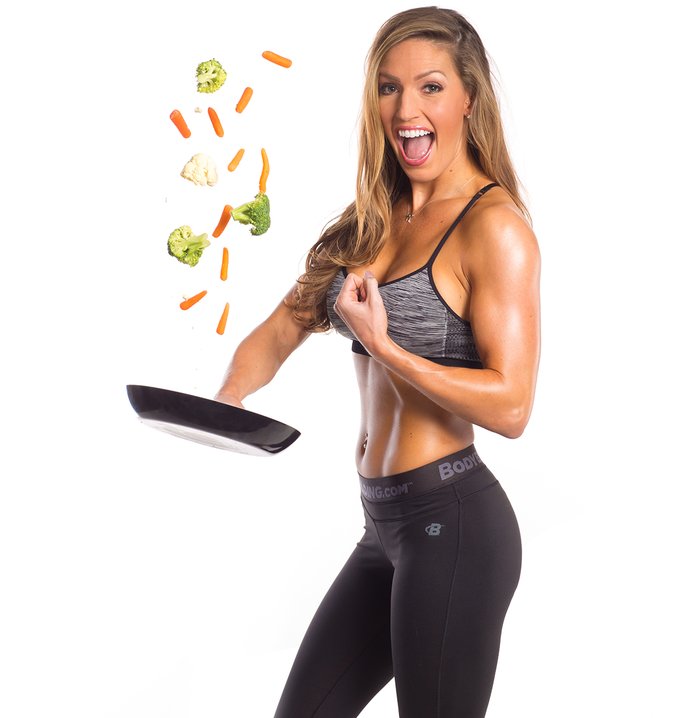 How do you balance a busy 9-to-5 job with the demands of hitting the gym and staying fit?
I had to change my schedule. I love to work out in the morning, but I am mentally sharpest in the morning, too, and I really need to optimize my mental capacity for work. So, I get up and start working at 6 or 7 a.m., and then I work out at night, instead. It's hard, but I need to prioritize that way. Are there days when I don't want to go? All the time. But I show up and push through it. And even if it's a quick workout, at least I moved my body, and it feels better than sitting on my butt at home.
How many days per week do you go to the gym?
I typically lift five times a week. Depending on what I've got going on or what my next goal is, I'll throw in a day of cardio, or I'll do cardio in the morning and lift at night.
What are your tips for busy people who want to stay in shape?
Put your workout on the calendar. Schedule the time and treat it like an appointment. Also, if you're a busy person, things will run long and things will run late, and that leads to skipping meals, which leads to poor food decisions down the line. So, prepare for the unexpected—meaning, always have a healthy snack with you, so you can eat that instead of a crap snack when you get hung up somewhere.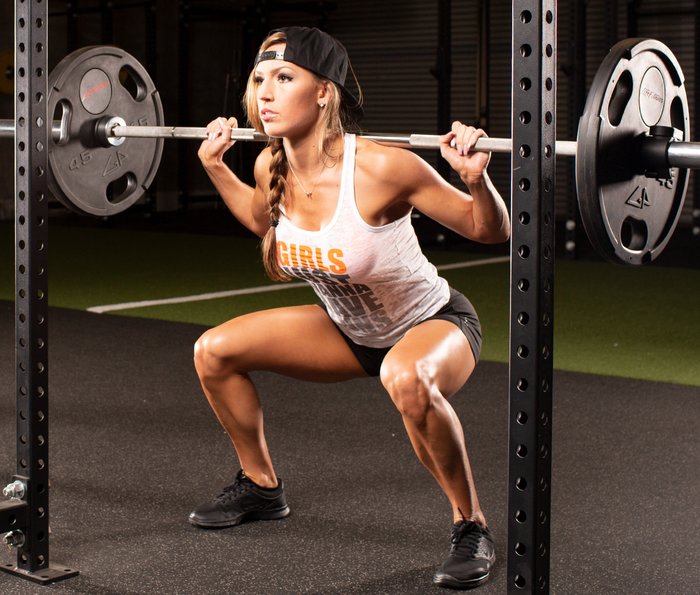 What's a healthy snack for you?
Typically, something that's high protein and high fat to curb my hunger, but also relatively clean. There are some clean protein bars, but I'm wary of the ones that are full of sugar. A packet of peanut butter is good; it doesn't go bad, it's easy, and it typically gives me about 200 calories—carbs, protein, fat—all in a quick shot. Almonds are another good one and, depending on the time of day, hardboiled eggs are good. Sometimes I put a scoop of protein powder in a baggie. I can throw it into some water when I get hungry, and it will hold me over until I can have a real meal.
What do you like to do in your spare time, if you have any?
Hang out with my family, travel, and go shopping. I also still do photography on occasion.
How many followers do you have on Instagram now that you're a celebrity?
I wouldn't go that far [laughs]. I believe that I just hit 150,000 followers on Instagram.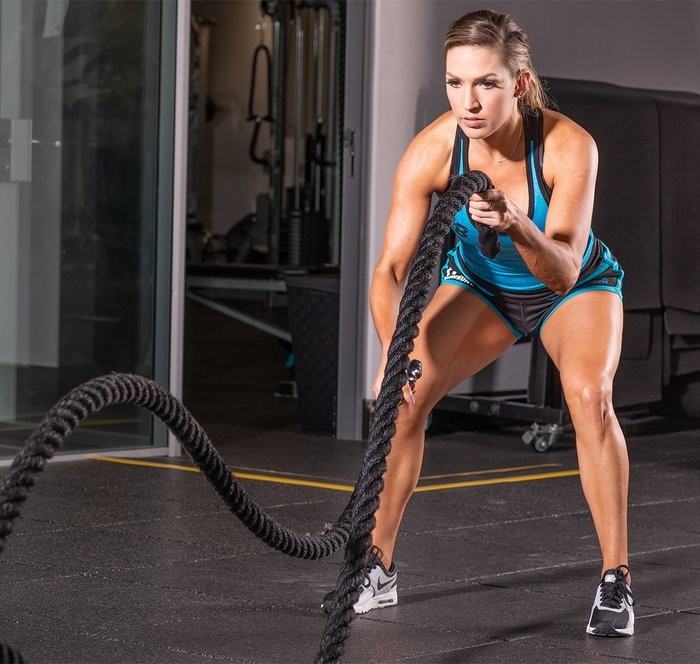 What would all those people be surprised to learn about you?
That I'm a giant nerd. I sell technology for a living, and I think a lot of people don't realize that.
You have said that your number-one reason for wanting to become a spokesmodel was to inspire others. Have you achieved that goal?
That's a hard thing to evaluate, but I like to think so. I do get emails from followers. My favorites are the ones that come from women who have intense careers. They tell me things like "Thank you. I feel alone in what I do, and it's awesome to see someone else be successful in accomplishing their career goals and their fitness goals at the same time." Those are the best emails to get, for sure.