The pursuit of big arms is probably what initially makes many of us pick up that first piece of knurled iron. And once we've got a little experience and some reading under our belts, we attack our arms with great enthusiasm—not to be confused with "a great plan."
If you've spent the majority of your triceps training chasing pumps and doing curl/extension supersets three times a week, well, great. You've done some good work, and you've probably gotten some OK results—even if your biceps show them more than your tris. When triceps really start to bloom is when you start mixing that pump-chasing approach with some heavier tri-targeted movements in lower rep ranges.
Just as I did with "Your Three-Month Plan to Outgrow those Beginner Legs," I've put together four workouts you can plug into your split right now. If you want to bring up your long head a little, well, you're welcome! Or, you can perform as a progression like this:
Phase 1: 6-8 Weeks
Once a week: Overall Triceps Mass Workout 1, after chest or shoulders
Once a week: Long-Head Workout, before or after biceps
Phase 2: 6-8 Weeks
Once a week: Overall Triceps Mass Workout 2, after chest or shoulders
Once a week: Lateral-Head Workout, before or after biceps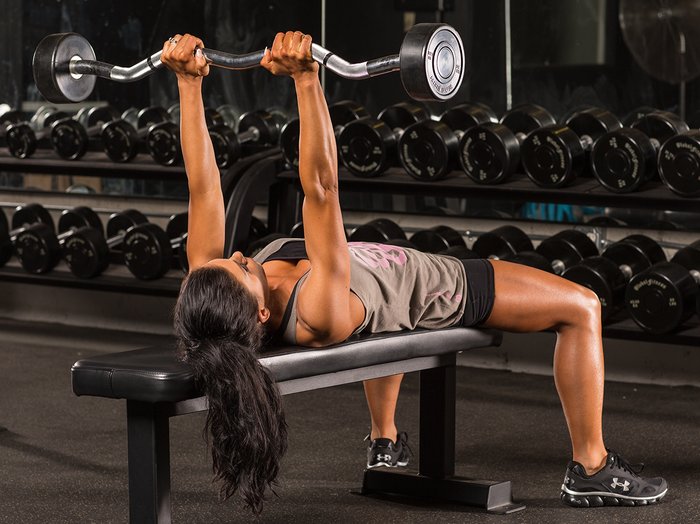 If you followed a 2- to 3-day split as a beginner, this 3- to 4-day spacing will ensure ample recovery and allow you to hammer your triceps just a little more heavily than you have thus far. Why the time frame? In bodybuilding, most workouts are highly effective for about 6-8 weeks, after which time results start to diminish. So no matter how you arrange these workouts, give them enough time to work—but not so much that your triceps fall asleep.
Now on to the workouts!
Upgrading From A Beginner's Triceps Workout
Intermediate-level mass workouts for triceps are characterized by a few important concepts similar to other muscle groups: a reliance on multijoint exercises in a mass-producing rep range, particularly early in the workout; multiple angles for the greatest possible overall stimulation; preference for challenging free-weight exercises over machines (with exceptions); and sufficient volume and intensity to boost an anabolic hormonal response.
The programs here all follow a reverse-pyramid setup, which allows you to take more total working sets to failure. After warming up thoroughly, go right to your heaviest 1-2 sets, then reduce the weight on follow-up sets by about 5-10 percent, which is indicated in the workouts by the higher rep target.
A few of the workouts end with a single-joint movement, which effectively helps you complete your training session with a muscle pump, another mechanism for muscle growth.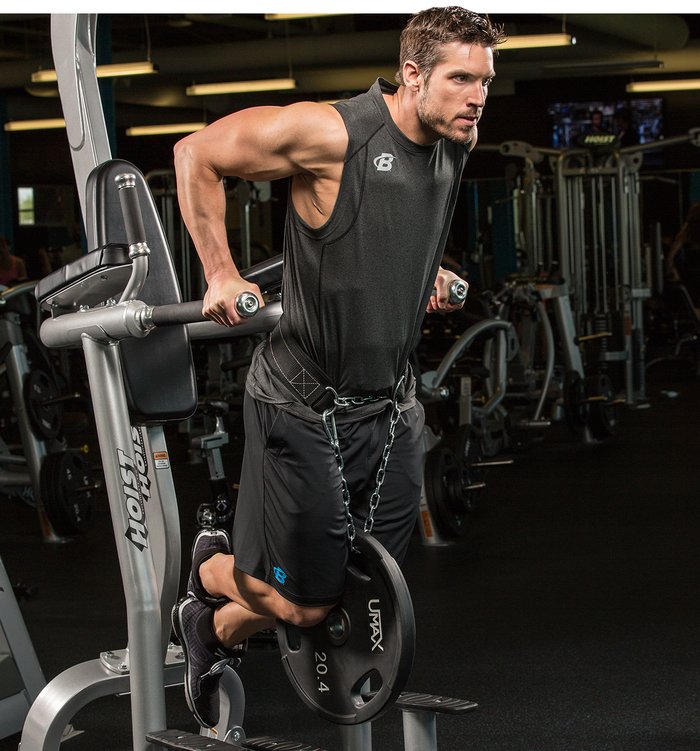 For each workouts, follow these guidelines:
The workouts don't include warm-up sets. Perform as many as you need, but never take your warm-ups anywhere near muscle failure.
The rep sequence for each exercise follows a reverse pyramid, meaning you lighten the weight a bit for slightly higher reps on each set after your first 1-2 sets. But it's still important to take each set close to muscle failure.
Don't be afraid of trying something you're unfamiliar with. When learning a new movement, study up on textbook form, because bad form means the training stimulus is directed somewhere other your target.
Overall Triceps Mass Workout 1
I said multijoints were going to be the backbone of your workout, and this mass routine starts off with two different kinds: the triceps dip machine and the close-grip bench press. With one, your arms are by your sides; with the other, they're perpendicular to your body. That's important because you really don't want to repeat movements that are fairly similar to each other.
You'll finish off with a single-joint exercise, the rope cable push-down. But rather than just gripping and ripping, try to turn your wrists down and out at the bottom, which is called pronation, to really emphasize the peak contraction.
Overall Triceps Mass Workout 1
4 sets, 8, 8, 10, 12 Reps
Overall Triceps Mass Workout 2
These three staples include one different multijoint dip variation, plus another move in which your arms are perpendicular to your body, meaning you'll stimulate the lateral head and long head, and a third devoted to the smallest triceps head, the medial. The volume and rep schemes stay consistent with other workouts.
Overall Triceps Mass Workout 2
4 sets, 8, 8, 10, 12 Reps
Long-Head Workout
By positioning your arms overhead, the triceps long head is better stretched, which means it's capable of contracting more strongly. We'll include two arms-overhead exercises here after a multijoint mass builder.
4 sets, 8, 8, 10, 12 Reps
Lateral-Head Workout
Arms-by-your-sides triceps exercises more effectively emphasize the outermost lateral head. You'll do two in this workout, plus one overhead move to make sure the long head also gets some activity.
4 sets, 8, 8, 10, 12 Reps (Weighted)