It won't be same old, same old when the women hit the stage at the 2018 IFBB Fitness, Figure, Bikini, and Physique International competitions at the Arnold Sports Festival in Columbus, Ohio. Despite the return of defending champs in two of the four events, the winners of this year's events are anybody's guess. In every division there are talented challengers capable of earning the judges' respect—and myriad questions as to who will stand in the spotlight with promoter Arnold Schwarzenegger at evening's end.
I'm no psychic, but here is my quickie guide to handicapping the female-physique clash in Columbus coming March 4-5.
Fitness International
Oksana Grishina's retirement from the stage has left the sport of fitness—and this contest—wide open. All the big players will be in Columbus except Myriam Capes, the 2017 Olympia runner-up, but no one has emerged with the power to dominate the way the incomparable Grishina did. Stay tuned as the rest of the pack do their very best to be crowned queen of the Fitness International.
Is it finally Regiane Da Silva's turn?
Probably. Da Silva had announced that she'd retire after 2017, but the field must have convinced her she has as good a chance as anyone to collect the $25,000 first-place prize. The veteran top-fiver has been second at this contest twice, including last year. She's long had her conditioning down pat and, at 47, still generates a high-wattage energy in her routines that few can equal.
Can anyone stop her?
Ryall Graber has the best chance, but Da Silva's more developed physique gives her the edge. The body round counts for only a third of the score in fitness, but in this line-up, it will have a substantial impact.
What about breakthrough athletes?
Kristine Duba has been one to watch since she earned her pro card in 2014. The judges like her balanced, if not big, physique; but they undervalue her entertaining routines at the big shows.
Tenth last year, Duba can move into a top-five slot. Even sixth place would be a significant accomplishment for her.
Ariel Khadr is a big talent in the routines, and her physique is a work in progress. She should also break into this year's winner's circle.
Whitney Jones is someone to watch, too. She showed at third place last year and is coming back after neck surgery.
Throw shapely Bethany Wagner into the mix, and that's your top six.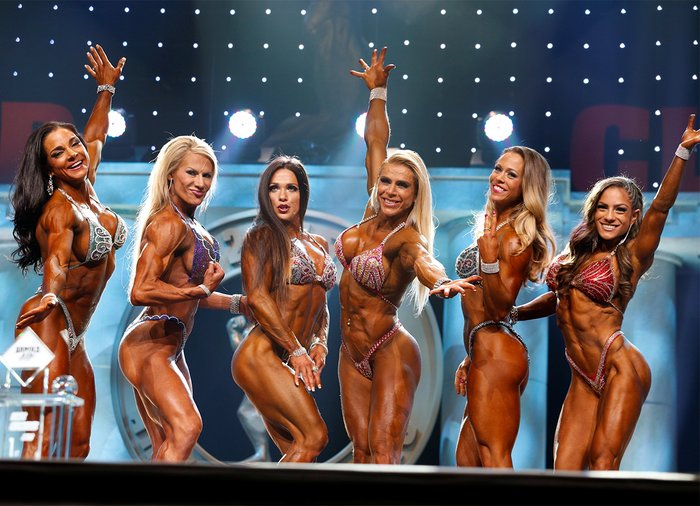 Figure International
In recent years, the figure judges have shown a preference for extreme V-tapers capped by great shoulders. Three athletes—Latorya Watts, Candice Lewis-Carter, and Cydney Gillon—fit this look and have been taking turns placings at the top of the lineup. Expect that shell game to continue.
Will Lewis-Carter repeat?
No. Watts and Carter-Lewis have one Figure International title apiece, but Gillon beat them both at the Olympia, and she's got momentum. She's also got the best shape and flow of the body parts (my conclusion after watching the three do their turns at the two big shows last year). At 25, Gillon can only get better.
Who else stands a chance?
Heather Dees has beautiful lines, along with the shape and proportions of a more traditional figure body. Fourth at the Olympia, she's an easy pick to repeat that placing here. But, if any of the V-taper divas slips up in her prep, Dees will be ready to slide into the top three.
Carly Starling-Horrell also brings a classic look to the stage. After placing eighth last year, she's a good bet to move into the top five. Ditto for Maria Luisa Baeza-Diaz, who managed sixth at the 2017 Olympia.
What about breakthrough athletes?
Bojana Vasiljevic has been breaking through for the past year, racking up points and nailing her first-ever win at the end of the season, then cracking the top 10 out of 35 at the O. Her petite stature may be her physique's biggest problem, but now that she has the judges' attention, she can be a factor in Ohio.
Bikini International
In its seven years of existence, the Bikini International has had five champions. Only one woman, Ashley Kaltwasser, won it back-to-back. Bikini's very nature demands that the judges keep looking for a newer, fresher face and physique. A year ago, Angelica Teixeira knocked out Courtney King, who had just KO'd reigning champ Kaltwasser the year before. And on it goes.
Will Teixeira repeat?
Not likely. No dis to Teixeira, but the judges have an abundance of riches to choose from among the 18 contestants scheduled to stride the stage. Teixeira will have to knock off more than their socks to keep her crown.
Who can beat her?
Jennifer Ronzitti has a lot of bounce and a winning smile. Second at the Olympia and third here last year, she's the lady most likely to upset the reigning champ. Others who have a good shot at a top-five placing include Olympia third-placer Romina Basualdo and up-and-comer Casey Samsel.
Physique International
The Women's Physique International is one of a kind. While other invitational events have relatively small lineups, the Physique is an "open call" with 33 contestants this year. On top of that, it's a wide-open race now that last year's winner, Daniely Castilho, will not be defending her title.
The major buzz surrounds two-time New York Pro winner Shanique Grant. With a powerful hourglass figure capped with requisite big, round shoulders, Grant calls herself "The Future." That's a bold claim—one she's twice failed to make true after pulling out of the 2016 and 2017 Olympia. This contest can make up for the past no-shows. If she's on stage, she should win it.
Is Grant a sure thing?
No. Her chief competition will come from Natalia Coelho, a recent crossover from figure who nailed a physique show after bombing out at the 2017 Figure Olympia. Coelho, who is only 21, has no shortage of V-taper—or shoulders. The judges will have lots to look at when those two stand together.
Who else stands a chance?
Sheronica Henton has a nice shape and beautiful body parts, and she placed second at the International last year. She carries less mass than Grant or Coelho, but less can be more when it comes in a total package. Henton could finish third—or higher.
Don't overlook Kira Neuman. She's been runner-up at this show and owns a pair of fourth-place Olympia medals, thanks to a balanced X-frame with no exaggerated lines.
Dani Reardon, another perennial top-five placer, has also taken second here. She should be in the hunt along with Brooke Walker, last year's fourth-placer.
What about breakthrough athletes?
The rest of the lineup features a slew of largely untested athletes hoping to make an impression. With this group in contention, "impressing" could just mean landing in the top 10: It's that good of a group.
Michaela Aycock, who won the Toronto Pro in 2016, has a promising look, as does Essence Monet, who sports a beautiful symmetry-and-proportion physique.
Among the more experienced competitors, look for Mikaila Soto and Tomefafa Ameko to make the list as well.
Got more questions—or quibbles? Let me know your thoughts in the comments below. Note that all the athletes mentioned were scheduled to compete as of this writing.