It's story time, ladies and gentlemen. This one is coming from the archives.
I remember the first photo shoot I ever did with Animal years ago. I was their first-ever female sponsored athlete—and let me tell you, young Stefi was stoked. I was so psyched to be among the badass lifters and bodybuilders on Animal's team. I was all about that raw, grungy, chalk-on-your-hands, soaked-with-sweat visual that Animal captured in the shoots with all their male athletes. I couldn't believe I was about to get the same opportunity.
If you know anything about me, you'll know that excessively frilly and girly things haven't been my forte in the past. In fact, at the time of this particular photo shoot, I was really channeling the baggy sweats, hair in a bun, tomboy who doesn't give an F kind of style (things have changed a little for me since then, but that's a topic for another time). I lived and breathed powerlifting; thus, my identity as an iron athlete came first. 
Where It All Started…
So, there I am, flying to Animal HQ, envisioning myself in the same ripped-up Animal stringers as the behemoth athletes who came before me. Veins bulging, plates clanging, sweat dripping.
But when I arrived at the shoot, the wardrobe laid out in front of me was anything but grungy. Instead of a loose, shredded T-shirt, there were sleek sports bras. Instead of joggers covered in chalk, there were booty shorts. Um, can I speak to the manager? 
Wait—am I writing an article for Animal to bash Animal? Absolutely not. Stay with me. 
Remember, I was Animal's first-ever female athlete. The team working the shoot that day had chosen items that closely aligned with what female fitness models were wearing at the time. And I don't blame them one bit—can you imagine if they tried to dress me up like Evan Centopani, and it backfired? They were taking a chance on me, so the seemingly safer route here was sticking to the status quo. 
What really mattered was that when I raised my concern, the team immediately changed it up. They were clearly committed to helping me be myself and feel comfortable in front of the camera.  
See? No bashing necessary. Win-win. 
Now, I cannot confirm nor deny that such a seemingly inconsequential discussion about my wardrobe sparked somewhat of a mindset shift at Animal. But in the years since that photo shoot and to this day, Animal continues to support female athletes without succumbing to the BS marketing strategies you see all over the fitness industry.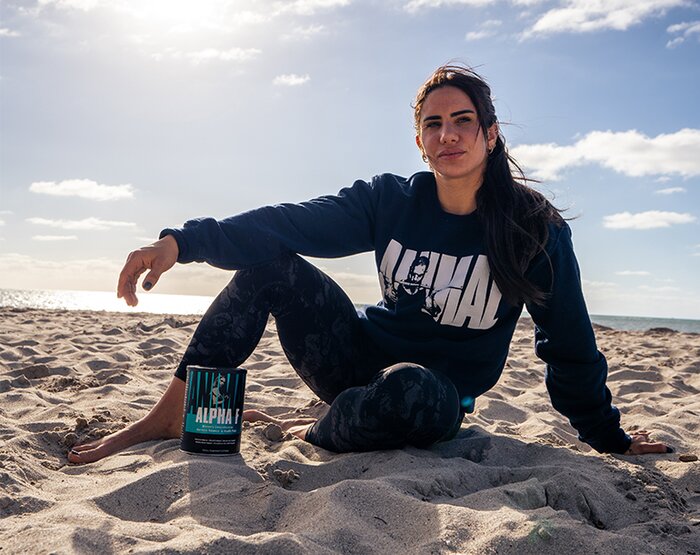 Animal knows that not all females want to be treated like a delicate flower when it comes to training and nutrition. We don't want everything to be cute, pink, skin-tight and covered in glitter. We don't need you to sugarcoat things for us and use our insecurities for your benefit. 
Unleash Your Inner Alpha…
We want to work. We want to get shit done and crush the competition. We aren't afraid of breaking a nail and don't mind getting our hands dirty. We want to grit our teeth and lift the damn weights. Just give us what we need—no fluff—and we'll do the rest. 
Alpha F is exactly that—a comprehensive supplement designed to help female athletes perform their best. In one single pack, I get everything I need from a health and wellness perspective, including female-focused vitamins and minerals, patented BioCell Collagen®, and complexes designed to aid hormone balance, mood regulation, and bone and joint health.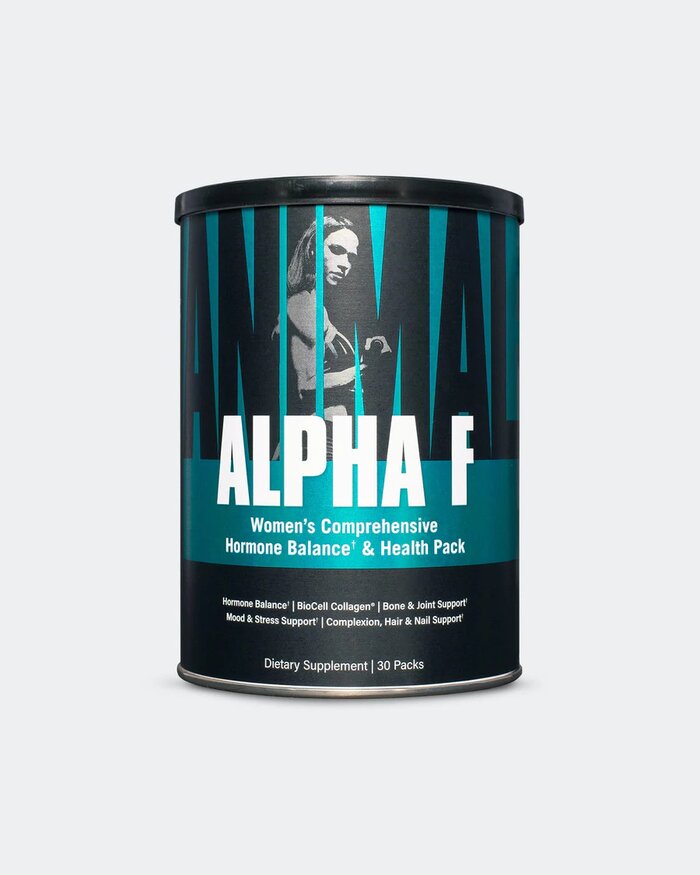 Let me dive into these complexes a little further, so you can get a feel for exactly how powerful and necessary these precise blends of ingredients are. 
The Hormone Balance Support complex is a gamechanger when it comes to better managing your hormone levels. Ladies, you know our hormones can go up and down, and the specific use of researched ingredients in Alpha F supports estrogen metabolism and overall hormone balance. Being able to better manage your hormones can help improve your health, metabolism, and ability to maintain and add lean and sexy muscle. 
Then you have the Complexion & Joint Health Support complex that is an all-in-one support system. The key ingredients found in this blend help improve the health of your skin by improving elasticity and preventing dryness. The patented BioCell Collagen® is also great for your hair and nail health. Add in the fact that this complex combines joint and bone health ingredients, and you have yourself the means to push harder than ever in the gym while protecting and supporting healthy joints so that you can prevent getting sidelined by injuries. 
One of my favorite aspects of Alpha F is the Calm, Mood, & Stress Support complex. We all live insanely busy lives, and it can be challenging to destress and just breathe. The blend of ingredients found in this complex has been shown to help manage stress, support relaxation, and improve mood. I can't say enough about the profile of Alpha F, it literally touches on every aspect of what a female athlete needs and is looking for.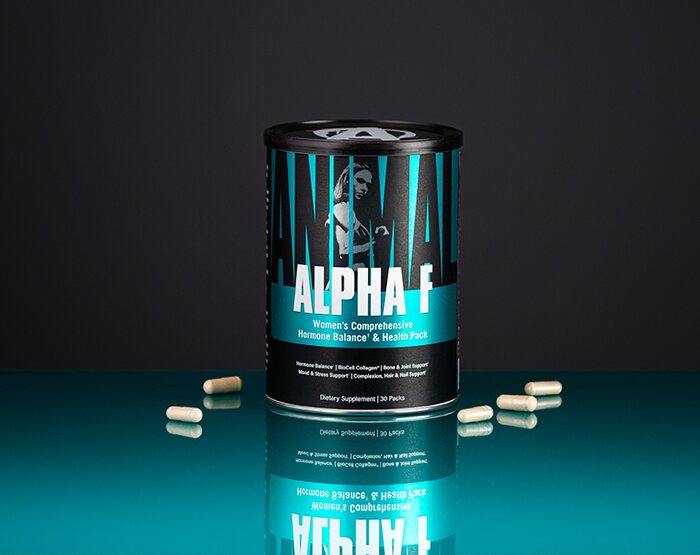 To tie it all together, you have the Bioavailability & Absorption complex. It's impossible to reap all the benefits of a supplement if you can't properly break it down and absorb it, right? That's where this blend shines. This complex utilizes clinically-studied and patented ingredients that help support nutrient uptake, bioavailability, and absorption. Additionally, to further round out the profile, this blend also helps promote digestive health and support menstrual concerns. 
Finally, we have a supplement in our corner that isn't trying to keep us small and timid. 
If you train hard as F, you need Alpha F.