This year's Arnold Classic, coming up in the first week of March, promises to be quite a show. Defending champion Cedric McMillan will be joined onstage by a former Mr. Olympia who holds the event's record with five wins. Add to that six competitors who were among the top 10 at last season's Mr. Olympia, and top it all off with the return from injury of another highly-ranked competitor who hasn't competed in three years. Let the Classic begin!
This battle royal couldn't come at a better time for the Dynamic Duo production team of Arnold Schwarzenegger and Jim Lorimer. 2018 marks the 30th year of the Columbus, Ohio-based Arnold Classic. What better way to welcome it than with one of the largest—and deepest—line-ups in years.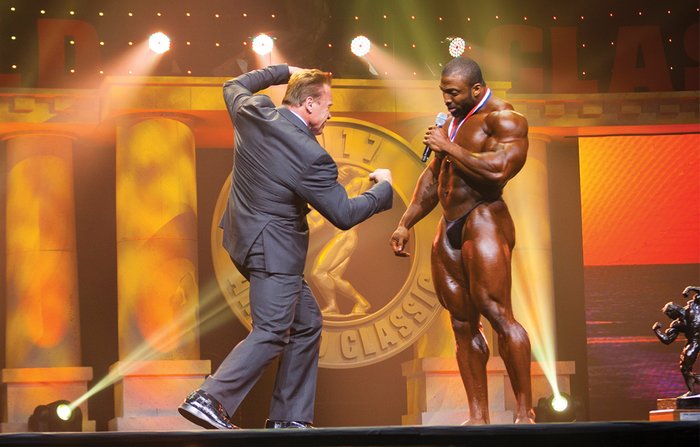 Don't think it's going to be that spectacular? Let's take a closer look at who in a field of 16 is going to make the most noise on the Grand Battelle Ballroom stage at the Columbus Convention Center come March 3.
Cedric Will Need Some Magic to Pull This One Off
I've written before about Cedric McMillan's physical gifts. They were all on display last year when the 6-foot-2, 270-pounder muscled his way to the $130,000 first-place prize money.
Despite that victory, I didn't pick McMillan to finish very high at the Olympia. He has a beautiful, balanced physique, but he never seems crisp enough to do damage at the Olympia. Sure enough, he didn't, placing 10th.
With this season's stacked field, the 40-year-old McMillan might have trouble retaining his title. In fact, he might have his work cut out to land in the top three—or even top five. It all depends on his conditioning, because we all know the body parts are there.
When I announced McMillan the winner of the 2009 NPC Nationals, several members of the media thought he could be the second coming of Lee Haney. Hasn't happened, though; McMillan has been very good at the pro level, but a far cry from the next Haney. No time like the present to get those comparisons drummed up again, Cedric.
Meet the Three Top Contenders for the Title
A 5-foot-7, 225-pounder William Bonac has been on a hot streak, and Bonac fans are convinced that the Terminator will be raising their man's hands in victory this year.
If the law of progression exists, his fans should be on the money. Making his first appearance at the Olympia two years ago, Bonac shocked fans with a fifth-place finish. Last year he moved up two more slots to come in right behind Phil Heath and Big Ramy. On paper, and having bested the other top contenders who will do their thing on stage this year, Bonac is the logical choice. But hold on, this puppy is far from a done deal.
Sooner or later, age is going to catch up with Dexter Jackson. Of course, we were all saying that five years ago. Somehow, someway, the Blade is as good at 48 as he was at 38—or darn close to it. He set an Arnold Classic record with his fifth victory in 2015 and, at about the same size as Bonac, beat the rising star at the 2016 Olympia. Jackson then finished one place behind Bonac in a controversial decision last year in Las Vegas. I'm calling this one a toss-up; the confrontation alone is worth the price of a ringside seat.
Shawn Rhoden, the modern-day Flex Wheeler, is now approaching his 43rd birthday so, as Elvis once crooned, maybe "It's Now or Never" for Shawn. Then again, there's that age factor: It can't be trusted. When they're in top shape, these older pros are capable of winning any contest they enter.
At 5-foot-11 and 240 pounds, Rhoden has won six pro shows, including the Australian Pro and the Arnold Classic Europe. He also placed second at the 2014 Arnold Classic, and has been third at the Olympia three times. Never count this cat out.
And That Ain't All: Top Six Contenders
The odds go to the guys above, but there's a long list of bodybuilders with a solid shot at the title themselves.
Three years ago, I would have had Dennis Wolf as my favorite to repeat his 2014 victory in Columbus. But injuries bogged him down, and then in 2016 he underwent neck surgery that threatened to end his career.
Fortunately, Wolf is back—and the biggest X factor in the show. Remember, Wolf is a 6-foot, 265-pound dude who has always shined at the Arnold Classic, adding a couple of second-place finishes to his resume along with the victory four years ago. He's also been a top Olympia contender for years. His biggest challenge will be his inferior calves, which look even more deficient on an extra-large man. They may present more of a challenge for him than rehabbing from his surgery.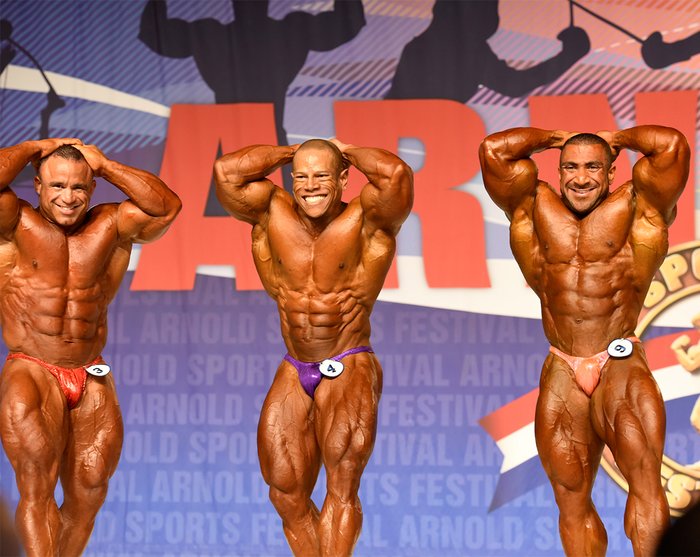 Wolf is big, while Roelly Winklaar is freaky—as in 5-foot-6, 265-pounds freaky. The 40-year-old finished sixth in both the Arnold Classic and the Olympia last year, and in both cases he looked to be a top-five contender, until fading during the latter part of the prejudging. Winklaar might have the best guns in the game. He just needs to tighten up his waist a couple of inches to inflict some heavy-duty damage.
Steve Kuclo, the former USA Overall champion, is making his first appearance on the Arnold Classic stage. He triumphed at the Arnold Classic Brazil in 2014, the same year he finished ninth in his first shot at the Olympia.
Kuclo's a big guy, at about 6-foot and 265 pounds, and he used that beef at the California Pro in 2016 to best Nathan De Asha, who claimed seventh at the 2017 Olympia. But he was way off at the Olympia, relegated to the 13th slot on the judges' sheets.
Kuclo took 2017 off from his job as a firefighter to focus on this year's battle in Columbus. If he comes in sharp—an issue for him in past shows—he could muscle his way into the top six.
Trying to Muscle Their Way: Top 10 Contenders
At 5-foot-9 and 250 pounds, Lionel Beyeke has great shape, but is usually short on conditioning. Max Charles is a large man at 5-foot-10 and 265 pounds, and displays a lot of muscle and worthy conditioning. Jonathan De La Rosa has been a solid pro for years and won Chicago Pro in 2017.
Lukas Osladil is perhaps the most underappreciated competitor in the show; he won a couple of contests last year, and is always ripped and ready to go. Fred "Biggie" Smalls, at about 5-foot-8 and 245 pounds, will have the best routine of the evening and can have one of the best physiques—as long as he doesn't come in too small.
In my opinion, Hidetada Yamagishi is the most interesting competitor in the field. He won the 212 two years ago after finishing second to Jose Raymond in 2015. Then, after slipping all the way down to sixth last season, Yamagishi said, "the heck with watching all my muscle waste away in making weight" and is "movin' on up" to the big boys again this year. Yamagishi fans say this is a smart move. I agree, but with the competition he's going to face, what a year to make the switch!
What's Happening in the Arnold 212?
Oh Henry! David Henry that is. Henry is another one of those dudes who somehow gets better as he advances into his mid 40s. If those improvements continue, especially in his lower body, the 5-foot-5, 195-pounder might finally nab the 212 title in Columbus after finishing second last year and third in 2016. If Henry does win, it won't be because he's entering as the favorite, even though the field comprises only eight bodybuilders.
One of those eight is Hadi Choopan, which could mean another so-close-yet-so-far night for Henry. Choopan, a former middleweight and light-heavyweight champion at the World Amateur Championships in 2014 and 2015, respectively, might be the most conditioned athlete in either division. Choopan is known as "The Persian Wolf" and has fared well against some top-level bodybuilders in the open competitions, coming in second to Winklaar in his pro debut.
Jose Raymond captured the division in 2015, was second in 2016, and finished third last year. Rumor has it this will be the 44-year-old's last appearance onstage at the Arnold Classic. If that's accurate, what a better going away present than getting by both Choopan and Henry.
Guy "Quadro" Cisternino has been right there the past few years, on the heels of Henry and Raymond, and will be back again to try and keep moving up the 212 ladder. The always entertaining Charles "Tank" Dixon is back too, bringing his 5-foot-3, 200-pound frame to Columbus to prove that his seventh-place finish last year was an anomaly. Dixon has plenty of quality muscle to battle for a top-four spot if his shape warrants it.
Kamal El Gargni, Kyung Won Kang, and Samir Troudi round out the field.
The 212 is obviously not big in quantity this season, but the quality, especially among the top five guys, makes up for that.
Get ready for some surprises, and see you in Columbus!