24/7 Customer Service 1-866-236-8417
Xyience:

XNO
Xtreme Nitric Oxide Formula!*
Extend Your Post Workout Muscle Pump To Signal Muscle Growth!*
Supported Goal: Improve Workout
Main Ingredient: L-Arginine
Xyience XNO Product Guide
PROMOTION
PROMOTION

Order & Save 15%!

Order and automatically receive an extra 15% discount at checkout on Xyience XNO, 120 Capsules!

View applied savings in cart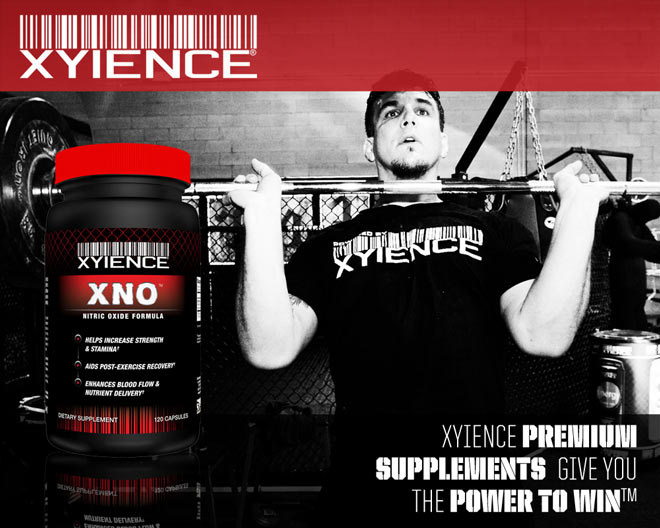 XNO™ Nitric Oxide Formula
Arginine Alpha-Ketoglutarate (AKG), Arginine Ketoisocaproate – A precursor to nitric oxide, which relaxes or opens up the blood vessels and is suggested to promote vasodilation.* Vasodilation increases oxygen and nutrient delivery to muscles and all organs of the body.*
Arginine Alpha-Ketoglutarate (AKG), Arginine Ketoisocaproate – Also involved in muscle protein synthesis, to help build muscle and speed recovery.*
XNO™
Xtreme Muscle Pumping Volumizer
XNO™ contains a powerful ratio of 3 grams of Arginine AKG and Arginine KIC. These amino acids are known Nitric Oxide precursors, which help support longer lasting muscle pumps, increased oxygen and nutrient delivery to muscles and enhanced recovery through increased muscle protein synthesis.* XNO™ some users also report greater stamina and muscle strength.*
XNO™ is safe for athletes of all levels and is FREE OF BANNED SUBSTANCES.
Xyience XNO Purchase Information
Order today using our 100% secure server and get it at the lowest prices in the world with our fast, inexpensive 2-3 day shipping! NOBODY beats our overall price!
120 Capsules

$34.99

$24.49

In Stock
Recommended For You
More Info
SciVation Presents:
Designed to Build Muscle, Burn Fat, and Aid Recovery During Workouts*
More Info
RRI Presents:
Open Finger Grip For Maximum Sensitivity!
Do You Use This Product?
120 Capsules

$34.99

$24.49

In Stock
Manufacturer information:
This works well with:
What's in Xyience XNO?
120 Capsules

Supplement Facts

Serving Size

4

Capsules

Servings Per Container

30

Amt. Per Serving

% DV*

XNO Blend

3000

mg

**

Arginine Alpha-Ketoglutarate

Arginine Ketoisocaproate

*%Daily Value is based on a 2000 calorie diet.

** Daily Value not established
Other Ingredients:
Gelatin
, Water.
Directions For XNO: As a dietary supplement, take 4 capsules twice daily-in the morning on an empty stomach and 30 minutes prior to workout. Although XNO contains no stimulants of any kind, it may keep you awake if taken in the evening. It is recommended you drink at least 8 glasses of water per day. For best results this product should be used in conjunction with a well-balanced diet and exercise program.
Warnings: Before taking this or any other dietary supplement you should consult your health care provider, especially if you are pregnant, nursing or taking any medications. Keep out of reach of children.
* These statements have not been evaluated by the Food and Drug Administration. This product is not intended to diagnose, treat, cure, or prevent any disease.