24/7 Customer Service 1-866-236-8417
Recent Searches
Clear Recent Searches
Xenadrine Xenadrine XT Product Guide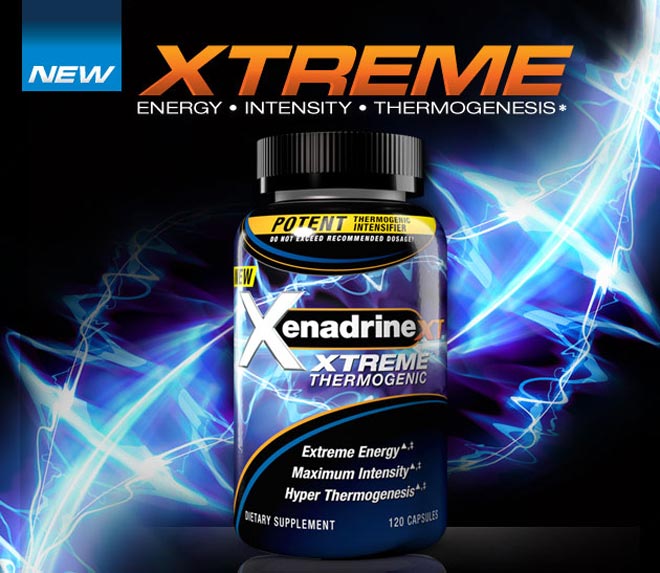 New Xenadrine® XT™ is an extreme thermogenic that´s designed to deliver a rush of intense energy.* Engineered to help you break your boundaries, Xenadrine® XT™ is formulated to deliver:

If you´re looking to lift past your limits and tear through your training sessions with unrivaled intensity, you need a formula that sets a new standard in sensory stimulation – you need Xenadrine® XT™. This extreme thermogenic has been formulated to deliver an overwhelming physical experience unlike anything you´ve ever felt before!* Elevate your energy, promote your focus and prepare for a physical and mental rush that will blow you away.*


This new formula also contains a key ingredient (green coffee extract [C. canephora robusta]) that promotes weight loss as suggested in a 60-day study of subjects following a low-calorie diet. Subjects in this study, lost an average of approximately 10.95 lbs. vs. 5.40 lbs. in the placebo group.* In another 8-week study, subjects using the same key ingredient lost an average of approximately 3.7 lbs. vs. 1.25 lbs. in the placebo group. Both groups followed a calorie-reduced diet and performed moderate exercise.*

Xenadrine® XT™ is an all-in-one thermogenic and a new breed of sensory stimulation. Rock every rep with an extreme rush of energy and focus that´ll keep pushing harder than you ever thought possible!*
*New Xenadrine® XT™ also contains an ingredient (caffeine anhydrous [1,3,7-trimethylxanthine]) that supports accelerated thermogenesis, extreme energy and hardcore intensity and focus!*

Xenadrine Xenadrine XT Purchase Information
Order today using our 100% secure server and get it at the lowest prices in the world with our fast, inexpensive 2-3 day shipping! NOBODY beats our overall price!
120 Capsules

$59.99

$33.43

In Stock
Recommended For You
More Info
Cellucor Presents:
Advanced Pre-Workout for Increased Energy and Focus*
Do You Use This Product?
120 Capsules

$59.99

$33.43

In Stock
Manufacturer information:
This works well with:
What's in Xenadrine Xenadrine XT?
120 Capsules

Supplement Facts

Serving Size

2

Capsules

Servings Per Container

60

Amount Per Serving

% Daily Value

Caffeine Anhydrous

270

mg

†

Green Coffee Bean Extract (As C. Canephora Robusta)**

200

mg

†

Sage Leaf (As Salvia Officinalis)

150

mg

†

L-Theanine

100

mg

†

Yohimbe Bark Extract (As Pausinystalia Yohimbe)

56.3

mg

†

Supplying Rauwolscine And Yohimbine

Rhodiola Root Extract (As Rhodiola Rosea)

50

mg

†

Supplying Salidrosides

† Daily Value not established
Other Ingredients:

Magnesium Stearate

, Silica

, Gelatin Capsule

, (Titanium Dioxide, Gelatin).

Contains Sulfite Ingredients.
Directions For Xenadrine XT: To assess your tolerance, for the first day, take 1 capsule once daily. On days 2 and 3, take 2 capsules once daily. On day 4 and beyond, take 2 capsules twice daily, 30 to 60 minutes before your two main meals. Do not snack between meals. Do not take within 5 hours of bedtime. For best results, use for 60 days in combination with diet and training. Do not exceed 4 capsules in a 24-hour period. Drink 10 glasses of water daily for general good health. Read the entire label before use and follow directions provided.
Warnings: Not intended for use by persons under 18. Do not use if you are pregnant or nursing. Discontinue use and consult a medical doctor if you experience unusual symptoms. Consult a medical doctor before use if you have been treated for, or diagnosed with or have a family history of any medical condition or if you are using any prescription or over-the-counter drug(s), including blood thinners. One serving (2 capsules) of this product contains up to as much caffeine as 3 cups of coffee. Caffeine sensitive individuals may experience the following symptoms including (but not limited to) restlessness, nervousness, tremors, headache, anxiety, palpitations, increased heart rate, or difficulty sleeping. Do not combine with other sources of caffeine or stimulants. Consult a medical doctor before starting a diet or exercise program. Do not exceed recommended serving. Improper use of this product will not improve results and is not advised. Use only as directed. Do not use if packaging has been tampered with. Store in a cool, dry place (60 to 80 degrees F.) Keep Out Of Reach Of Children.
* These statements have not been evaluated by the Food and Drug Administration. This product is not intended to diagnose, treat, cure, or prevent any disease.