24/7 Customer Service 1-866-236-8417
VPX:

CARBONX
The Thermogenic Super Carb Matrix!*
Support That Long Lasting Pump During Your Workout!*
Supported Goal: Build Muscle
Main Ingredient: Carbohydrates
VPX CARBONX Product Guide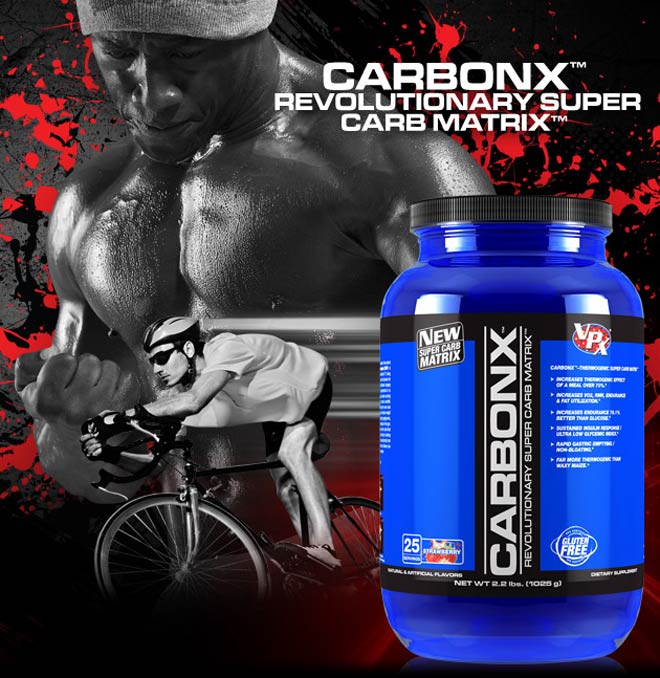 Carbonx™
Thermogenic Super Carb Matrix™
Supports Thermogenic Effect of a Meal Up to 70%*
Promotes VO2, RMR, Endurance & Fat Utilization.*
Sustained Insulin Response / Ultra Low Glycemic Index.*
Rapid Gastric Emptying / Non-Bloating.*
Far More Thermogenic than Waxy Maize.*
Novel Highly Branched Cyclic Dextrins.*
The NEW VPX CARBONX™ is a true metabolic miracle that represents the future of carbohydrate supplementation. Carbonx is a combination of two scientific carbohydrate inventions: The Carbonx Highly Branched Cyclic Dextrin (CHBCD) & Carbonx Hydroxypropyl Distarch Phosphate (CHDP) is the latest chemically altered carb combo in macro-nutrient science. Why? In part because of its mind-blowing low DE (dextrose equivalent) of '3' along with an ultra high molecular weight / narrow distribution carbohydrate profile. Lower molecular weight starches and sugars remain in the stomach for long periods and draw water and blood away from the muscle and, therefore, decrease performance and cause bloating. Gastric Ultrasonic imaging clearly suggests Carbonx's superiority with its super rapid exit from the gut.* With CARBONX™, you avoid the gastrointestinal (GI) issues characteristic of so many of the other sports drinks and old school waxy maizes. Further, with more carbohydrate exiting your stomach and going to your muscles carrying three grams of water per gram of carbohydrate, the skin stretching pump and hydration is nothing short of astonishing! Using creative scientific engineering, a cyclization reaction utilizing a branching enzyme was used to produce the novel Carbonx invention (CHBCD). The other novel carb contained in Carbonx is Hydroxypropyl Distarch Phosphate (CHDP) and is also a highly branched starch with an almost 50% greater molecular weight than standard waxy maize, but with a 33% lower glycemic index. The amazing novel Carbonx matrix makes all other insulin-jacking, hypoglycemic, fat-promoting current carb products obsolete. That's right! Remember that carbohydrate is the premier fuel support for your brain and muscles in the gym, on the court or out in the field. Carbohydrate is also the primary source of fuel for moderate to high intensity exercise. Unlike other carbs that make you fat, studies suggest that CHDP may help support lowering bodyfat!* The research on this super carb matrix is nothing less than mind-blowing. Carbonx can be mixed directly into water or combined with your favorite protein shake or preworkout formula. We are conducting more studies on Carbonx and will keep you posted on our latest scientific advancements.
VPX CARBONX Purchase Information
Order today using our 100% secure server and get it at the lowest prices in the world with our fast, inexpensive 2-3 day shipping! NOBODY beats our overall price!
8 Servings

$16.99

$14.49

Strawberry

In Stock
Recommended For You
More Info
BSN Presents:
A Concentrated Formula to Push Your Performance Limits*
Do You Use This Product?
8 Servings

$16.99

$14.49

Strawberry

In Stock
Manufacturer information:
This works well with:
What's in VPX CARBONX?
8 Servings

Strawberry

Supplement Facts

Serving Size

1

Scoop

(41

g)

Servings Per Container

8

Amount Per Serving

% Daily Value

Calories

160

Calories From Fat

0

Total Fat

0

g

0%*

Saturated Fat

0

g

0%*

Trans Fat

0

g

**

Cholesterol

0

mg

0%*

Sodium

60

mg

3%*

Total Carbohydrate

40

g

13%*

Dietary Fiber

0

g

0%*

Sugars

0

g

**

Protein

0

g

0%*

Novel High Molecular Weight Carb Blend

40

g

Hydroxypropyl Distarch Phosphate (Food Starch-Modified)

**

Highly Branched Cyclic Dextrin

**

Not a significant source of vitamin A, vitamin C, calcium and iron.

* Percent Daily Values are based on a 2,000 calorie diet

** Daily Value not established
Other Ingredients:

Natural And Artificial Flavors

, Malic Acid

, Sucralean® Brand Sucralose

, And Citric Acid.

Allergen Warning: Manufactured In A Facility That Processes Milk, Egg, Soy, Wheat, And Shellfish.
Directions For CARBONX: CARBONX™ can be mixed directly into water or combined with your favorite protein shake, preworkout formula, or meal replacement. For a great tasting, delicious shake combine one scoop of CARBONX™ in 10 oz. (295 mL) of water or your favorite beverage. For added body blend two or three ice cubes with CARBONX™. Always drink 12 to 16 ounces (354-473 mL) of additional water for each CARBONX™ shake consumed.
Warnings: Keep Out Of Reach Of Children. Store in a cool, dry place. Contents sold by weight not volume; some settling may occur.
* These statements have not been evaluated by the Food and Drug Administration. This product is not intended to diagnose, treat, cure, or prevent any disease.