24/7 Customer Service 1-866-236-8417
Universal Nutrition:

Animal Test
The Testosterone Support Vitamin Stack*
Enhances Testosterone Output And Promotes A Healthy Estrogen Balance*
Supported Goal: Build Muscle
Main Ingredient: Arachidonic Acid
Universal Nutrition Animal Test Product Guide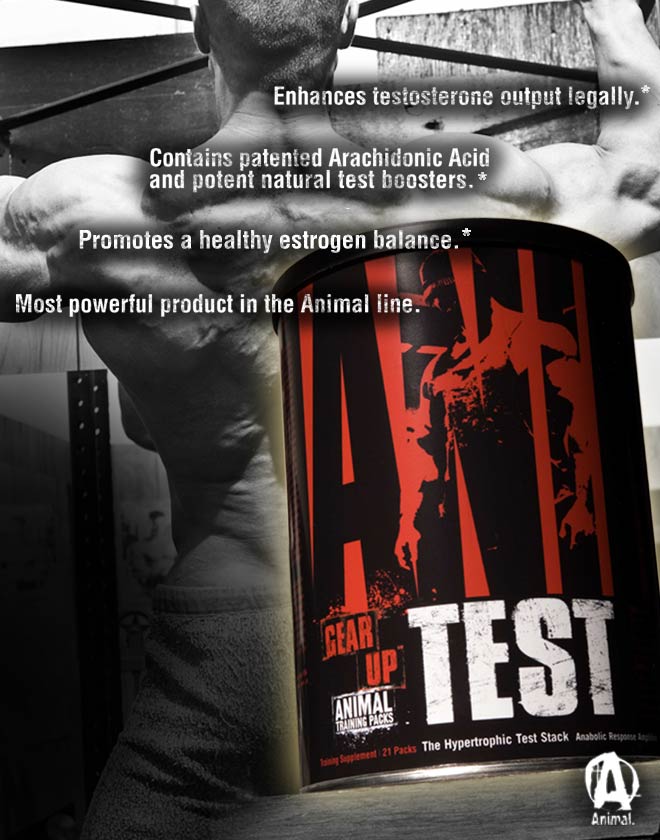 Advanced level bodybuilders and power athletes looking to maximize gains in strength and lean mass.*
Take one pack daily with food. On training days take one pack along with the meal prior to your workout. Animal Test works ideally when in conjunction with intense training and an increase in quality calories and protein. Also, be sure to prioritize proper hydration during an Animal Test cycle. For best results use for two consecutive cycles--a total of 42 days. Afterwards take 4 weeks off. During this time, Animal M-Stak is recommended to preserve lean mass gains.*
Animal Test may be stacked with Pak. Test can also be used in conjunction with Animal Pump to optimize gym performance or with Animal Stak in order to fully maximize hormone output.* Cycle off of Test with Animal M-Stak in order to maintain mass gains.*
Animal Test is the ultimate in muscle-supporting, pro-testosterone supplementation.* Combining the most powerful natural extracts with one of the hottest, patented, research-backed supplements to hit the industry in recent years, the all new Animal Test redefines the capabilities of bodybuilding supplementation.*
The Pro-Androgen portion of the Animal Test formula couples dynamic herbal extracts designed to support free and total testosterone with compounds for promoting a healthy estrogen balance capable of maximizing the natural anabolic response.* Translation? Explosive gains in strength and size.*This complex includes the revered free test potentiator 3-4 divanillyl tetrahydrofuran.* Divanillyl is a lignan extracted from stinging nettle suggested to support reduced levels of sex hormone binding globulin (SHBG).* In high enough dosages, like the one contained in Animal Test, Divanillyl supports the enhanced activation of free testosterone which promotes gains in strength and size as well as supporting focus, recovery and gym performance.*
Animal Test is also loaded with anabolic ketosterones extracted from Cissus Quadrangularis—another exciting new bodybuilding ingredient. These ketosterones have been revered for promoting anabolism, boosting recovery and staving off the production of catabolic stress hormones.* Beyond these obvious muscle and strength building properties, cissus has also been touted as an antioxidant capable of supporting joint and ligament health, a side benefit worth noting for individuals making dramatic gains in size and strength over a short period of time.*
Lastly, yohimbe extract rounds out the Animal Test Pro-Androgen Complex. Yohimbe bark extract has been suggested to increase fatty acid mobilization from fat stores via increased noradrenaline (norepinephrine) levels and provides a strong boost in stamina. Designed to enable physique recomposition and to support sexual health, yohimbe extract can aid in promoting the development of lean, hard mass.*
In order to capitalize on the blast of utilizable testosterone provided by these pro-androgen ingredients, Animal Test comes fully equipped with a combination of cutting edge ingredients to help support a healthy estrogen balance.* First among these is the ultra antioxidant Trans Resveratrol. Trans-Resveratrol acts like a shield. It supports binding of the estrogen receptor which may help block circulating estrogen hormones from ever hitting the target receptor, thus inhibiting unwanted estrogens from reaching the hormone receptor.*

Trans Resveratrol is fortified by hearty dosages of other suggested estrogen-balance supporting ingredients, namely, 3',5,7-Trihydroxy -4'-Methoxyflavone (Hesperetin) and Agaricus Bisporus polysaccharides*. Agaricus Bisporus is an extract of the white button mushroom. These polysaccharides have been suggested to act upon the aromatase enzyme via multiple pathways so as to cripple any estrogenic response to a new abundance of free circulating testosterone. Hesperitin appears to work by inhibiting the aromatase enzyme, thus reducing excess testosterone to estrogen conversion and allowing more of the desired testosterone to be available for the receptors.*
In summary, these constituents may help to block circulating estrogen from reaching receptors as well as negating the inevitable estrogen boost brought about by supporting testosterone production, thus directly and indirectly promoting a higher ratio of circulating serum testosterone.* Both components of the Pro-Androgen complex are assured for utmost efficiency and uptake through the inclusion of 6',7'-Dihydroxybergamottin and patented Bioperine—the very best absorption-enhancing ingredients available today.*
The final and perhaps the most dramatically powerful element of the new Animal Test formula is the inclusion of the highly heralded, suggested and patented hypertrophic agent, Arachidonic Acid (AA). Backed by university research studies and real world testimonials, AA has taken the bodybuilding world by storm—and for good reason.
Arachidonic Acid has multiple benefits for the hard training bodybuilder, the most dramatic of which are the ability for it to enhance androgen receptor sensitivity and to amplify training related muscle inflammation and in turn support muscle growth.* AA is an essential fatty acid that sits at the very core of the body's physiological response to weight training.
When lifting weights, muscle fibers are damaged and AA is released. Its release alters local chemistry, which supports a shift that favors anabolism.* The general anabolic cascade begins with the release of AA and is greatly amplified in the presence of more AA. This translates into supporting androgen receptors (increasing testosterone sensitivity), heightened IGF-1 signaling, greater vasodilation and even enhanced lipolysis.* The availability of AA appears to dictate how strongly this anabolic cascade will be stimulated with training.*
The more AA you have in your muscle tissue, the easier it is to liberate and trigger growth. This status as an anabolic catalyst made it the perfect backbone for this new Animal formula as it provides muscle building qualities by itself as it augments the actions of the other extremely powerful ingredients that together comprise Animal Test.*
With a storied past and a world of potential for future gains, Animal Test reemerges. Combining premium, cutting edge compounds with patented proven ingredients, Animal Test returns as the most powerful product in the Animal line. Not for the faint of heart, Test is the answer for the dyed in the wool power athlete looking to support explosive gains by natural means. *
Universal Nutrition Animal Test Purchase Information
Order today using our 100% secure server and get it at the lowest prices in the world with our fast, inexpensive 2-3 day shipping! NOBODY beats our overall price!
21 Packs

$99.99

$59.97

In Stock
Recommended For You
More Info
Universal Nutrition Presents:
Supports Testosterone Levels In Athletes Looking To Optimize Strength & Performance*

More Info
Universal Nutrition Presents:
Supports Rigorous Training for All Competitive Strength and Power Athletes*
Do You Use This Product?
Universal Nutrition:
Animal Test
21 Packs

$99.99

$59.97

In Stock
Manufacturer information:
This works well with:
What's in Universal Nutrition Animal Test?
21 Packs

Supplement Facts

Serving Size

1

Pack

Servings Per Container

21

Amount Per Pack

% DV

Pro-Androgen Complex

2500

mg

Urtica Dioica (3.4-Divanillyl Tetrahydrofuran)

**

Cissus Quadrangularis (Ketosterone)

**

Polygonum Cuspidatum (Trans -3,5,4'-Trihydrozystilbebe (Trans Resveratrol)

**

Agaricus Bisporus (Polysaccharides)

**

3', 5, 7-Trihydroxy-4'-Methoxyflavone (Hesperetin)

**

Yohimbe Bark Extract

**

Hypertrophic Response Complex

1500

mg

Arachidonic Acid (40% In A Proprietary Fatty Acid/oil Blend)

**

(Grapefruit) 6, 7-Dihydroxybergamottin

**

Bioperine®

**

* Percent Daily Values are based on a 2,000 calorie diet

** Daily Value (DV) not established
Other Ingredients:

Palmitic Acid

, Steric Acid

, Linoleic Acid

, Nettle Root Extract

, Polygonum Cuspidatum

, Stearic Acid

, Agaricus Mushroom Extract

, Grapefruit Extract

, Linolenic Acid

, γ-Linoleic Acid

, Dihomo-γ-Linoleic Acid

, Myristic Acid

, Arachidic Acid

, Behenic Acid

, Lignoceric Acid

, Gelatin

, Glycerine

, Water

, Caramel Color

, Carob

, Titanium Dioxide

, Magnesium Stearate

, FD&C Blue #1

, FD&C Red #40
Directions For Animal Test: Take one pack daily with food. On training days take one pack along with the meal prior to your workout. For best results use for two consecutive cycles - total of 42 days. Afterwards take 4 weeks off.During this off time, Animal M-Stak is recommended to preserve lean mass gains.
Warnings: Do not take this product if you have or are at risk for any medical condition or disease such as diabetes, asthma, high blood pressure, high cholesterol, arthritis, heart disease, stroke, are pregnant, are suffering from any inflammatory diseases, or are on a red meat-restricted diet. Consult with your physician before use if you are taking any medication, or suffer from any other health condition. Do not use this product if you are at risk of or are being treated for high blood pressure, heart, kidney, thyroid or psychiatric disease, anxiety, depression, seizure disorder, stroke or any other medical condition. Please consult your health care professional before using this product if you are taking antidepressants, MAO inhibitor or any other prescription drug. Not for use by children, geriatric patients or females. Discontinue use and consult your healthcare professional if dizziness, sleeplessness, tremors, nervousness, headache or heart palpitations occur. Use of this product may be banned by some athletic associations. Athletes should consult with their sanctioning authority before use. Exercise good judgment and keep this out of reach of children. This product is not intended for persons under the age of 21. Do not use if pregnant or nursing. To keep it as fresh as possible, store this product in a cool, dry place, away from heat, moisture and sunlight. You know the drill.
* These statements have not been evaluated by the Food and Drug Administration. This product is not intended to diagnose, treat, cure, or prevent any disease.