24/7 Customer Service 1-866-236-8417
Top Secret Nutrition:

F.A.S. LEAN
Patented Weight Loss Formula!
Eat Less, Feel Full And Lose Weight!*
Supported Goal: Lose Fat
Main Ingredient: Glucomannan
Top Secret Nutrition F.A.S. LEAN Product Guide
You May Also Like
| | |
| --- | --- |
| Supports Appetite Control & Weight Management!* | Target Fat For Energy And Enhance Thermogenesis!* |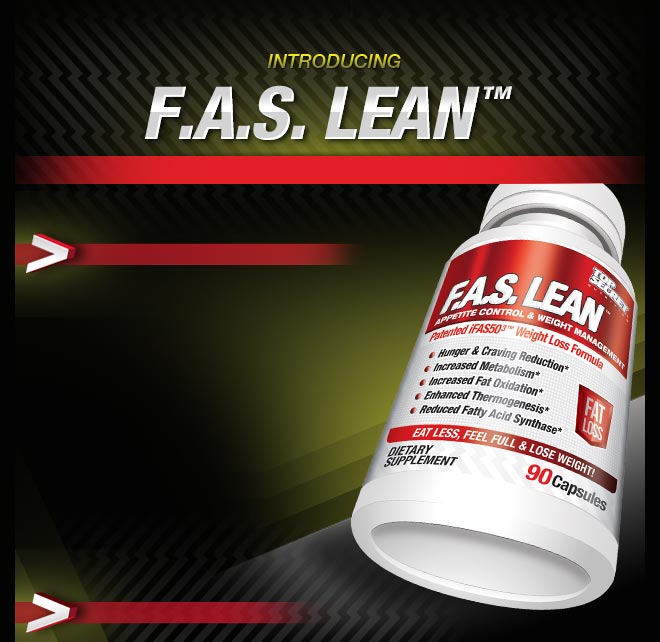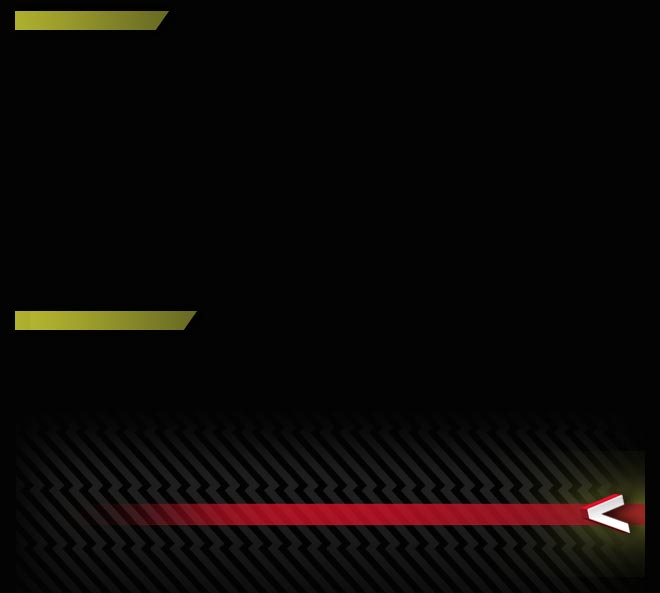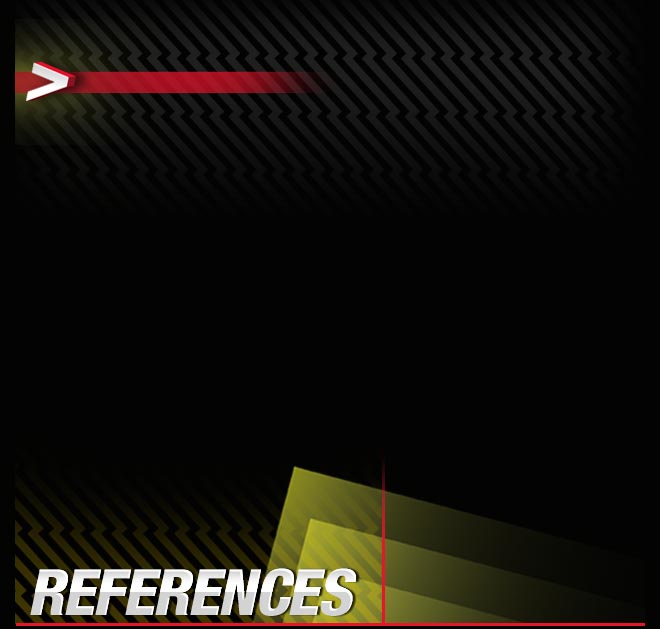 Advanced Appetite Control & Weight Loss Support*
With Patented
i

fas503™ Weight loss formula
TOP SECRET® F.A.S. LEAN™ is a new generation of diet supplementation that supports weight loss via a 3 pronged attack targeting: appetite, fat burning and fat storage. *
TOP SECRET® F.A.S. LEAN™ utilizes an advanced fat loss and appetite control technology based on the theory that inhibiting fatty acid synthase encourages weight loss. * Animal studies suggest that inhibition of fatty acid synthase may be related to reduced food intake, inhibited fat storage(lipogenesis) and weight reduction.*1, 2
NOTE:If you are interested in a stiumlant based appetite suppressant check out our Super F.A.S. Lean™ which is the same as F.A.S. Lean plus 200mg of caffeine per serving.
WHAT IS FATTY ACID SYNTHASE?
Fatty acid synthase (FAS) is an enzyme that catalyzes the creation of free fatty acids through a process called fatty acid synthesis. Fatty acid synthase is an important part of the lipogenesis process: the conversion of sugars to fat in the body.*
F.A.S. Lean™
Appetite Control
& Weight Management
F.A.S. LEAN™ team:
Is a unique, patented combination of three herbal extracts that work synergistically to promote weight loss and suppress hunger:*
Polygonum multiflorum Thunb., also known as tuber fleece flower, is a Chinese herb that grows all over eastern Asia. In an animal research study conducted by the Department of Biology at the Graduate School of Chinese Academy of Sciences, it was suggested that tuber fleece flower is a significant inhibitor of FAS.* The animals in the study had both reduced food intake and reduced body weight with tuber fleece flower supplementation.*3
Loranthus parasiticus (L.) Merr. is a traditional herb from the family of flowering plants that are usually attached to other plants. Research suggests that Loranthus parasiticus is may be a powerful, natural inhibitor of FAS.*4
Camellia sinensis is an herbal derivative from green tea leaves. It has three active compounds that affect FAS: EGCG (epigallocatechin gallate), ECG (epicatechin gallate, and CG (catechin gallate).* Research has suggested that CG is the strongest of the three and may be a powerful inhibitor of FAS.*5
The findings from previous research were backed by another study, which further suggests that the three ingredients in patented Ifas50 inhibit fatty acid synthase.6
Is a soluble fiber derived from the konjac root, and may help support general health.* Glucomannan has been included in F.A.S. LEAN because of its beneficial support for weight loss.* Research suggests that glucomannan helps in the regulation of weight management due to its bulk-forming properties. It is able to absorb many times its weight in water, creating bulk in the stomach and making you feel more full.* Research has suggested that when eaten prior to a meal, glucomannan helps support a healthy appetite level.*7 Additionally, research suggests that when taken prior to meals, glucomannan may support healthy glucose absorption and fasting levels.*8
Additional research suggests combining glucomannan and exercise is beneficial for health and weight management.* The Department of Kinesiology, Human Performance Laboratory, University of Connecticut, performed a study to examine the effects of adding a total-body exercise program to an eight-week diet supplemented with glucomannan. The effects studied included weight loss, body composition, blood parameters, and physical performance in overweight men and women. The results indicated that exercise appeared to augment the reduction in fat mass and waist circumference, but did not affect total weight loss. Researchers concluded that the addition of a resistance and endurance exercise training program to a glucomannan diet regimen significantly improved measures of body composition.*9
Sinensis in the form of green tea extract is standardized for bioflavonoid-like antioxidants known as polyphenols, particularly Epigallocatechin Gallate (EGCG). Aside from the FAS-inhibiting benefits described previously, research suggests that green tea has thermogenic properties and promotes fat oxidation beyond that explained solely by its caffeine content.* Green tea extract may play a role in the control of body composition via sympathetic activation of thermogenesis, fat oxidation, or both.*10 Another study performed in Switzerland suggested the thermogenic and fat oxidation benefits of EGCG.*11
F.A.S. LEAN™ – NEXT GENERATION
WEIGHT MANAGEMENT SUPPLEMENTATION
A unique blend of scientifically studied ingredients
FREQUENTLY ASKED QUESTIONS
Q. What should I feel from taking F.A.S. LEAN™?
A. If taken correctly, 20-30 minutes before meals with at least ten ounces of water, you may feel less hungry and support a healthy appetite level.* It is important to remember that this product is designed to help you eat less, not to encourage you to eat nothing.* Eating keeps the metabolism running strong; focus on a balanced diet, eating small meals throughout the day, and portion control.*
Q. Will F.A.S. LEAN™ make me feel overly energetic or edgy?
A. No, not at all. The stimulant component of F.A.S. LEAN™ is relatively low; this supplement is primarily for supporting a healthy appetite level and fat burning.*
Q. How often should I take F.A.S. LEAN™?
A. For weight loss, you should take F.A.S. LEAN™ about 20-30 minutes prior to any meal in which you want to eat less, or any time you want added support to help promote a healthy, normal appetite.* We recommend three times a day for ideal weight loss support.*
Q. Why do I have to drink 10 oz. of water each time I take the product?
A. Water activates the glucomannan, which can absorb up to 200 times its weight in water. This may help give you the fuller feeling.*
Q. Can I stack this product with other supplements?
A. Yes, you can stack F.A.S. LEAN™ with any supplement, but
we recommend not taking them at the same time. This
product stacks well with most fat burners. However, we
recommend that you consult with a health care professional
before taking this product, or starting a new weight loss regime.*
(1) "C75, a Fatty Acid Synthase (FAS) Inhibitor." Recent Patents on Endocrine, Metabolic & Immune Discovery 1 (2007): 53-62.
(2) Effects of mitochondrial uncoupling on adipocyte intracellular Ca(2+) and lipid metabolism. J Nutr Biochem. 2003 Apr;14(4):219-26.
(3) "Inhibition to Fatty Acid Synthase with Extract of Tuber Fleeceflower Root." Chinese Journal of Biochemistry and Molecular Biology, 19.3 (2003): 297.
(4) "Potent Inhibition of Fatty Acid Synthase by Parasitie loranthus [ Taxillus chinensis (DC.) Danser] and its Constituent Avicularin." Journal of Enzyme Inhibition and Chemistry, 21.1 (2006): 87-93.
(5) "Efficacy of a Green Tea Extract Rich in Catechin Polyphenols and Caffeine in Increasing 24-h Energy Expenditure and Fat Oxidation in Humans." American Journal of Clinical Nutrition 70.6 (1999): 1040-45.
(6) "Weight Reduction by Chinese Herbs May be Related to Inhibition of Fatty Acid Synthase." Life Sci. 74.19 (2004): 2389-99.
(7) DE Walsh, V Yaghoubian, A Behforooz. "Effect of Glucomannan on Obese Patients: A Clinical Study." Int J Obes, 1984.
(8) "Effect of Glucomannan on Plasma Lipid and Glucose Concentrations, Body Weight,: Systematic Review and Meta-analysis." Am J Clin Nutr 88.4 (2008): 1167-1175.
(9) "Effect of Adding Exercise to a Diet Containing Glucomannan." Metabolism. 56.8 (2007): 1149-58.
(10) "Novel Inhibitors of Fatty-acid Synthase from Green Tea (Camellia sinensis Xihu Longjing) with High Activity and a New Reacting Site." Biotechnol Appl Biochem. 43.1 (2006): 1-7.
(11) "The Effects of Epigallocatechin-3-gallate on Thermogenesis and Fat Oxidation in Men: A Pilot Study." J Am Coll Nutr. 26.4 (2007): 389S-395S.

Top Secret Nutrition F.A.S. LEAN Purchase Information
Order today using our 100% secure server and get it at the lowest prices in the world with our fast, inexpensive 2-3 day shipping! NOBODY beats our overall price!
90 Capsules

$34.99

$9.90

In Stock
Recommended For You
More Info
Optimum Presents:
Train Longer and Harder with Intense Energy and Focus*
More Info
MuscleTech Presents:
Support Energy, Focus, and Weight Loss*
Do You Use This Product?
Top Secret Nutrition:
F.A.S. LEAN
90 Capsules

$34.99

$9.90

In Stock
Manufacturer information:
This works well with:
What's in Top Secret Nutrition F.A.S. LEAN?
90 Capsules

Supplement Facts

Serving Size

3

Capsules

Servings Per Container

30

Amount Per Serving

% Daily Value**

Adipo-Reduction Proprietary Blend

1850

mg

†

Glucomannan Derived From Amorphophallus Konjac Patented IFAS50³™ (A Proprietary Blend Of Polygonum Multiform Thunb, Loranthus Parasiticus, And Camellia Sinensis) Green Tea Extract (Leaf) Standardized For 98% Polyphenols

† Daily Value not established

** Percent Daily Values are based on a 2,000 calorie diet
Other Ingredients:
Hypromellose
, Magnesium Stearate
, Microcrystalline Cellulose.
Directions For F.A.S. LEAN: As a dietary supplement take 3 tablets 20-30 minutes before each meal, must be taken with at least 10 ounces (295mL) of water for maximum benefit.
Warnings: Keep Out Of Reach Of Children. Do not take if you are pregnant or nursing. Do not take before going to bed. Consult your physician prior to use if you are taking any antidiabetic medications. Without drinking enough liquid the product may swell in the throat, causing blockage or choking. Avoid use if you ever had esophageal narrowing or swallowing difficulties.
* These statements have not been evaluated by the Food and Drug Administration. This product is not intended to diagnose, treat, cure, or prevent any disease.