24/7 Customer Service 1-866-236-8417
Recent Searches
Clear Recent Searches
Top Secret Nutrition:

BCAA Hyperblend
Anabolic Branched Chain Formula!*
Supports Muscle Recovery & Enhanced Muscle Protein Synthesis!*
Supported Goal: Build Muscle
Main Ingredient: BCAAs
Top Secret Nutrition BCAA Hyperblend Product Guide
You May Also Like
| | |
| --- | --- |
| Energizing Anabolic Branched-Chain Amino Acid Blend | Unique Anabolic Creatine Blend!* |
ANABOLIC BRANCHED CHAIN FORMULA*
IMPROVED MUSCLE RECOVERY*
ENHANCED MUSCLE PROTEIN SYNTHESIS*
YOU WORK HARD, TAKE THE BEST!
Top Secret Nutrition's BCAA Hyperblend™ combines the power of branched-chain amino acids with ingredients designed to promote anabolic activity and enhance absorption to create the future of BCAA supplementation.*
Why do people take BCAA's? – One reason, and one reason only to stimulate and support protein synthesis. So why take plain branched chain amino acids when you can take an enhanced BCAA Hyperblend?
Of the 20 amino acids that help build protein, nine of these cannot be synthesized in the human body. These nine compounds are referred to as essential amino acids because they must be consumed through food or supplements. Three of these essential amino acids - leucine, isoleucine, and valine - are branched-chain amino acids, or BCAAs. Unlike the other amino acids, BCAAs are metabolized in muscle rather than in the liver, which means that they play a critical role in muscle development because they reach muscle tissue faster.*
The chemical structure of BCAAs is what makes them so unique. As the name indicates, they have branched carbon chains; it is these side chains that make it easier for the enzymes in your muscle cells to convert BCAAs into energy during exertion. The more BCAAs you have in your muscles, the slower your muscle cells break down muscle fiber. The anabolic stimulus from your training remains the same, but you experience less muscle breakdown, so you can build up more muscle mass.*
BCAAs, which make up about 40% of the free essential amino acids in blood plasma, are used as an energy source during exercise and play an important part in glyconeogenesis (a mechanism for reusing the glucose used for energy in muscle).1
• THE LEUCINE DEBATE
The research on leucine and how it relates to muscle protein synthesis (MPS) in humans is debated. Some studies report increased MPS while others show suppressed muscle protein breakdown without increased protein synthesis during leucine infusion. One point on which the studies agree is that leucine is anti-catabolic.* The debate is centered on just how anabolic leucine is in humans. Further studies on this topic conducted by the researchers from the University of Texas Medical Branch (Galveston) have discovered that leucine appears to promote anabolic signaling, but not protein anabolism. In other words, leucine stimulates the signal to activate muscle protein synthesis but does not actually make it happen. Additionally, they found that an infusion of 1.8 grams is sufficient stimulate the anabolic signal.*2
Although leucine is definitely the MVP of the BCAA team, it should be combined with the other BCAAs valine and isoleucine for maximum effect.
• VALINE AND BRAIN FATIGUE
Several research studies have confirmed that taking BCAAs, and in particular valine, before a workout lowers the amount of tryptophan that gets into the brain, thus lessening 5-HT levels and fatigue. Therefore, BCAA ingestion can help to prevent feeling fatigued during workouts, which will allow you to train harder and longer, encouraging greater muscle growth. BCAA supplementation can also help to enhance mood and brain function by reducing brain fatigue through this same mechanism.*3,4
• ISOLEUCINE METABOLISM AND FAT LOSS
A recent animal study conducted in Japan Suggests that isoleucine is the BCAA that activates the proteins UCP2 and UCP3, which help boost metabolism.* Animals in the isoleucine group had lower weight gain and almost 50% less white adipose tissue than the control group.*5
THE BCAA HYPERBLEND TEAM:
BCAA BLEND - A 3:1:1 ratio of leucine (clinically studied 1.8 grams)
to isoleucine and valine.
ANABOLIC POWER BLEND - We have included ursolic acid and homobrassinolide
to enhance the anabolic and muscle protein synthesis stimulating effect of BCAAs.*
ABSORPTION AND EFFECTIVENESS BLEND - Astravar™ and Bioperine
help enhance the absorption of the other powerful ingredients.*
ursolic acid (ua) - is a pentacyclic triterpenic acid with many body-reshaping attributes.* Ursolic acid is a very exciting ingredient that has the potential to make a serious impact in sports nutrition industry. Preliminary studies have had some astonishing results.
a. Protect muscle

- Results from a study performed by scientists at the University of Iowa and published in Cell Metabolism suggested that ursolic acid reduced muscle atrophy and stimulated muscle hypertrophy.* It did this by enhancing skeletal muscle insulin/IGF-I signaling and inhibiting atrophy-associated skeletal muscle mRNA expression.*6

b. Increase fat loss

- In an animal study to determine the effect of ursolic acid on abdominal fat and weight loss suggested that ursolic acid reduced abdominal fat accumulation.* It was also suggested that this was caused by the stimulation of lipolysis and the inhibition of digestive enzyme lipase.*7
Homobrassinolide - is a potent brassinosteroid found in the mustard plant. A recent set of animal studies suggest that homobrassinolide exhibits anabolic activity in skeletal muscle cells.*8 These findings suggest that oral application of homobrassinolide triggers selective anabolic response with minimal or no androgenic side effects including:
Supporting and promoting anabolic activity*
Supporting muscle hyperplasia and hypertrophy (number and size of muscle fibers)*
Supporting muscle repair*
Promoting overall physical performance*
The Rhodiola rosea, Astragin, and Bioperine combination is designed to improve the effectiveness of branched chain amino acid supplementation.*9,10,11

Absorption and Effectiveness Blend helps:
Improve absorption of performance
supporting ingredients*
Delay onset of fatigue*
Enhance recovery*
Vitamin B6 - acts as a coenzyme to many other enzymes that are involved with metabolism in the body. Vitamin B6 plays a key role in amino acid metabolism and is involved in the first step in the metabolism of BCAAs via its role in catalyzing the enzyme aminotransferase.*12

The benefits of taking Top Secret Nutrition's
BCAA Hyperblend include:
BCAA HYPERBLEND FREQUENTLY ASKED QUESTIONS:
Q. How often should I take the BCAA Hyperblend?
A. For maxium protein synthesis support, take 4 capsules twice per day.*
Q. Can I take BCAA Hyperblend before I workout?
A. Yes, many people like to take branched chain amino acids before they workout, and BCAA Hyperblend, because of its anabolic component is a great product to take pre-workout alone, or with your normal pre-workout supplement.
(1) "Exercise-induced Muscle Damage is Reduced in Resistance-trained Males by Branched Chain Amino Acids: A Randomized, Double-blind, Placebo Controlled Study." J Int Soc Sports Nutr. 9.1 (2012): 20. [Epub ahead of print]

(2) "Excess Leucine Intake Enhances Muscle Anabolic Signaling but not Net Protein Anabolism in Young Men and Women." J Nutr. 140.11 (2010): 1970-6. Epub 2010 Sep 15.

(3) "A Role for Branched-chain Amino Acids in Reducing Central Fatigue." J Nutr. 136.2 (2006): 544S-547S.

(4) Gomez-Merino D, et. al. "Evidence that the Branched-chain Amino Acid L-valine Prevents Exercise-induced Release of 5-HT in Rat Hippocampus." Int J Sports Med. 22 (2001): 317-22.

(5) Isoleucine prevents the accumulation of tissue triglycerides and upregulates the expression of PPARalpha and uncoupling protein in diet-induced obese mice. J Nutr. 2010 Mar;140(3):496-500. Epub 2010 Jan 20.

(6) Steven D. Kunkel, et. al. "mRNA Expression Signatures of Human Skeletal Muscle Atrophy Identify a Natural Compound that Increases Muscle Mass." Cell Metabolism, 13.6 (2011): 627-638.

(7) Rao, VS, et. al. "Ursolic Acid, a Pentacyclic Triterpene from Sambucus australis, Prevents Abdominal Adiposity in Mice Fed a High-fat Diet." J Med Food. 14.11 (2011): 1375-82. Epub 2011 May 25.

(8) Esposito D, et. al., "Anabolic Effect of Plant Brassinosteroid." FASEB J. 25.10 (2011): 3708-19. Epub 2011 Jul 11.

(9) Effects of chronic Rhodiola Rosea supplementation on sport performance and antioxidant capacity in trained male: preliminary results. J Sports Med Phys Fitness. 2010 Mar;50(1):57-63.

(10) Tsuchung Chang, Wen-liang Chang, and m Shu-fun Huang. "A Clinically Validated Natural Ingredient that Transports Significantly Greater Amount of Nutrients in Blood Stream into Cells for Truly Improved Bioavailability." Nuliv Science.

(11) Piperine enhances the bioavailability of the tea polyphenol (-)-epigallocatechin-3-gallate in mice. J Nutr. 2004 Aug;134(8):1948-52.

(12) A novel branched-chain amino acid metabolon. Protein-protein interactions in a supramolecular complex. J Biol Chem. 2007 Apr 20;282(16):11893-903. Epub 2007 Feb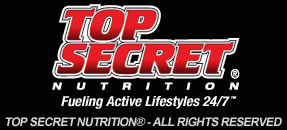 Top Secret Nutrition BCAA Hyperblend Purchase Information
Order today using our 100% secure server and get it at the lowest prices in the world with our fast, inexpensive 2-3 day shipping! NOBODY beats our overall price!
120 Capsules

$28.99

$16.18

In Stock
240 Capsules

$49.98

$31.97

In Stock
Recommended For You
Do You Use This Product?
Top Secret Nutrition:
BCAA Hyperblend
120 Capsules

$28.99

$16.18

In Stock
240 Capsules

$49.98

$31.97

In Stock
Manufacturer information:
This works well with:
What's in Top Secret Nutrition BCAA Hyperblend?
120 Capsules

Serving Size 4 Capsules

Servings Per Container

30

Amount Per Serving

% Daily Value *

Vitamin B6 (As Pyridoxine Hcl)

5

mg

250% †

PROPRIETARY ANABOLIC BLEND

3,053

mg

†

Instant BCAA 3:1:1 Matrix (Instant L-Leucine, L-Isoleucine, L-Valine) (3000mg), Rhodiola Rosea 3%, Rosemary Standardized to 25% Ursolic Acid (6.25mg), Astravar™ (AstraGin™(Panax notoginseng and Astragalus membranaceus (Root) Extract)), Bioperine® (Piper nigrum), Brassinolide (Brassica campestris).

* Percent Daily Values (DV) are based on a 2,000 calorie diet

† Daily Value not established

Other Ingredients:

Gelatin

, Microcrystalline Cellulose

, Magnesium Stearate

, Silicon Dioxide.
Directions For BCAA Hyperblend: For best results take 4 capsules anytime you want to enhance protein synthesis.
Warnings: Keep Out Of Reach Of Children. Use this product as a dietary supplement only. Do not use if you are pregnant or nursing or if you have any medical condition. Do not use if seal or package is broken. Store in a cool, dry place. Consult your physician prior to use if you have any medical condition.
* These statements have not been evaluated by the Food and Drug Administration. This product is not intended to diagnose, treat, cure, or prevent any disease.