Click here to enlarge
PreWrek
Ultimate Pre-Workout Matrix!*
Supports Mental Alertness & Focus, Pumps & Vascularity, & Endurance & Energy!*
Supported Goal:
Improve Workout
Main Ingredient:
Beta-Alanine
25,000,000+
Orders Shipped
Fastest
Shipping
Lowest
Prices

24/7/365
Live Support

Largest
Selection
Product Overview
more clumps = more pumps!
Shake Well, Clumping Will Occur - Contents Dissolve in Water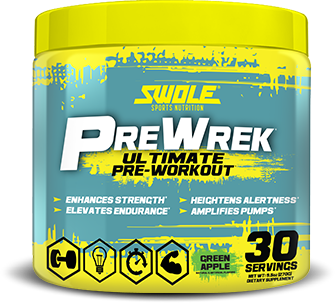 Enhances Strength*
Elevates Endurance*
Heightens Alertness*
Amplifies Pumps*
Introducing the new & improved PREWREK® by SWOLE® Sports Nutrition! PREWREK helps elevate endurance, enhance strength, heighten alertness & amplifies pumps, contributing to a better workout and training experience!* By stacking all of these benefits in one product, you can now try to boost the level of training intensity that you always wanted - every time you train!* No matter how hard you hit the gym or take part any type of physical activity, if your body isn't fueled correctly you'll most likely be disappointed with your results. That's why you need PREWREK!* PREWREK may also help you: fight fatigue, boost performance, build muscle, amp up intensity, hydrate muscle and feed your muscle cells the nutrients they need.* From the first time you take PREWREK, you may also experience an appearance of vascularity, and a pump that can be sure to jumpstart your training program.* It's time to PREWREK your workout. Experience the difference, you may never train without it!*
Some Highlights of PreWrek
beta alanine - Research suggests that taking beta-alanine before training promotes muscle strength, power, and can also enhance muscle endurance.* One way to tell if your supplement has enough beta-alanine is if your skin, especially around your lips, gets tingly or itchy.* Only products that use time-released beta-alanine won't give you this sensation.* This tingle is a sign of substandard beta-alanine.*
betaine anhydrous - Also known as trimethylglycine, this modified amino acid, typically derived from beets.* One of the first studies to look into Betaine's performance-supporting effects was done at the University of Connecticut in 2010. The UCONN researchers found that weight-trained athletes taking 1.25 grams of Betaine twice per day increased their muscle strength by 25 percent, and their muscle power by 20 percent.* They also determined that Betaine significantly increased markers for muscle protein synthesis following a workout as compared to the placebo.* Previous research also suggests that betaine supplementation increases nitric oxide and helps regulate cellular fluid volume, which could further promote muscle pump and overall muscle size.*
hydromax - is the industry's first stable, highly concentrated form of powdered glycerol (65%) that offers a unique combination of greater potency and function, offering exceptional hydration in a uniquely optimized proprietary blend of glycerol and silica.* The ability of HydroMax® to increase the concentration of fluid in the blood and tissue within the body1 (hyperhydration) lends itself to potential enhancements in the benefits of multiple athletic and fitness applications.* While Glycerol is not an N.O booster, it can enhance muscle pumps because it has strong osmotic properties, meaning it attracts and binds large amounts of fluids to blood vessels, enhancing muscle pumps.* HydroMax is recommended in combination with other "pump" ingredients, such as creatine, taurine, agmatine, "NO enhancing" extracts, and botanical dietary nitrates.*
Ratings & Reviews
By clicking the button above, you agree to entering the Bodybuilding.com Reviews section. Products in the Store are not intended to diagnose, treat, cure, or prevent any disease.