Click here to enlarge
Xtend
Intra-Workout Powder for Endurance and Recovery*
Designed to Build Muscle, Burn Fat, and Aid Recovery During Workouts*
Supported Goal:
Improve Workout
Main Ingredient:
Amino Acids
25,000,000+
Orders Shipped
Fastest
Shipping
Lowest
Prices
24/7/365
Live Support

Largest
Selection
Product Overview
THE ONE THAT
STARTED IT ALL
XTEND
THE INTRA-WORKOUT BCAA DRINK MIX ORIGINATOR

KEY FEATURES:
7g of BCAAs - 2:1:1 Research-Proven Ratio
Shown Effective in Two University Studies**
Sugar Free & Carbohydrate Free
3.5g of Leucine for Muscle Protein Synthesis
2.5g of L-Glutamine & 1g of Citrulline Malate
Hydration-Inducing Electrolytes
Zero Calories
KEY FEATURES:
Supports Muscle Growth & Strength*
Supports Faster Recovery*
Helps Preserve Muscle*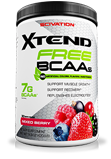 XTEND FREE
XTEND FREE is the same XTEND formula with all natural flavors, colors, and sweeteners and is the perfect solution for those looking to avoid certain ingredients.
XTEND RTD
Ready-to-drink & calorie-free, XTEND RTD delivers more BCAAs than 25 grams of whey protein, and refreshes hard-working muscles with electrolytes, Taurine and Citruline Malate, making XTEND RTD the convenient and muscle-supporting BCAA solution.
BUILD & PRESERVE MUSCLE
Build and preserve muscle with 7 GRAMS of hypercritical BCAAs — in the nature-designed and widely-researched 2:1:1 ratio — along with Glutamine and Citrulline Malate. Plus, with a proprietary blend of hydration-promoting electrolytes, Scivation XTEND is the delicious, refreshing, SUGAR-FREE way to help anyone grind through a grueling gym session.*
Perfect Before, After, and During Training
World-class athletes, elite bodybuilders, champion powerlifters, and weight-training enthusiasts of varying types all use Scivation XTEND during their workouts to help them train longer, harder, and with more intensity.* When consuming two servings daily, Scivation XTEND helps to facilitate both fat loss* and new muscle construction.* Also, by orchestrating optimal protein synthesis and by balancing the intracellular energy economy, Scivation XTEND severely truncates recovery time.*
Branched Chain Amino Acids, Not Just Essential Amino Acids
Scivation XTEND contains 7grams of branched-chain amino acids per serving. No hiding, no tricks, no "padding" from cheap or completely random amino acids. Each serving of Scivation XTEND contains 3.5 grams of Leucine to stimulate muscle protein synthesis plus 1.75 grams of Valine and 1.75 grams of Isoleucine.
2:1:1 Ratio Designed by Nature, Proven by Research
Nearly all of the reputable peer-reviewed studies that have highlighted the effectiveness of BCAAs — along with most of the anecdotal information that has sprung forth from the hardcore weight rooms — have investigated a 2:1:1 Leucine to Valine to Isoleucine formula. So despite a starring role for Leucine, Valine and Isoleucine are still vitally important to a multitude of the physique benefits that come from BCAAs.
One noteworthy study investigated muscle protein synthesis from either Leucine on its own or from BCAAs at a 2:1:1 ratio. College-age, recreationally-trained male participants received a straight Leucine supplement, a 2:1:1 BCAA supplement, or a non-caloric placebo before and after a leg workout. As to be expected, Leucine performed better than did the placebo, but the 2:1:1 BCAA ratio bested them both.
Valine & Isoleucine - Vitally Important as Well
Additionally, in an attempt to dazzle you with numbers, some lopsided amino formulas drop the amounts of Valine and Isoleucine in favor or Leucine - a critical mistake - which ends up smothering some other very important benefits. For one, Valine competes with Tryptophan for uptake into the brain, and a brain soaked in Tryptophan will have a much hard time relaying the message to the muscles that they need to work harder and push more weight. Furthermore, in a Japanese study, scientists observed a fat-burning mechanism dependent upon Isoleucine. Subjects who consumed more supplemental Isoleucine gained less body fat than those who did not, even though both groups ate a high-fat diet.
So when it comes to getting the most out of your workouts, whether it be triggering post-workout muscle protein synthesis, thwarting fatigue, or stoking the fat-burning flames, a 2:1:1 BCAA ratio — the same ratio in Scivation XTEND — is the way to go.*
After 10 Years, Still Defining - and Redefining - BCAAs
Scivation XTEND, the originator and leader in BCAA technology, is the trusted brand credited with creating the first BCAA intra-workout drink mix. With over a decade devoted to improving and perfecting the formula – best-in-class flavors, show-stopping mixability, and fully-disclosed ingredients in relevant amounts – Scivation XTEND continues to outpace comparison. There's nothing like it.
Use Scivation XTEND, the original and most widely-used intra-workout BCAA product, to build muscle, burn fat, and to prolong the intensity of - and recovery from - your next workout.*
Ratings & Reviews
By clicking the button above, you agree to entering the Bodybuilding.com Reviews section. Products in the Store are not intended to diagnose, treat, cure, or prevent any disease.

Mixes easily. It stays a bit foamy but not bad. Tastes pretty good.

Awesome product!!! It has the perfect ratio of BCAAs that I was looking for. Mixes well and doesn't have any gritty texture. Can't wait to try more flavours!

Tastes great gets the job done, would recommend to anyone thats looking to take their recovery to the next level.
Best quality price in the market! Helps very well.

Mixes easily. It stays a bit foamy but not bad. Tastes pretty good.

Awesome product!!! It has the perfect ratio of BCAAs that I was looking for. Mixes well and doesn't have any gritty texture. Can't wait to try more flavours!

Xtend delivers 7g of high quality bcaa in the well studied 2:1:1 ratio plus citrulline malate, glutamine, and electrolytes. For me, the electrolytes really help with hydration and quenching my thirst. I"ve used it during cardio workouts and after spending a few hours working in the yard on hot humid days. A lot of brands offer bcaa products that taste good, but the aminos are low quality or are only present in small amounts meaning you need multiple scoops to get the proper dose. With Xtend, you get both high quality and great taste. I haven't found a flavor I don't like. Mango and pineapple are my favorites followed closely by blue raspberry and strawberry kiwi. Fruit punch, watermelon, and grape are also really good but the other four are standouts for me. I mix them with about 20 ounces of water, sometimes more, and the flavor holds up. Mixes well, too.
8 Grape
8 Fruit Punch
9 Blue Raspberry
8 Watermelon
9 Strawberry Kiwi
9 Mango
9 Pineapple
I was given a pack of flavors to test from Scivation. The macros on Xtend are fantastic, no question about that. The flavors they offer are unique and more varied than most other BCAA offerings and so far the flavors are on point. [b]Mango[/b]: When I first mixed mango with 16oz of water, it smelled like a fresh cut up mango. It reminded me of some strawberry mangos I had in Hawaii and it tasted like someone took a mango and put it in a blender with BCAAs. There is a slight bitter taste to it due to the BCAAs but it was better than I expected it to be. [b]Strawberry Kiwi[/b]: Like the Mango, the Strawberry Kiwi had a great smell when first mixed. I mixed it with 16 oz of water during my workout and had a strong Kiwi smell with a slight sweet strawberry scent. I did not notice the strawberry flavor as much as I was expecting, but the kiwi was present and was as though I was drinking a smoothie. Again, there was a slight bitter aftertaste from the BCAAs, but not enough to overwhelm the flavor. Watermelon: The first smell that came from the package was quite a bitter smell, and for some reason, the smell of the watermelon wafted between sweet jolly rancher smell and a bitter smell. However, after this was mixed, the watermelon tasted like a really sweet liquid jolly rancher. That's the best way I can describe it. Or like a shredded really sweet watermelon. Blue Raspberry: This is hard to describe. It is a pretty good flavor compared to the other flavors and tastes like other Blue Raspberry flavors on the market. There is a slight bitter taste, but it actually works with the Blue Rasp flavor and not against it. Grape tastes and mixes well. I like this flavor the most of all the ones I got to try. To me, the taste of the grape was similar to that of a grape otter pop. There was not much to the bitterness from the BCAAs. Fruit Punch: This flavor is hard for me to describe. It didn't taste like regular fruit punch, but I am not quite sure what the taste is similar too. It was a good flavor regardless.
8 Fruit Punch
9 Grape
7 Watermelon
8 Blue Raspberry
7 Strawberry Kiwi
8 Mango