Whey Protein Plus
Elite Series!
32,000,000+
Orders Shipped
Fastest
Shipping
Lowest
Prices
24/7/365
Live Support
Largest
Selection
Product Overview
Protein
Whey Protein Plus
With High-Quality, 100% Instantized Whey Protein
Enhanced with a Proven Muscle and Strength Builder*
Delivers BCAAs & Glutamine
Whey protein plus is the smarter choice
Six Star® Whey Protein Plus is the smarter choice to help support recovery and fuel training.* Packed with scientifically researched key ingredients that build more muscle and increase strength, Whey Protein Plus is scientifically superior to regular protein.* Delivering quality BCAAs, glutamine and creatine, Six Star provides the delicious premium protein formulas you need that fit any active lifestyle.* Trust what these pros trust and get Six Star Whey Protein Plus today!
Better Than Regular Whey
Six Star Whey Protein Plus is enhanced with core ingredients clinically suggested to build more muscle and strength than whey protein alone.*
BOOST STRENGTH
& SUPPORT RECOVERY*
Loaded with micro-filtered whey proteins, fast-absorbing BCAAs and glutamine to help you recover from your workouts.*
"WHEY PROTEIN PLUS HELPS ME PERFORM AT A HIGH LEVEL AND RECOVER FASTER"
- ROB GRONKOWSKI
AWARD-WINNING TASTE YOU WILL LOVE
The American Masters of Taste, a prestigious panel of chefs, awarded Six Star Whey Protein Plus the Gold Medal for Superior Taste against all other value brands in America.
More Lean Muscle
Six Star Whey Protein Plus is high beneficial for muscle building goals.*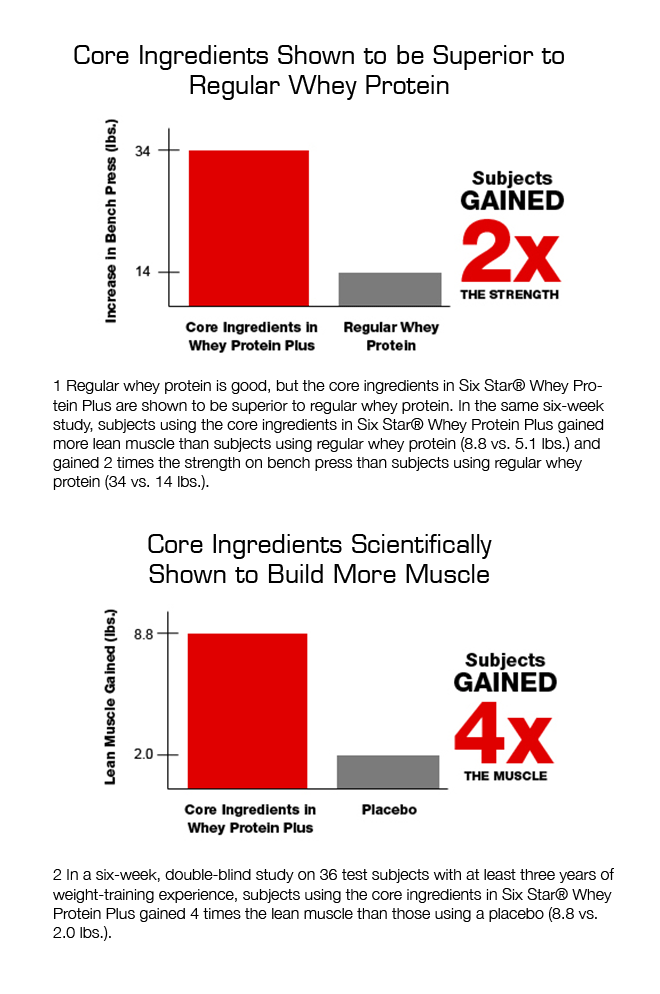 "Helps Me Re-cover Faster"
- GIANCARLO STANTON
Ratings & Reviews
By clicking the button above, you agree to entering the Bodybuilding.com Reviews section. Products in the Store are not intended to diagnose, treat, cure, or prevent any disease.

This protein is unreal. It's extremely inexpensive but doesn't taste like it. I love the cookies and cream flavor and it doesnt upset my stomach. The nutrient profile is comparable to brands that are 2-3x more expensive. Will definitely be purchasing again!

great protein blend. 30 gram protein is a great plus for this product, but a bigger tub would be even better.


No written review.
8Triple Chocolate
10Strawberry Cream Smoothie
I've bought all the expensive whey you can buy but this one is in my top ten especially for the great price! I would recommend it to anyone! This stuff taste great with water and milk and I'm not even a strawberry kinda guy lol. Highly recommended!
10Strawberry Cream Smoothie

This protein is amazing for the price! Has everything you need with a great taste cheap price and it blends awesome!! Highly recommend it to anyone looking for a complete whey protein that won't break the bank!!

Great flavor. Mixes great. And a whooping 30 grams of protein per serving!!! What's not to love?
9Strawberry Cream Smoothie
I received the triple chocolate as a free sample and just had to try them all. It mixes perfectly in my shaker cup so there aren't a bunch of clumps like some proteins I've tried and it has a great taste. It's pretty inexpensive compared to some of the other proteins I've bought, but the flavor of the expensive ones.
10Triple Chocolate
10Cookies & Cream
10Strawberry Cream Smoothie
10Vanilla Cream
† This price is the retail price for this product found at one or more retail websites in the last 30 days. The price may not include shipping cost, tax, sale or promotional prices, or discounts such as member pricing. Prices may change. Bodybuilding.com verifies this price every 30 days.