25,000,000+
Orders Shipped
Fastest
Shipping
Lowest
Prices
24/7/365
Live Support
Largest
Selection
Product Overview
SCIENTIFICALLY SUGGESTED TO
HELP BUILD OVER 4X THE MUSCLE*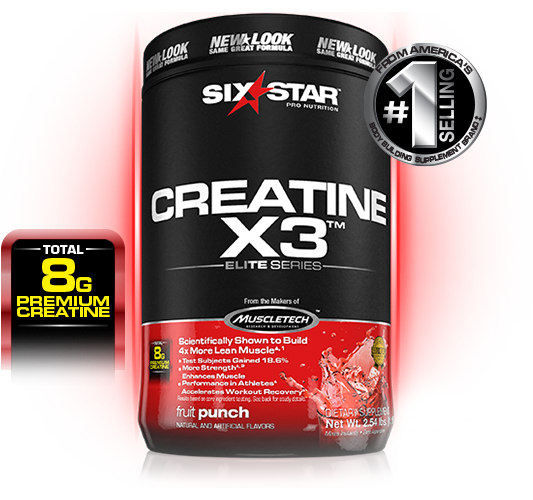 8g of Creatine
43g of Carbs
THE SMARTER
CHOICE
The new Six Star® CreatineX3™ is from the makers of MuscleTech, so you know it's a premium formula you can trust. Unlike the competition, Six Star CreatineX3 features a clinically backed, 8,000mg mega dose of creatine. Six Star CreatineX3 also delivers more fast-absorbing carbohudrates than the competition to help drive more creatine directly into your muscles - where it works!*
Enhances Muscle Performance in Athletes
Six Star CreatineX3 boosts muscle performance when it really counts by helping an athlete's body generate ATP, a primary source of energy used during high-intensity training. You'll also experience more muscle size and strength.*
THE BENEFITS OF
FAST-ABSORBING CARBS
Six Star CreatineX3 features a specialized, short-chain carbohydrate that rapidly converts to glycogen, to help replenish depleted levels after a workout. The formula is so cutting-edge, Six Star researchers protected it with multiple patents.*
In a 10-day study conducted at Ohio State University on 31 weight-trained test subjects randomly assigned to one of three groups, subjects consuming the same form of creatine found in Six Star CreatineX3 with a training program increased their strength capacity on the bench press by 18.6% compared to baseline (6,658 vs. 5,613 joules).* Testing was performed using 70% of the subjects' one-rep max bench press.
Ratings & Reviews
By clicking the button above, you agree to entering the Bodybuilding.com Reviews section. Products in the Store are not intended to diagnose, treat, cure, or prevent any disease.

Excellent post workout creatine formula. I have noticed significant reduction in recovery time and improved performance. In addition, this product actually tastes great so I look forward to it immediately after a tough workout. Very reasonably priced as well for 35 servings. Great job Six Star!
Bought this product again, my last review of this product was not so good, I decided to take it in the morning and after my workout routine and I got better results. i have gotten a little stronger as well as put on a little muscle that I can see.
Good taste. Realized strength gains.

i have used this for about a month and have added 30 pounds to my bench and incline bench taste very good and is at a good affordable price i would recommend this to any of my friends
Work well for those who react with dextrose/monohydrate like me. Cheap and can be buy at Provigo and Walmart

Tastes awesome. Good to drink during the day. noticed awesome results!
Being 6'4 and always having a fairly slim build, I never thought I would ever see the body results I wanted. Taking Creatine X3 post workout has given me some amazing, yet very surprising, results. After an intense workout the refreshing fruit punch taste is great. In the time I've been using this product I've seen results I never thought were possible and I've even reached a new increasing weight goal. I researched a lot of different products before deciding on this one and I felt that this product really met my needs. Thank you Six Star Pro Nutrition! Extremely impressed!
Taste 9/10 - Nearly identical to a kool aid or Hawaiian Punch. Drinks really well. A little different from my normal flavor choices. |||| Nutrition 8/10 - A few ingredients I don't normally look for in creatine. It's is one of the few things I like to be very plain. It's not a deal breaker, but I would rather a cost effective, no frills product. Also lost some points here for not disclosing how much is mono and how much is hcl. The difference, or lack there of, between the two is debatable. BUT - creatine monohydrate is THE staple for creatine supplementation. I'd like to see 5g/8g be mono.||| Mixability 8/10 - Some stuff just wouldn't mix. Ended up chugging some powder at the bottom. Tried mixing as suggested and with 20oz of water - still had the gritty stuff. Side note: the red dye that Six Star uses gives me an upset stomach about 60% of the time. I'm usually okay if I drink it post workout after my shake. I definitely can't drink it before a woke out. That being said, the new formula of Preworkout Explosion didn't bother me. I think this creatine just has more Red no. 40 in it.
While taking Six Star Creatine X3 I put on about an additional 4 lbs in water weight due to creatine hydrating muscles and with the extra hydration I was able to get in about 2-3 extra reps and help push my max up when I stacked it with the Six Star whey protein and the explosive pre-workout by about 20 lbs