24/7 Customer Service 1-866-236-8417
SES Nutrition:

Pre-Workout Energizer
Intense Training Support Fuel!*
A Foundation of Core Building Blocks Helps Create Extreme Training Intensity!*
Supported Goal: Improve Workout
Main Ingredient: Creatine
SES Nutrition Pre-Workout Energizer Product Guide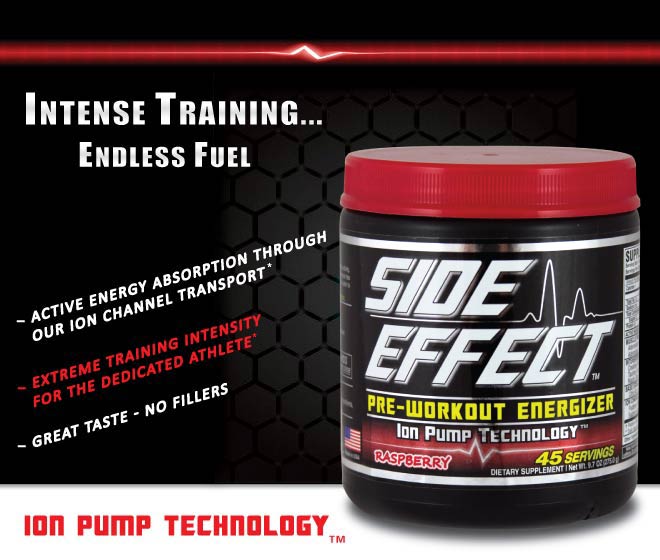 As an athlete, two of the most important things you need to achieve success are: a constant flow of energy and element bio-availability (ingredients your body can actually absorb). PRE WORKOUT ENERGIZER is jam-packed with dynamic compounds supplying an unparalleled synergy of power and cellular breaching ingredients. *
Ion Pump Technology contains four key ingredients that work in sync to create our Ion Channel Transport. Fructose 6 Phosphate and Fructose 1-6 Diphosphate is a phosphorylation (bonding between fuel and a protein) of the carbon 6 and carbon 1 molecule. Since Carbon is a basic element, your cells aggressively absorb this fuel. When we couple these two power sources with Succinic Acid (a huge molecule that donates electrons) we create an energy fusion that helps push our ingredients into muscles.* The best way to control this fusion is with Adenosine 3-5 cyclic Monophosphate. cAMP regulates energy levels in the cell, constantly cycling from high energy to low energy and back, sustaining our Ion Channel Transport throughout your workout. *
SES Nutrition creates a foundation starting with core building blocks you have come to expect from Pre-Workout products. Once we have our foundation, we design effective formulas with premium ingredients often unique to the sports nutrition field. Here's the science and benefits behind some of these ingredients: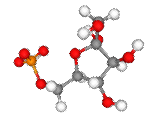 Fructose 6-Phosphate Molecule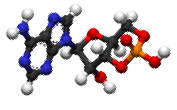 cAMP Molecule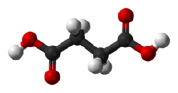 Succinic Acid Molecule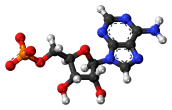 Fructose 1-6 Diphosphate
5-AMP produces energy by giving up one of its phosphate groups through enzymatic action. The breaking of the actual phosphate bond produces a huge explosion of energy, supporting superior protein synthesis.*
All muscles use Adenosine in the cytoplasm and nucleoplasm of a cell to produce natural energy. Securing the necessary Adenosine for every cell is critical to maintaining cellular health. Working with 5-AMP, this dual ignition prepares your cells to support an optimal workout every time! *

Adenosine Molecule
A power molecule able to donate more than one proton. This extra proton transfer gives Creatine Polyprotic an extra blast of unique muscle-expanding power. *Creatine Polyprotic is highly water soluble...pushing directly into your muscles to promote growth and volumizing effects. *
Arginine AKG (alpha-ketoglutarate) is a precursor to nitric oxide, promoting vascularity and strength and supporting insulin secretion.* It is an effective vasodilator, enlarging the blood pathways into the muscles, supporting blood flow, muscle pumps, and efficient nutrient delivery. *
Beta Alanine produces higher intramuscular carnosine levels which promote advanced muscular endurance, more energy for high intensity movements, and a superior overall workout performance! *
Niacin is a powerful vasodilator, enlarging blood pathways into the muscles, supporting nutrient delivery, and removing cellular waste buildup. *
---
J Neurochem. 2001 Nov;79(3):463-84.
Adenosine in the central nervous system: release mechanisms and extracellular concentrations.
Latini S, Pedata F.
Department of Preclinical and Clinical Pharmacology, University of Florence, Florence, Italy.
Pharmacol Rev. 1997 Dec;49(4):381-402.
Adenosine A2B receptors.
Feoktistov I, Biaggioni I.
Department of Medicine, Vanderbilt University, Nashville, Tennessee 37232-2195, USA.
PMID: 9443164 [PubMed - indexed for MEDLINE]
J Chem Phys. 2011 Jan 21;134(3):035101.
Dynamic coupling between the LID and NMP domain motions in the catalytic conversion of ATP and AMP to ADP by adenylate kinase.
Jana B, Adkar BV, Biswas R, Bagchi B.
Solid State and Structural Chemistry Unit, Indian Institute of Science, Bangalore 560012, India.
Indian J Pharmacol. 2009 Jun;41(3):97-105.
Adenosine and adenosine receptors: Newer therapeutic perspective.
Manjunath S, Sakhare PM.
Department of Pharmacology, M.R. Medical College, Sedam Road, Gulbarga-585 105, India.
Proc Natl Acad Sci U S A. 2010 Nov 9;107(45):19237-41. Epub 2010 Oct 25.
β-Subunit myristoylation is the gatekeeper for initiating metabolic stress sensing by AMP-activated protein kinase (AMPK).
Oakhill JS, Chen ZP, Scott JW, Steel R, Castelli LA, Ling N, Macaulay SL, Kemp BE.
Protein Chemistry and Metabolism, Saint Vincent's Institute of Medical Research, University of Melbourne, 41 Victoria Parade, Fitzroy 3065, Australia.
Science. 2011 Jan 28;331(6016):456-61. Epub 2010 Dec 23.
Phosphorylation of ULK1 (hATG1) by AMP-activated protein kinase connects energy sensing to mitophagy.
Egan DF, Shackelford DB, Mihaylova MM, Gelino S, Kohnz RA, Mair W, Vasquez DS, Joshi A, Gwinn DM, Taylor R, Asara JM, Fitzpatrick J, Dillin A, Viollet B, Kundu M, Hansen M, Shaw RJ.Molecular and Cell Biology Laboratory, Dulbecco Center for Research, Salk Institute for Biological Studies, La Jolla, CA 92037, USA.
Comment in: Science. 2011 Jan 28;331(6016):410-1.
Bioanal Chem. 2011 Jul;400(9):3035-40. Epub 2011 May 6.
Patel M, Dutta A, Huang H.
A selective adenosine sensor derived from a triplex DNA aptamer.
Department of Chemistry and Environmental Science, New Jersey Institute of Technology, 323 Martin Luther King Blvd, Newark, NJ, 07102, USA..
Derave W, Ozdemir MS, Harris R, Pottier A, Reyngoudt H, Koppo K, Wise JA, Achten E. (August 9, 2007). "Beta-alanine
supplementation augments muscle carnosine content and attenuates fatigue during repeated isokinetic contraction bouts in
trained sprinters". J Appl Physiol 103 (5): 1736. doi:10.1152/japplphysiol.00397.2007. PMID 17690198.
a b c Hill CA, Harris RC, Kim HJ, Harris BD, Sale C, Boobis LH, Kim CK, Wise JA. (2007). "Influence of beta-alanine supplementation
on skeletal muscle carnosine concentrations and high intensity cycling capacity". Amino Acids 32 (2): 225–33.
doi:10.1007/s00726-006-0364-4. PMID 16868650.
Cox, Michael; Lehninger, Albert L; Nelson, David R. (2000). Lehninger principles of biochemistry. New York: Worth Publishers.
ISBN 1-57259-153-6.
SES Nutrition Pre-Workout Energizer Purchase Information
Order today using our 100% secure server and get it at the lowest prices in the world with our fast, inexpensive 2-3 day shipping! NOBODY beats our overall price!
45 Servings

$52.68

$29.51

Raspberry

In Stock
Recommended For You

More Info
Dymatize Presents:
High Quality Protein, Loaded with Muscle Fuel and a New Improved Taste*
More Info
MuscleTech Presents:
Supports Extreme Energy, Enhanced Focus, and Powerful Weight Loss*
Do You Use This Product?
SES Nutrition:
Pre-Workout Energizer
45 Servings

$52.68

$29.51

Raspberry

In Stock
Manufacturer information:
What's in SES Nutrition Pre-Workout Energizer?
45 Servings

Raspberry

Supplement Facts

Serving Size

1

Scoop

(6.13

g)

Servings Per Container

45

Amount Per Serving

Calories

4

Calories From Fat

0

% Daily Value†

Total Fat

0

0%

Sodium

0

mg

0%

Total Carbohydrates

1

g

0%

Sugars

0

g

0%

Protein

0

g

0%

ACTIVE INGREDIENTS Proprietary Blend

5,510

mg

**

Muscle Precursors

Adenosine 5-Monophosphate (AMP-5), Adenosine, L-Carnitine

Intensifiers

Creatine Polyprotic, Caffeine Anhydrous, Taurine, Arginine Alpha-Ketoglutarate (AAKG), Niacin, Beta Alanine

Base Stabilizers

Citric Acid, Ascorbic Acid, Malic Acid

ION Channel Transport

Fructose 6-Phosphate, Fructose 1-6 Diphosphate Succinic Acid, Cyclic Adenosine Monophosphate

† Percent Daily Values based on a 2,000 calorie diet.

** Daily Value not established
Other Ingredients:

Sucralose

, Natural And Artificial Flavor.

Note: Each Serving Of Pre-Workout Energizer Contains 200mg Of Caffeine. Do Not Consume With Other Arginine Or Caffeinated Products.
Directions For Pre-Workout Energizer: Mix one (1) Scoop of SIDE EFFECT PRE-WORKOUT ENERGIZER concentrated formula with 8-12 (236-355mL) ounces of water and drink before any athletic activity. For maximum effectiveness, take on an empty stomach. After personal tolerance has been assessed, take 10 minutes before training begins. Vary the amount of water to achieve your desired flavor and sweetness level. CAUTION: DO NOT EXCEED 2 SERVINGS WITHIN A 24 HOUR PERIOD.
Warnings: Before consuming Pre-Workout Energizer, seek advice from a health care professional. If you are unaware of your current health condition or have any pre-existing medical condition including, but not limited to: high or low blood pressure, cardiac arrhythmia, stroke, heart, liver or thyroid disease, anxiety, depression, seizure disorder, psychiatric disease, diabetes, pernicious anemia, difficulty urinating, due to prostate enlargement or if you are taking MAO inhibitor or any other medication. Do not use if you are pregnant, nursing, prone to dehydration, exposed to excessive heat or suffer from the rare genetic disorder, Hyper Beta-Alaninemia. Discontinue use or reduce if sleeplessness, tremors, dizziness, nervousness, headaches or heart palpitations occur. Pre-Workout Energizer contains the naturally occurring amino acid, beta alanine, which may cause a tingling skin, sensation in some individuals similar to niacin flush. This effect should diminish after a few hours and should ultimately subside after days of continual use. Pre-Workout Energizer is intended to be consumed by healthy adults 18-50 years of age. Keep out of reach of children and pets.
* These statements have not been evaluated by the Food and Drug Administration. This product is not intended to diagnose, treat, cure, or prevent any disease.