24/7 Customer Service 1-866-236-8417
ReserveAge:

Active Ubiquinol CoQ10 with Resveratrol
The Original Red Wine Antioxidant!*
Maintain your active lifestyle with Active Ubiquinol CoQ10!*
Supported Goal: Health & Wellness
Main Ingredient: Ubiquinol
ReserveAge Active Ubiquinol CoQ10 with Resveratrol Product Guide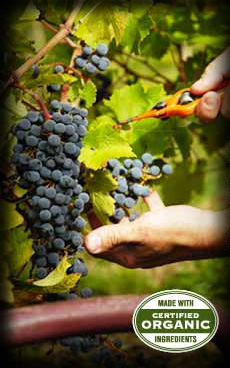 Maintain your active lifestyle with Active Ubiquinol CoQ10.* After the age of 40, our bodies can no longer convert CoQ10 into Ubiquinol. Necessary for basic cellular function, levels of active CoQ10 dip as aging challenges the body to convert it into usable Ubiquinol. Active Ubiquinol from Reserveage delivers enhanced levels of this vital, pre-converted form to sustain strong cellular function after 40.*
In high levels, Ubiquinol has suggester to promote optimal healthy aging.* Cellular rejuvenation activity is further stimulated with our French-based Resveratrol made with organic grapes*. Organic farming practices enable our proprietary blend to reach one of the highest levels of anti-oxidative properties ever to be harnessed. Together, these ingredients help support cardiovascular function, energy, circulation and promote healthy aging.*
The Original Red Wine Antioxidant
Made with Organic French Red Grapes
Patented Liquid LiCap Enhanced Delivery System for Maximum Absorption
Made with Certified Organic Ingredients
Dietary Supplement
ReserveAge is committed to the extension of youth — naturally.
Active Ubiquinol: The action form of CoQ10, ubiquinol is vital for cellular energy. After 40, conversion from CoQ10 to ubiquinol slows. Active Ubiquinol delivers pre-converted CoQ10 to support cellular rejuvenation and vitality. Only Active Ubiquinol uses patented Licap Liquid delivery system, allowing micronized ubiquinol molecules to travel efficiently through the body for maximum absorption. In studies, CoQ10 levels rose by four times.
Kaneka QH: This exceptional Japanese antioxidant encourages conversion and energy production in cells. Research shows a boost in CoQ10 levels by 66% over 24 hours.
Resveratrol: An active polyphenol found in grapes, red wine resveratrol promotes cellular productivity, longevity and a youthful look.
Pro-Longevity Factors
Designed to support and Help:
Activate the SIRTI longevity gene
Provide rapid cell rejuvenation
Offer maximum antioxidant protection
Regulate AGE protein development
ReserveAge is committed to using only the finest organic grapes. Our unique patent-pending extraction process enables us to preserve the integrity of the essential phytonutrients found in grape skins. Our processing plant is only minutes away from our vineyards ensuring unsurpassed quality, purity and freshness.
Q: What are the benefits of using certified organic ingredients?

A: The largest study ever of organic food was completed in 2007 and found that organic fruits and vegetables contain up to 40% more antioxidants than non-organic equivalents. Our supplements are made with freshly-harvested organic grapes, which help reverse the signs of aging, thus bringing back your youthful essence. The ReserveAge organic base is further enriched with age-defying antioxidants, performance-oriented peptides, refining hydroxyl acids, essential vitamin s and nutrients to achieve vibrant health.
We source organic muscadine grapes directly from USDA-approved certified organic farms and our French grapes are grown in organic vineyards certified by Agriculture Biologique (AB).
ReserveAge Active Ubiquinol CoQ10 with Resveratrol Purchase Information
Order today using our 100% secure server and get it at the lowest prices in the world with our fast, inexpensive 2-3 day shipping! NOBODY beats our overall price!
60 LiCaps

$54.99

$33.98

In Stock
Recommended For You
More Info
MusclePharm Presents:
No Loading Required, No Bloating, Pharmaceutical Quality Creatine with No Additives*
More Info
Cellucor Presents:
Advanced Pre-Workout for Increased Energy and Focus*
Do You Use This Product?
ReserveAge:
Active Ubiquinol CoQ10 with Resveratrol
60 LiCaps

$54.99

$33.98

In Stock
Manufacturer information:
This works well with:
What's in ReserveAge Active Ubiquinol CoQ10 with Resveratrol?
60 LiCaps

Supplement Facts

Serving Size:

1

LiCap

Servings Per Container:

60

Amount Per Serving

% Daily Value

Pro-Longevity Factors Proprietary Blend

115

mg

*

Organic French Red Grape & Vine [Vitis Vinifera (Full Spectrum Polyphenol Profile)], Muscadine USDA Certified Organic Red Grape & Seed [Vitis Rotundifolia (Grape Pomace)]

Resveratrol

40

mg

*

Organic French Red Grape & Vine (Vitis Vinifera) And Wild Natural Japanese Knotweed (Polygonum Cuspidatum) Standardized To Contain A Minimum Of 50% (20 Mg) Of The Trans-Resveratrol Isomer.

Ubiquinol (Kaneka QH Reduced Form Of COQ10)

100

mg

*

* Daily Value not established
Other Ingredients:
Palm Oil
, Beeswax
, Mixed Tocopherols
, Vegetable Cellulose (Capsule Shell)
, Chlorophyll.
Directions For Active Ubiquinol CoQ10 with Resveratrol:
As a dietary supplement, take 1-3 LiCaps Daily. Store at controlled room temperature between 50*F-86*F to maintain freshness.
Warnings:
KEEP OUT OF REACH OF CHILDREN. DO NOT USE IF SEAL IS BROKEN OR MISSING.
Cruelty Free. No Animal Testing.
As with any dietary supplement, consult your health care practitioner before using this product, especially if you are pregnant, nursing, have existing medical conditions or are taking prescription medications.
* These statements have not been evaluated by the Food and Drug Administration. This product is not intended to diagnose, treat, cure, or prevent any disease.