24/7 Customer Service 1-866-236-8417
Recent Searches
Clear Recent Searches
ProMera Sports:

GLUTA-TREN
Post Workout Powder to Accelerate Recovery*
Helps Improve Endurance, Increase Muscular Strength, & Minimize Damage to Muscles*
Supported Goal: Improve Workout
Main Ingredient: Glutamine
ProMera Sports GLUTA-TREN Product Guide

Saturate muscles
with key substrates needed to
accelerate rate, speed and degree of recovery*
GLUTA-TREN™ IS PACKED WITH 8 GRAMS OF GLUTAMINE PER SERVING. GLUTAMINE IS THE MOST ABUNDANT AMINO ACID IN MUSCLE AND SUGGESTED TO PROMOTE CELL VOLUME AND PROTEIN SYNTHESIS.*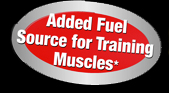 The Ingredients found in GLUTA-TREN™ may be effective in promoting training performance,* replenishing glycogen concentrations,* extending intramuscular L-Glutamine concentrations during periods of high stress,* increasing intramuscular Carnosine levels,* mitigating damage to muscle and accelerating rate and degree of recovery following training.*
Gluta-Tren™ Highlights
May be effective at enhancing Eccentric Contraction in the Presence of Lactic Acid*
Helps maintain intramuscular concentrations of L-Glutamine during periods of Intense Training*
Helps Increase Muscular Strength*
Helps Improve Endurance and Oxygen Uptake*
Helps mitigate damage to muscle while reducing down time between training events.*
WHAT TO EXPECT WHEN USING GLUTA-TREN™
Support More Reps Added to Each Set*
Promote Cellular Hydration*
Help Minimize Damage to Muscles*
Provide a Fuel Source for Training Muscles*
BEST INTAKE OPTIONS
Pre-Workout
Intra-Workout
Post-Workout
Nighttime

ProMera Sports GLUTA-TREN Purchase Information
Order today using our 100% secure server and get it at the lowest prices in the world with our fast, inexpensive 2-3 day shipping! NOBODY beats our overall price!
5 Servings

$12.99

$9.99

Wild Berry

In Stock
Recommended For You

More Info
Optimum Nutrition Presents:
Supports Healthy Heart Function, Joint Flexibility, and Cell Production*
More Info
MuscleTech Presents:
Supports Extreme Energy, Enhanced Focus, and Powerful Weight Loss*
Do You Use This Product?
ProMera Sports:
GLUTA-TREN
5 Servings

$12.99

$9.99

Wild Berry

In Stock
Manufacturer information:
This works well with:
What's in ProMera Sports GLUTA-TREN?
5 Servings

Wild Berry

Supplement Facts

Serving Size

1

Scoop

(16.3

g)

Servings Per Container

5

Amount Per Serving

% Daily Value*

Calories

0

†

Niacin

25

mg

125%

Vitamin B6 (As Pyridoxine Hydrochloride)

8

mg

400%

Proprietary Blend

14,750

mg

†

L-Glutamine, L-Taurine, Beta-Alanine (Carnosyn®), L-Tyrosine, L-Leucine, Creatinol-O-Phosphate, L-Isoleucine, L-Valine

** Percent Daily Values are based on a 2,000 calorie diet

† Daily Value not established
Other Ingredients:
Citric Acid
, Maltodextrin
, Sucralose
, Natural And Artificial Fruit Flavors
, Natural Vanilla Flavors
, Red #40.
Directions For GLUTA-TREN: When using GLUTA-TREN™ as a Pre/Intra/Post workout "supplement" mix one serving (one scoop) with 8 to 12 ounces (240 to 360mL) of water and shake vigorously. Begin sipping approximately 15 minutes prior to training and continue use through the first 15 minutes of your training session. GLUTA-TREN™ is effective when taking 1 serving; however taking up to 2 servings may be of particular value in establishing your tolerance (Torque Zone). Never take more than 2 servings during a single use or in a 24 hour period. On off days take one serving (one scoop) to promote and maintain muscle saturation of GLUTA-TREN™ ingredients.
Warnings: Consult a physician or healthcare provider before using this or any dietary supplement or starting any exercise program. Do not exceed recommended dose. You may experience a tingling sensation on your skin surface, hands, arms and face. This is a normal reaction of Beta-Alanine and will eventually subside as you increase tolerance. As with any dietary supplement maintain adequate hydration during and after exercise. Keep Out Of Reach Of Children. Do Not Use If Pregnant Or Nursing.
Note: Stir contents before each use as contents may settle during shipment. Moisture and humidity can cause clumping and discoloration. Store GLUTA-TREN™ in a cool, dry place.
* These statements have not been evaluated by the Food and Drug Administration. This product is not intended to diagnose, treat, cure, or prevent any disease.