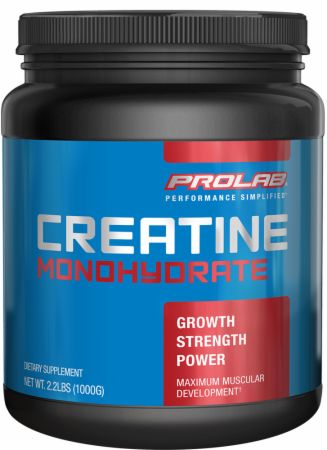 Click here to enlarge
Creatine Monohydrate
Promote Size, Strength & Endurance!*
Support Maximum Energy Output During Intense Training!*
Supported Goal:
Build Muscle
Main Ingredient:
Creatine Monohydrate
25,000,000+
Orders Shipped
Fastest
Shipping
Lowest
Prices

24/7/365
Live Support

Largest
Selection
Product Overview
Prolab® Creatine Monohydrate Key Benefits
Supports Muscular Development*
Drives and Promotes Explosive Muscle Power*
Promote Recovery Between Sets*
Explosive muscle power lasts for only a few, fleeting seconds at the beginning of each set or sprint. As the clock ticks, your muscles´ reaction time and power output slowly fades. With the completion of each set, your ability to recover and move on to another grueling exercise is greatly diminished. By the end of your workout, your muscles are spent–you just can´t shake the nagging feeling that although you wanted to push out a few more reps, your muscles just couldn´t muster the strength. Sounds like you could use some creatine.
Creatine is a naturally occurring compound in the body that plays a powerful role in driving and supporting short-burst, explosive contractions.* The only problem; your muscles contain a very limited supply of this substance naturally. Supplementing with Prolab® Creatine Monohydrate powder may help "saturate" muscles with greater stores of available creatine.* This may help support the increased duration of your muscle-power output, speed recovery time between sets and generate more explosive strength.* Better still, creatine monohydrate is the "original" and most studied form of creatine on the market – giving you even greater confidence that the compound truly works.* When you are ready to experience the "next level" in strength and muscle growth support, look no further than Prolab® Creatine Monohydrate powder.*
Ratings & Reviews
By clicking the button above, you agree to entering the Bodybuilding.com Reviews section. Products in the Store are not intended to diagnose, treat, cure, or prevent any disease.