Phosphatidyl Serine Guide
Introduction To Phosphatidyl Serine
Watch this quick video to get the scoop on phosphatidyl serine!
Never Let Your Noggin Down
PHOSPHATIDYL SERINE FOR YOUR HEAD
Phosphatidyl Serine (PS) is a phospholipid that's comprised of the amino acid L-serine and a lipid molecule. It is commonly extracted from cattle, egg yolks, or soybeans, and various plants.
It has been suggested that Phosphatidyl Serine may be important to healthy cell function in the body, primarily in the brain.*
Phosphatidyl Serine is thought to maintain nerve cell integrity, support neurotransmitter signal efficiency, maintain cognition, elevate mood, enhance memory, and encourage nutrient absorption in the brain. *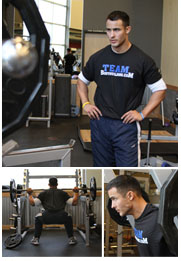 1-9 of

9

Results
---
Sort By:
---
Show:
* These statements have not been evaluated by the Food and Drug Administration. This product is not intended to diagnose, treat, cure, or prevent any disease.
1-9 of

9

Results
---
Sort By:
---
Show: