24/7 Customer Service 1-866-236-8417
PharmaFreak:

FLEX FREAK PACKS
Hybrid Joint Support Formula!*
Supports Joint & Cartilage Health!*
Supported Goal: Joint Support
Main Ingredient: Glucosamine
PharmaFreak FLEX FREAK PACKS Product Guide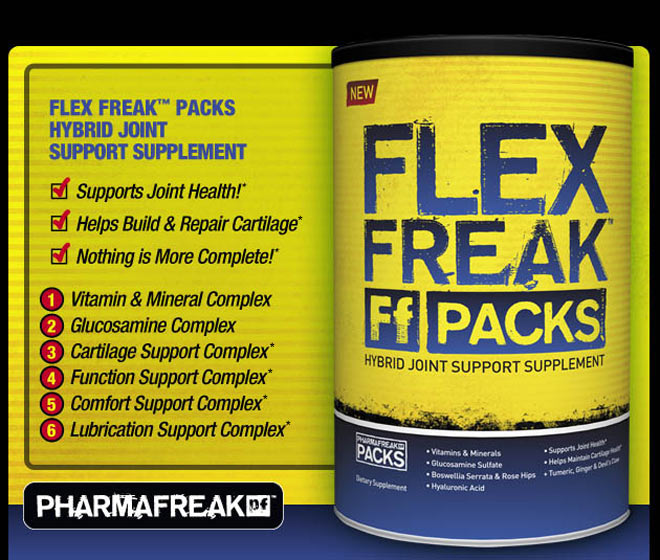 WORLD'S HIGHEST QUALITY & THE MOST COMPLETE JOINT SUPPORT PACK WE'VE EVER DEVELOPED!*
FLEX FREAK™ PACKS are engineered to provide your body with the absolute highest-quality and most complete joint support formula available!* FLEX FREAK's gold-standard formula is designed to promote every aspect of joint health and to help your body perform at its best! FLEX FREAK is really more like 2 or 3 joint support products combined into one ultimate formula!*
Vitamin & Mineral Complex*
Glucosamine Complex*
Cartilage Support Complex*
Function Support Complex*
Comfort Support Complex*
Lubrication Support Complex*
Provides the key micro-nutrients needed for optimal joint support.*
Provides building-blocks for joints.*
Supports genes that promote cartilage health.*
Promote joint and cartilage health.*
Helps promote a healthy inflammatory response.*
Helps support joint lubrication.*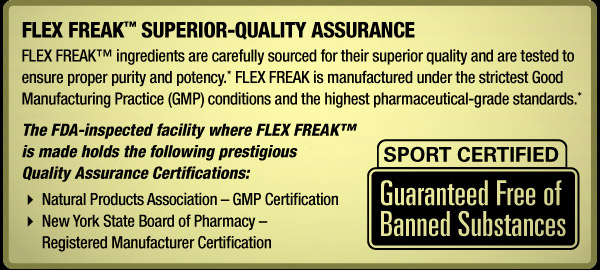 ACCURATE DOSING GUARANTEED!
To ensure accurate dosing of every ingredient in each FLEX FREAK Pack, the 6 different ingredient complexes are strategically divided into 2 blue tablets, 4 white tablets, and 2 yellow tabs. Using this 3 color coding system ensures that the accuracy of the ingredient dosages are maintained throughout the entire manufacturing process right up until the packs are sealed in air-tight canisters.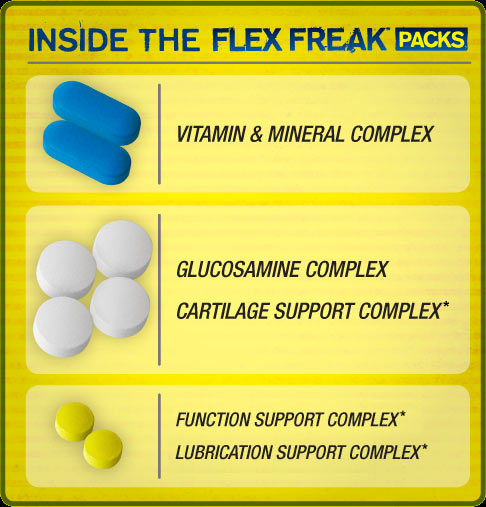 TABLET COATING TECHNOLOGIES
The FLEX FREAK tablets are designed with a combination of 2 different coating technologies:
1) Anti-Oxidation Coating
The Anti-Oxidation Coating technology preserves the bio-activity of the ingredients inside the tablets. Without the use of this coating technology the oxidation of certain vitamins, minerals and nutrients would occur and their effectiveness would decrease.
2) Optimal Disintegration Coating
The Anti-Oxidation Coating technology helps preserve the bio-activity of the ingredients inside the tablets.*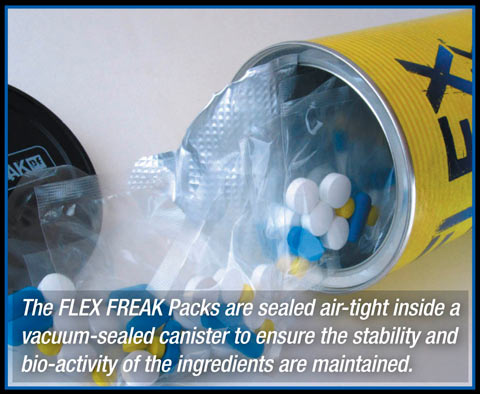 PharmaFreak FLEX FREAK PACKS Purchase Information
Order today using our 100% secure server and get it at the lowest prices in the world with our fast, inexpensive 2-3 day shipping! NOBODY beats our overall price!
30 Packs

$49.99

$39.99

In Stock
Recommended For You
More Info
MuscleTech Presents:
Support Energy, Focus, and Weight Loss*
Do You Use This Product?
PharmaFreak:
FLEX FREAK PACKS
30 Packs

$49.99

$39.99

In Stock
Manufacturer information:
This works well with:
What's in PharmaFreak FLEX FREAK PACKS?
30 Packs

Supplement Facts

Serving Size:

1

Pack

Servings Per Container:

30

Amount Per Serving

% Daily Value

FLEX FREAK™ VITAMIN & MINERAL COMPLEX

Vitamin C (As Ascorbic Acid)

100

mg

167%

Vitamin D (As Cholecalciferol)

100

IU

25%

Vitamin E (As D-Alpha Tocopherol)

30

IU

100%

Calcium (As Calcium Carbonate)

250

mg

25%

Magnesium (As Magnesium Citrate)

50

mg

12.5%

Zinc (As Zinc Acetate)

15

mg

100%

Selenium (As Sodium Selenite)

50

mcg

71%

Manganese (As Manganese Sulphate)

2

mg

100%

FLEX FREAK™ GLUCOSAMINE COMPLEX

1,500

mg

*

Glucosamine (As Sulfate)

FLEX FREAK™ CARTILAGE SUPPORT COMPLEX

500

mg

*

Rosehip (Rosa Canina) 4:1 Extract

FLEX FREAK™ FUNCTION SUPPORT COMPLEX

100

mg

*

Boswellia Serrata Extract Supplying Boswellic Acids

FLEX FREAK™ COMFORT SUPPORT COMPLEX

100

mg

*

Ginger (Zingiber Officinale) (Rhizome)

Devil's Claw (Harpagophytum Procumbens)

Turmeric (Curcuma Longa L)

FLEX FREAK™ LUBRICATION SUPPORT COMPLEX

10

mg

*

Hyaluronic Acid

* Percent Daily Values are based on a 2,000 calorie diet

† Daily Value not established
Other Ingredients:

Microcrystalline Cellulose

, Phosphate Dicalcium

, Stearic Acid

, Croscarmellose Sodium

, Gelatin

, Magnesium Stearate

, Silicon Dioxide

, Hypromellose (USP 2910)

, Polyethylene Glycol (PEG 8000)

, Titanium Dioxide

, Talc

, Blue No. 1

, Yellow No. 6.

ALLERGY WARNING:

Contains Ingredient Derived From Shellfish (Shrimp). Persons With A Known Allergy To Shellfish Should Not Use This Product.
Directions For FLEX FREAK PACKS:
As a dietary supplement, take 1 pack daily to support normal joint health.
Warnings:
KEEP OUT OF REACH FROM CHILDREN. Do not use if pregnant or nursing. Not intended for use by persons under the age of 18 years. Contains ingredient derived from shellfish (shrimp). Persons with a known allergy to shellfish should not use this product. Consult a physician before using this product if you have any medical condition, if you require surgery, or if you are taking any over-the-counter or prescription medication. Use only as directed. Do not exceed recommended serving, as improper use of this product does not enhance results.
* These statements have not been evaluated by the Food and Drug Administration. This product is not intended to diagnose, treat, cure, or prevent any disease.