Pantothenic Acid Guide
Introduction To Pantothenic Acid
Watch this quick video to get the scoop on pantothenic acid!
Give Your Muscles Full Coverage*
PANTOTHENIC ACID SUPPORTS MUSCULAR ENERGY*
Pantothenic acid, aka vitamin B5, is very plentiful in many of the foods we eat, and is found in all living things. Most grains, vegetables, and meats contain pantothenic acid. It is also available as a high quality supplement.
In addition to being involved in the Krebs cycle of energy production, Vitamin B5 is involved in the production of red blood cells and adrenal hormones.* The body converts pantothenic acid to a catalyst called coenzyme A, which is very important for energy production in the body.
Finally, vitamin B5 may help maintain cholesterol triglycerides levels in the body that are already within normal range.*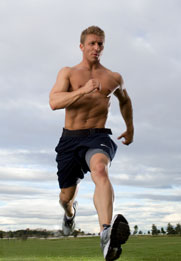 1-3 of

3

Results
---
Sort By:
---
Show:
Energy Production!*
Necessary To Manufacture And Release Energy From Fats!*
Servings: 250
Milligrams Per Serving: 500
Price Per Serving: $0.05
45% Off
$21.99
$12.12
In Stock
Double Strength!
Supports Healthy Cardiovascular Function Through Its Antioxidant Activity!*
Servings: 60
Milligrams Per Serving: 600
Price Per Serving: $0.35
54% Off
$45.99
$21.01
In Stock
Purest Form!
Clinically Tested Featuring Carnipure!
Servings: 32
Milligrams Per Serving: 100
Price Per Serving: $0.78
38% Off
$39.99
$24.97
In Stock
* These statements have not been evaluated by the Food and Drug Administration. This product is not intended to diagnose, treat, cure, or prevent any disease.
1-3 of

3

Results
---
Sort By:
---
Show: