25,000,000+
Orders Shipped
Fastest
Shipping
Lowest
Prices
24/7/365
Live Support
Largest
Selection
Product Overview
Advanced All-in-One Muscle Builder!
What gets done in the weight room doesn't build lean mass. It's the completeness of your routine that counts. Start recovering and rebuilding strength, power and size with ON's advanced all-in-one muscle builder.* Platinum Hydrobuilder™ is built on a foundation of staged-delivery proteins - from fast Hydrolyzed Whey Protein Isolates & Hydrolyzed Egg Albumen to slower Micellar Casein. It's enhanced with CreaPep™ nutrient delivery peptides, BetaPower™ Natural Betaine and Micronized CreaPure® Creatine. There's over 13.5 grams of Essential Amino Acids, but only 180 calories per serving. For the ultimate comprehensive muscle constructor, build with the best: Platinum Hydrobuilder™ by ON.*
Premium Staged-Protein Blend

Patent-Pending CreaPep™ Peptides for Enhanced Nutrient Delivery*
Fast-Acting Hydrolyzed Proteins: HYDROWHEY & HYDROEGG®
Slow-Digesting Micellar Casein Protein*

Over 13.5 Grams of Essential Amino Acids (EAAs) for Recovery & Rebuilding*
Premium Staged-Protein Blend
5 Grams of Micronized Creapure® Creatine to Help Support Increases in Lean Body Mass*
2.5 Grams of BetaPower™ Natural Betaine to Help Improve Strength, Energy, and Power*
Comprehensive Enzyme Complex to Help Support Digestion*
Micronized BCAAs, Glutamine, Arginine, and Citrulline
SUGGESTED USE: For post-workout recovery, consume one serving of PLATINUM HYDROBUILDER™ within an hour of completing your training.* On non-training days, PLATINUM HYDROBUILDER™ may be taken in the morning or between meals.
TIP: Use PLATINUM HYDROBUILDER™ after workouts and GOLD STANDARD 100% CASEIN™ at night for overnight amino acid coverage.*
*Helps support muscle building and recovery when used in conjunction with resistance training and a sensible diet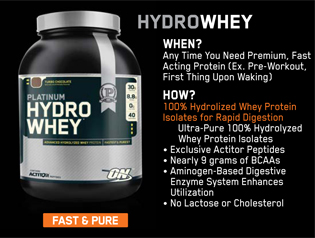 Behind Optimum with Tony Litton
Knowledge is power, and Tony Litton is one powerful athlete. Score his training strategies, supplement philosophy, and learn the science behind his favorite Optimum products. You want true strength? It's ON.
Video Length | 3:47
Behind Optimum with Jennifer Delgado
For NPC Figure competitor Jen Delgado, intense training is everything. Learn why no one should fear lifting weights, how to train for explosive results, and check out Jen's first-rate, fully-loaded supplement stack. It's ON.
Video Length | 3:38
Ratings & Reviews
By clicking the button above, you agree to entering the Bodybuilding.com Reviews section. Products in the Store are not intended to diagnose, treat, cure, or prevent any disease.