OKG (Ornithine Alpha-Ketoglutarate)
OKG Guide
Introduction To OKG
Watch this quick video to get the scoop on okg!
Give Your Muscles A Helping Hand With OKG*
BUILD MUSCLE, DON'T BREAK IT DOWN*
Ornithine Alpha-Ketoglutarate (OKG) is a salt formed from two molecules of ornithine and one molecule of alpha-ketoglutarate. It has been suggested that OKG may amplify muscle protein synthesis and nitrogen retention.*
Because OKG supports ingredients like arginine, leucine, isoleucine, tyrosine, glutamine, and proline, it is a great supplement for promoting anabolism and fighting catabolism.*
OKG may also support healthy hormone and glutamine levels in the body for efficient muscle recovery and growth!*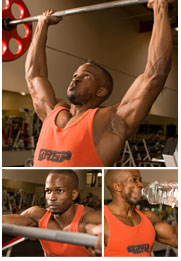 1-9 of

9

Results
---
Sort By:
---
Show:
* These statements have not been evaluated by the Food and Drug Administration. This product is not intended to diagnose, treat, cure, or prevent any disease.
1-9 of

9

Results
---
Sort By:
---
Show: