24/7 Customer Service 1-866-236-8417
Saftin
Weight Management System!
A High-Linoleic Safflower Oil, Suggested To Help Reduce Fat Without Change In Diet Or Exercise!*
Supported Goal: Lose Fat

Saftin Product Guide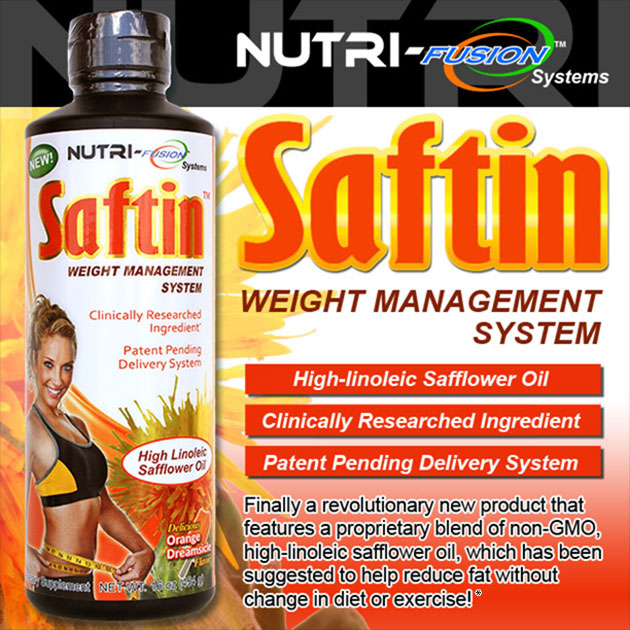 HELP BATTLE STUBBORN FAT WHILE DIETING!*
Saftin™ is a patent-pending dietary supplement formula of high-linoleic safflower oil that is expeller pressed (instead of chemically) to yield a premium high-linoleic, concentrated safflower oil. Linoleic acid is considered a healthy polyunsaturated and essential fatty acid and is thus required by the body. High- Linoleic safflower oil has been suggested to help reduce fat without change in diet or exercise.*
Expeller expressed methods are a chemical-free, continuous method where oil is squeezed from the safflower in one step using high pressure. Linoleic acid (C18:2, n-6) is a polyunsaturated omega-6 fatty acid and belongs to the family of essential fatty acid for humans. It is not to be confused with oleic acid which is the saturated fatty acid form.
Saftin is:
Natural
Gluten Free
Wheat Free
Dairy Free
Zero Additives
Great Tasting
Belly Fat - Why is it so bad?
Belly fat, is primarily comprised of visceral fat, the fat surrounding our internal organs. This is not to be confused with subcutaneous fat, which is found directly beneath the skin. Experts agree that visceral fat is the most undesirable fat. Visceral fats release metabolites that enter the portal circulation, which is a direct route to the liver. Thus, triglycerides and fatty acids derived from visceral fat will accumulate in the liver and most will be stored as fat. Excess fat is associated with many harmful health conditions. Visceral fat is hormonally very active and secretes "bad" hormones that may result in impaired glucose intolerance and thus can contribute to insulin insensitivity and imbalance.*
As always, please consult your physician before taking this or any dietary supplement and before beginning any diet or exercise program.
Make Nutri-Fusion Systems Saftin part of your daily diet!
Saftin Purchase Information
Order today using our 100% secure server and get it at the lowest prices in the world with our fast, inexpensive 2-3 day shipping! NOBODY beats our overall price!
16 Oz.

$26.99

$19.99

Delicious Orange Dreamsicle

In Stock
Recommended For You
More Info
Optimum Presents:
Over 75 Active Ingredients and Essential Daily Nutrients in One Convienent Pill*
More Info
Optimum Presents:
Train Longer and Harder with Intense Energy and Focus*
Do You Use This Product?
16 Oz.

$26.99

$19.99

Delicious Orange Dreamsicle

In Stock
What's in Saftin?
16 Oz.

Delicious Orange Dreamsicle

Supplement Facts

Serving Size

1

Tbsp

(15

mL)

Servings Per Container

30

Amount Per Serving

% DV

Calories

60

Calories From Fat

50

Total Fat

5

g

8%

Saturated Fat

0

g

0%

Trans Fat

0

g

*

Polyunsaturated Fat

4

g

*

Monounsaturated Fat

0.5

g

*

Total Carbohydrate

5

g

2%

Sugars

0

g

*

Vitamin E

6

IU

20%

Palmitic Acid

330

mg

*

Stearic Acid

130

mg

*

Oleic Acid

910

mg

*

Linoleic Acid

3630

mg

*

Percent Daily Values are based on a 2,000 calorie diet.

* Daily Value not established
Other Ingredients:

Safflower Oil

, Water

, Glycerin

, Natural Flavor

, Gum Arabic

, Citric Acid

, Guar Gum

, Xanthan Gum

, Potassium Sorbate

, Sodium Benzoate

, Tocopherol

, Beta Carotene

, Ascorbyl Palmitate.

DOES NOT CONTAIN: GMO, Harmful Stimulants, Gluten, Dairy, Wheat, Soy, Yeast, Lactose Or Milk.
Directions For Saftin: Take one (1) Tbsp. twice daily before meals. Delicious by the spoonful or mixed into beverages, shakes or yogurt. For best results, use in conjunction with regular exercise and a diet free of high-glycemic refined carbohydrates and trans fats. Refrigerate after opening.
Warnings: Not intended for use by persons 18 years of age. Consult with your physician prior to use if you are taking any other medication. Do not use if safety seal is missing or broken. Use only as directed. Keep Out of Reach of Children.
* These statements have not been evaluated by the Food and Drug Administration. This product is not intended to diagnose, treat, cure, or prevent any disease.