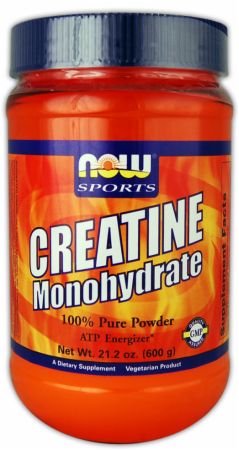 Click here to enlarge
Creatine Monohydrate
Energy Reservoir!*
Maintains Optimal Levels Of ATP Production During Intense Exercise!*
Supported Goal:
Build Muscle
Main Ingredient:
Creatine Monohydrate
25,000,000+
Orders Shipped
Fastest
Shipping
Lowest
Prices

24/7/365
Live Support

Largest
Selection
Product Overview
Creatine is bodybuilding´s ultimate supplement, and for good reason.
For one thing, creatine may significantly increase lean muscle mass in just two weeks.* It is also responsible for supporting performance in high-intensity exercise, increasing energy levels, and supporting recovery rates.* It´s no wonder athletes who use it have such of an edge over those who do not. Creatine´s ability to enhance energy reserves in muscles comes from its muscle protein synthesizing action, while minimizing protein breakdown.* This occurs because creatine has the awesome effect of super-hydrating muscle cells with water.* It enhances muscles´ growth too-making muscle fibers bigger and stronger.*
Micronized
100% Pure Powder
ATP Energizer*
Vegetarian Product
Ratings & Reviews
By clicking the button above, you agree to entering the Bodybuilding.com Reviews section. Products in the Store are not intended to diagnose, treat, cure, or prevent any disease.