24/7 Customer Service 1-866-236-8417
Nordic Naturals:

Arctic Cod Liver Oil
Natural Triglyceride Form!
Omega-3 Supplement Made From 100% Arctic Cod Livers!!
Supported Goal: Health & Wellness
Main Ingredient: Fish Oil
Nordic Naturals Arctic Cod Liver Oil Product Guide
Our Gold Standard Arctic Cod Liver Oil™ contains 100% sustainably sourced, wild Arctic cod (Skrei). No other fish body oils or synthetic additives are ever used.
Promotes cardiovascular function and circulation*
Supports optimal brain health*
Supports joint health and mobility*
Superior Absorption
Proven Results

All products in triglyceride form

70% better absorption

Superior results
The vast majority of fish oil concentrates on the market are in the ethyl ester form, a synthetic fat considered "new to nature." Nordic Naturals produces omega-3 fish oil exclusively in the highly bioavailable triglyceride form.
ABSORPTION
OTHER
Fish Oil
BRANDS
Ethyl Esters
Re-Esterified Triglycerides
70% More
Absorbable than Ethyl Esters*
Fish Oil
Proven Purity
Exceptional Freshness

Purified of toxins

Exceed international standards

All oils independently tested
Nordic Naturals has full control over every step of production of our fish oils from boat to bottle. That's how we deliver products with industry-leading purity and freshness levels.
Backed by Research
Demonstrated Efficacy

Research leader

25 published studies

30 studies in progress
Omega-3 fish oil is one of the most researched substances in modern medicine. Because of their purity, potency, and stability, Nordic Naturals products are consistently chosen without solicitation by independent research institutions and universities.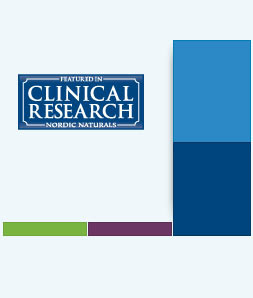 2 Clinical Studies
Other Brand
Co2 Extracted Ethyl Ester Form
2 Clinical Studies
Other Brand
Unpurified Salmon Oil Triglyceride Form
30 More
Clinical Studies Underway
25 Published
Clinical Studies
Nordic Naturals
Molecularly Distilled Triglyceride Form
Responsible Dosing
High EPA+DHA

Minimum 500 mg EPA+DHA

Expert-recommended dose

More omega-3s per serving
Experts agree that adults need a minimum of 500 mg daily of the essential fatty acids EPA and DHA found in omega-3 fish oil. Nordic Naturals delivers more omega-3s per serving than most other fish oils.
National Daily Average of Omega-3 Intake
187 mg
Minimum Expert Recommended Daily Omega-3 Intake
500 mg
Great Taste
No Fishy Burps

No fishy smell, taste, or aftertaste

100% natural fruit flavors

Award-winning taste
A patented flavoring process gives our oils a light, clean, fruity flavor. Years of feedback from customers and health professionals confirm that people of all ages enjoy the taste of Nordic Naturals products!
Healthy People
Healthy Planet

100% wild-caught fish

Flourishing fish stocks

MSC-certified processing plant in Norway
Since our founding, Nordic Naturals has always been deeply committed to the health of our oceans. We employ sustainable fishing practices and process our oils with minimal environmental impact.
Nordic Naturals Arctic Cod Liver Oil Purchase Information
Order today using our 100% secure server and get it at the lowest prices in the world with our fast, inexpensive 2-3 day shipping! NOBODY beats our overall price!
90 Softgels

$44.95

$38.21

Lemon

In Stock
Recommended For You

More Info
Optimum Nutrition Presents:
24g of Whey Protein with Amino Acids for Muscle Recovery and Growth*
More Info
Beverly International Presents:
Advanced Formula for Building Muscle Size and Reducing Fatigue*
Do You Use This Product?
Nordic Naturals:
Arctic Cod Liver Oil
90 Softgels

$44.95

$38.21

Lemon

In Stock
Manufacturer information:
This works well with:
What's in Nordic Naturals Arctic Cod Liver Oil?
90 Soft Gels

Lemon

Supplement Facts

Serving Size:

3

Soft Gels

Servings Per Container:

30

Amount Per Serving

% Daily Value*

Calories

27

Calories From Fat

27

Total Fat

3

g

5%

Saturated Fat

0.6

g

3%

Trans Fat

0

g

†

Cholesterol

7.5

mg

3%

Vitamin A

390-900

IU

8-18%

Vitamin D

1-12

IU

0.25-3%

Vitamin E (D-Alpha Tocopherol)

45

IU

150%

Weight

Volume %

Omega-3s

EPA

(Eicosapentaenoic Acid)

246

mg

9%

DHA

(Docosahexaenoic Acid)

375

mg

14%

Other Omega-3s

135

mg

5%

Total Omega-3s

756

mg

28%

Oleic Acid

(Omega-9)

360

mg

13%

* Percent Daily Values are based on a 2,000 calorie diet

† Daily Value not established
Ingredients:

Purified Arctic Cod Liver Oil

, Soft Gel Capsule (Gelatin

, Water

, Glycerin

, Natural Lemon Oil), Natural Lemon Oil

, D-Alpha Tocopherol

, Rosemary Extract.

May Have Been Manufactured On The Same Processing Lines As Products Containing Fish, Tree Nuts, Gluten, Peanut And/or Soy Derivatives.

No Milk Derivatives Or Artificial Colors Or Flavors.
Directions For Arctic Cod Liver Oil: Three soft gels daily, with food, or as directed by your health care professional or pharmacist.
Warnings: Consult with your physician before using this product if you are allergic to iodine, use blood thinners, or anticipate surgery. Keep out of reach of children.
* These statements have not been evaluated by the Food and Drug Administration. This product is not intended to diagnose, treat, cure, or prevent any disease.